Vegan Kebab
Vöner - Berlin
Who needs meat?...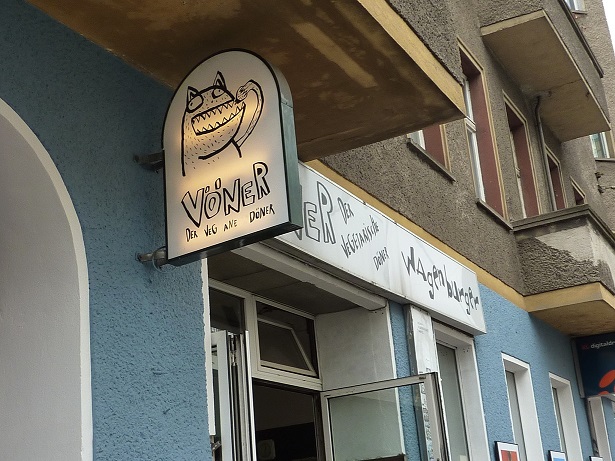 And so it begins. And it begins in Berlin: a place we both love; a place where we got engaged; a place where those living outside of mainstream society have flourished; a place where people and ideas have been blended together; and a place where they have been torn apart.
An apt setting for our first non-UK kebab.
Before we headed off on our travels, via our Facebook page, Thom Milner suggested we go to Vöner, a vegan/vegetarian kebab shop in Berlin. Never ones to rule much out, we thought we'd give it a try. Also, considering we could have written "Around Berlin in 80 Kebabs", with a kebab shop on every corner, this gave us direction, purpose, a specific starting point... But for the carnivores out there, fear not: we've got five more weeks in Berlin and will be writing a blog about the numerous other kebab shops we've frequented, including our "local".
We trekked to Ostbahnhof, having gone via Spandau for a pirouette and the Olympic Stadium for a bit of culture, and made our way to Vöner for a journey of discovery into previously unchartered territories – veganism.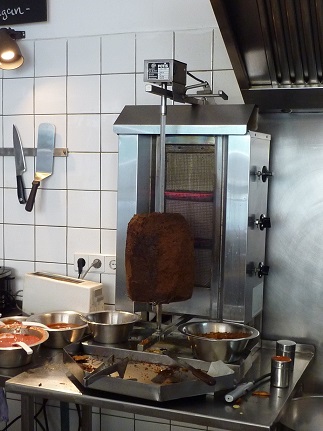 Kate dabbled with vegetarianism in her teens and early twenties, but where most veggies crave bacon and occasionally dabble with chicken, she craved lamb and beef so it clearly was never going to be a long-term calling. However, she has eaten her fair share of meat "substitutes" and was intrigued to see quite what seitan was all about.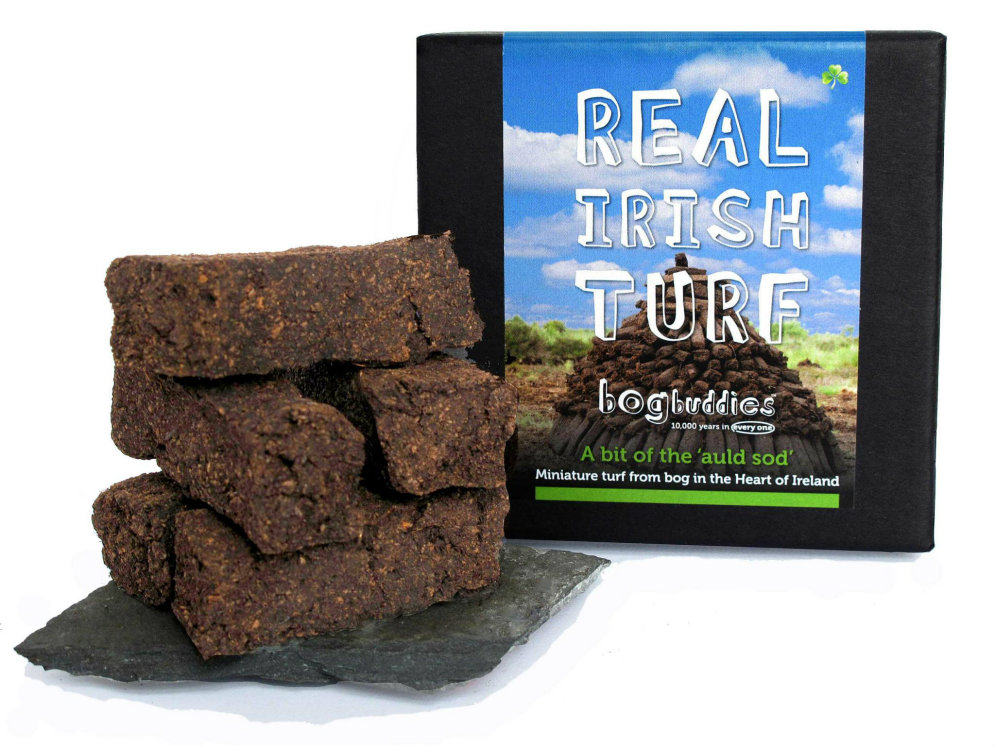 It reminded Pete of one drunken afternoon with two Irish friends; they were arguing over who could turn the most turf. Apparently turf turning was a job you could do in your holidays to earn some spare cash. It involved digging out a section of peat bog and turning it over so that it dried. It would then be burned in power stations to provide electricity. We have never eaten turf before, and it may sound like this is an unfair beginning to the review, but you have to admit – it looks a bit earthy.
On arrival, we were greeted by Ceilidh, who turned out to be English, so Pete was able to ask all the questions he wanted. Alex, her colleague, was a native Berliner but spoke impeccable English so all was good to go for an insider's review.
We asked Ceilidh if all of the customers are vegans?
"We get drunk people come in here asking for kebab and they say 'it tastes meaty' – they like it too!"Ceilidh, May 2016
Pete had this one sober. Who's to say if this affected the experience, but he reported a note of suspicion about the concept of a vegan ele-leg. Still recovering from the existential mirth of the kebab that didn't come in bread, the kebab that didn't contain any meat was facing an uphill battle. However, this was a battle for which it had prepared well.
The first weapon: the bread.
"In Berlin, by default, you get your kebab between Turkish flatbread – it's called 'in the corner'."Ceilidh, May 2016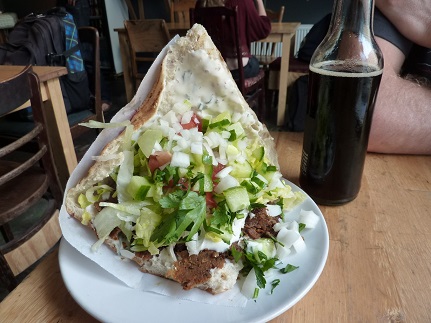 And "in the corner" bread really is fighting this vegan kebab's corner rather well. We had one of these, and the other in a durum wrap.
The bread was fantastic.
It wasn't the first Turkish bread that Pete had eaten, but it was as fresh as they come. The fluffy white bread in the centre was ready to absorb the juices of the seitan and the homemade sauces; it was lightly toasted in a panini press to crisp up the outer edge of the kebab, adding to the overall warmth to give a first-bite feeling of being almost too hot, but not quite.
No corrugated gums, just a porridgey cosiness that exceeded expectations. And where did it go from there? It went into our bellies.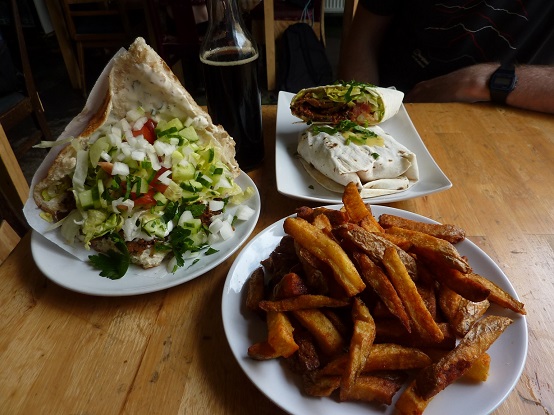 Here is the array that we had for lunch. We couldn't resist the sound of the twice-fried chips, and we're glad we didn't. These chips were something else – shove a few of these bad boys into your kebab and you will not be disappointed.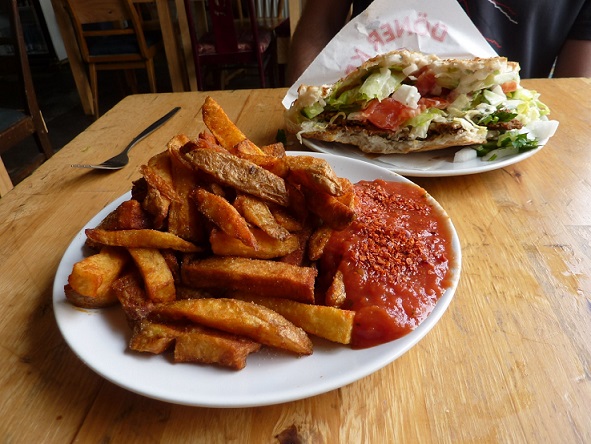 Let's bring it back to some more serious food reviewing, and to the second weapon of this vegan kebab: the sauces. Hang on, homemade sauces? While some people might assume that vegan food is necessarily lacking something, we think this just makes it a little more difficult for it to excel – it sets a challenge to produce something that can stand alongside eating animal: to replicate the enjoyment of a kebab without all of that death and suffering. Vöner does this with its sauces.
"We can trace back all of the ingredients in our kebabs. Nothing is wholesale, we make our own sauces."Alex, May 2016
Halfway in to the feast and our appetites were starting to falter. It needed something a little extra to get things moving. It needed something special – it was time for hot sauce.
Not just any hot sauce, but Vöner's hot sauce. While conforming to the German tradition of not actually being very hot, this was breaking the mould of most Berlin hot sauces by being completely homemade. With a little sprinkle of chilli flakes, the customised homemade hot sauce chip-dip was complete. Now we could continue and smash the vegan kebab platter into food legend, leaving only a few scraps of sauces and salad remaining on the plate, on the table, and on Pete's face.
"It might have been a vegan kebab, but I ate it like an animal." Pete, May 2016
All that is left to do is to take stock. To summarise the events of the vegan kebab and to try to put it within the context of global kebabbage so far: when someone shows dedication to a cause, then the result is usually ground-breaking. In this case, it wasn't turf-turning at all, but rather a revelation in flavour and in food quality that was worthy of any kebab that we can recall (and probably far more worthy than many that never stood a chance of recollection). We take our butcher's hats off to the vegan kebab – it delivered a tasty and satisfying kebab experience without any of the gory details. It was the attention to detail that shone through, both in the ingredients and in the response to our questions:
We asked Alex if he himself was a vegan:
"I am 95% vegan. This is because I pay my taxes and the government uses some of it to fund the meat and dairy industry. I want to control these edges. So, I am going to move to the countryside to become 100% vegan."Alex, May 2016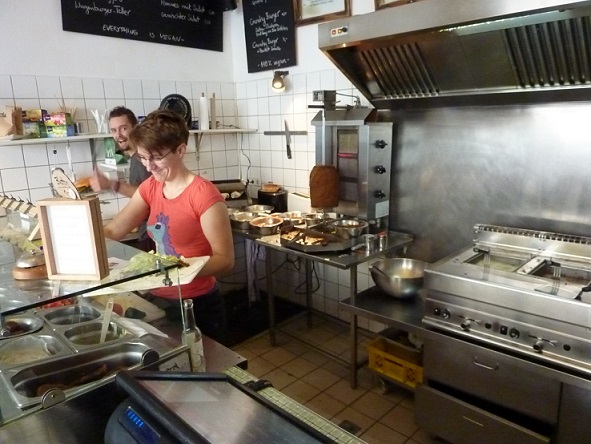 We can take or leave the seitan, but perhaps if we'd not eaten meat for a few years then who knows? Honestly, the fresh salad ingredients, homemade sauces and quality bread are great by themselves.
So, vegan kebabs from here on then? Well... no. Pete would lobby for some cheese and Kate would certainly chuck in a few pieces of succulent lamb. The chips were the real winner; the kebab was OK but we'd travel a decent way for the chips.
We don't think we'll be converted to veganism, but this place is turning out top-quality food in a laid-back setting that we would be happy to return to.
Score Category
Synopsis
Meat Quality
Erm...
Flavour Blend
Handgefertigt
Salady Goodness
Define veganism?
Spice Hit
A peaceful protest
Favourite Colour
"Green (purple sometimes)" Alex & Ceilidh – The official Vöner colour preference
Everything was perfectly executed, apart from the animals