Mexico Kebab
Pass the Tabasco, Pastor
Lebanesa good esa good, these kebbabies are good
Mexico is massive. In fact, it's the 13th biggest country in the world. We only saw the bottom of it but we can say that even down south, it is a land of contrasts: the freezing cold indigenous mountain lands of Chiapas, near Guatemala, where people stare at (and talk about) the gringos like they are aliens, down to the scorching hot tourist-infested beaches of the south-east coast around Cancun.
We have based the Mexico kebab review in two places that capture the contrast nicely: Tulum, a tourist hot-spot on the east coast, and Villahermosa, your average dirty city. Think Coventry, or Ohio.
Villahermosa is known to the locals as the "city of two lies", because it is not a town ("villa", in Spanish) and it is not beautiful ("hermosa").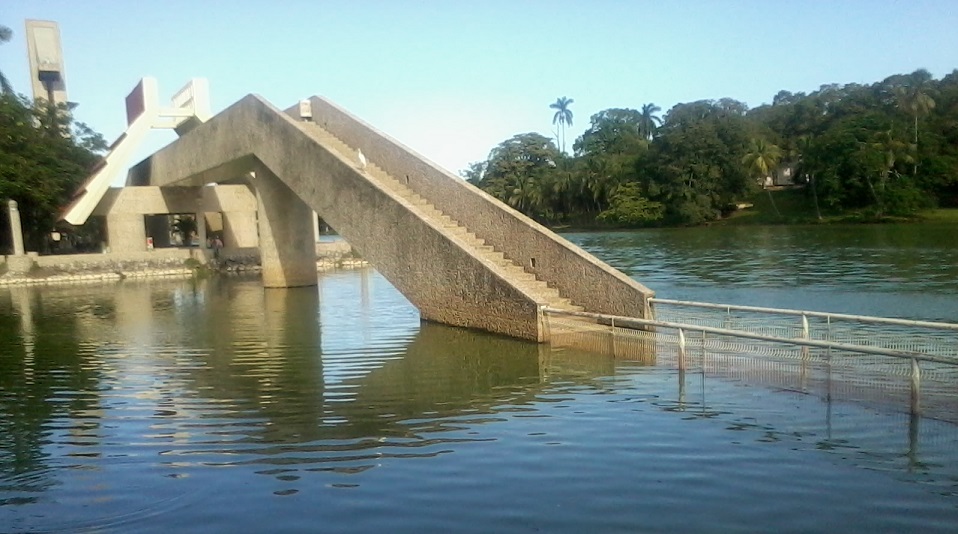 This is the most photogenic part of Villahermosa, a lovely concrete bridge that leads you down into mosquito-infested waters. Quite what the point of this is, nobody knows. Maybe the water level rose, maybe it was a joke, or maybe the architect was just a bit rubbish. Either way, this is iconic of Villahermosa, the much-derided capital of the Tabasco region of southern Mexico.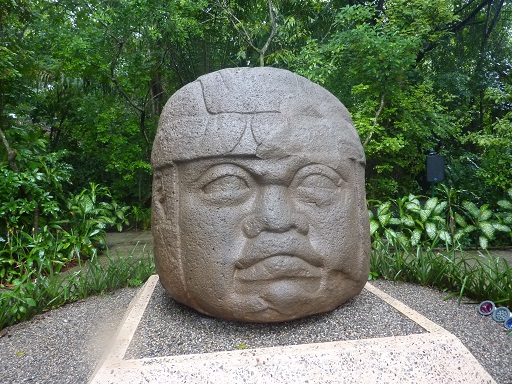 It's not all bad though, as they do house a rather neat collection of Olmec statues, left behind by the first ever humans to occupy the land. They were busy building massive stone heads well before the Mayans came along to chop them up, eat them and play their beloved ball game with their heads.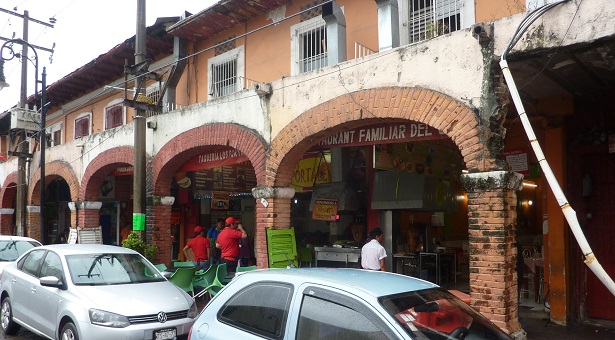 Villahermosa did, however, have one saving grace about it, something – other than the bridge – that made us glad that we bothered to stop there: kebab street.
We weren't sure if kebabs would be popular in Mexico, what with all the tacos and burritos and quesadilla and all that. But it turns out that in Villahermosa, they have a whole street dedicated to them. This street was a procession of about 10 kebab shops; this was the one we ate at.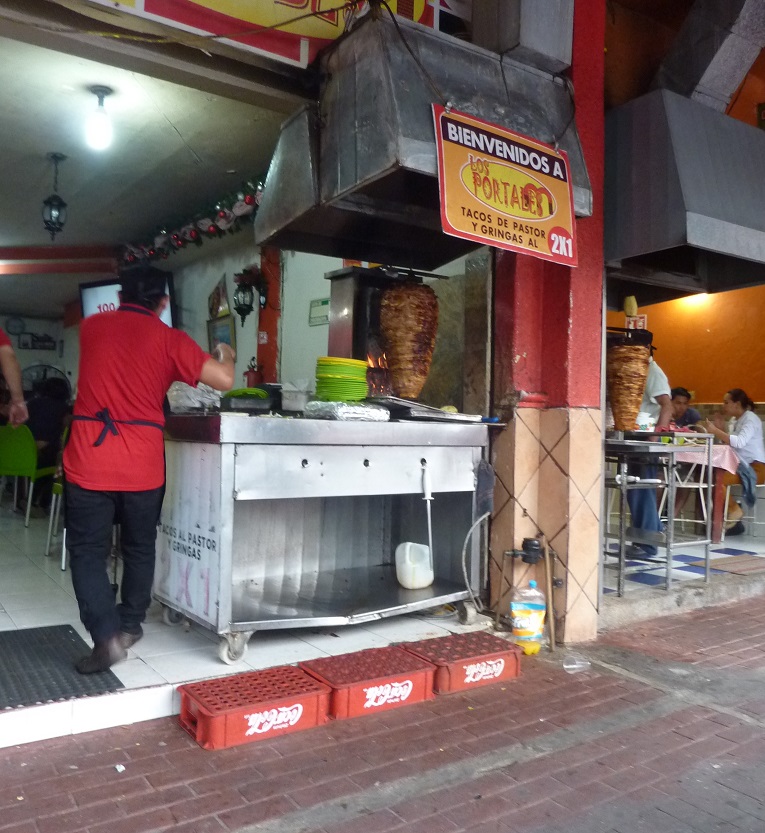 There may be some controversy here because the signage and the menus do not mention kebabs at all. In fact, they call this "al pastor", which means "shepherd style", which is particularly odd because you can't get lamb anywhere. It's all pork, marinated with dried chillies and spices and with a pineapple slowly singing and dripping down from the top of the spinning stick.
We've got the Lebanese immigrants to thank for Mexico's "al pastor" ele-leg kebabs, and for being up for adapting to the meat that was available – the Lebanese immigrants, largely Islamic, embraced the Mexican piggy (forbidden by Islam) and dutifully assembled it on their traditional vertical spit to the understandable delight of the Mexican people and now, today, there are entire streets dedicated to the noble art of spit-roasting pig chunks.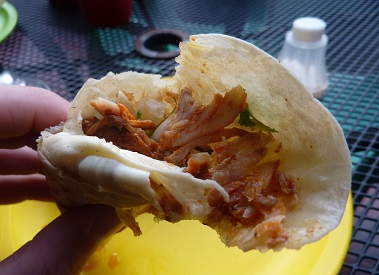 Having previously had our minds blown open by the various definitions of kebabs that have been encountered along this epic journey, from bread-wrapped meat tubes to skewers on a plate and with theories such as "it must be marinated", and "if it calls itself a kebab then it is a kebab" to offer us some guidance through these murky waters, Mexico has thrown us another controversial morsel as we are now faced with "the gringa". It isn't called a kebab. But there is an ele-leg. But they call it a "trompo" (which translates to "spinning top"). Could it be that if it looks like a kebab and tastes like a kebab, then it is a kebab? We'll let you decide.
Gringa is a slang word for a female tourist and while we may not know for sure why they called their little cheesy version of a kebab a gringa, it doesn't take much imagination to hazard a guess. Let's have a look inside one of these little beauties.
The taste was limey and fresh, with coriander and onions giving it a citrus bite. We got two of these little gringas each and they came in at a very reasonable 30 pesos (about a quid) for two.
We left Villahermosa with fond memories, despite its ugliness, to go somewhere that, at least in the photos, was more in line with the picture postcard image of Mexican beauty.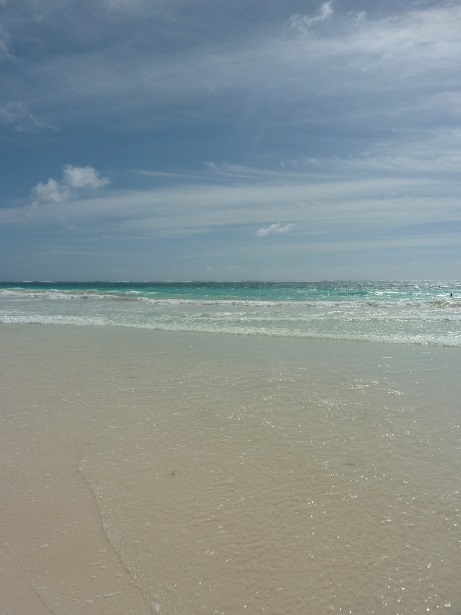 Tulum, near Cancun and Playa del Carmen – famous for Yankee spring break kids vomiting semi-digested Tequila onto the pavement (while mislabelling it a sidewalk) and posing in front of statues – promised to be the best of both worlds: spectacular beaches and ancient ruins while seeming to be a more laid-back option, for the classier tourist.
One of those places that fits the "probably amazing ten years ago" category, it had a beautiful beach, but the tourist shizzle was over-baked with the most popular activity being cenote diving, or, "tour to jump into a pond with a million American kids busy finding themselves", which looked, frankly, shit (Kate says I should edit this to be a little more diplomatic, but it is what it is). OK, yes, very much first-world problems, but Tulum was far from the undiscovered alt-travel destination that we had hoped for.
In the midst of the existential mirth created by the realisation that we were tourists who didn't enjoy tourist things, there was one thing that this region of Mexico offered that just made everything better.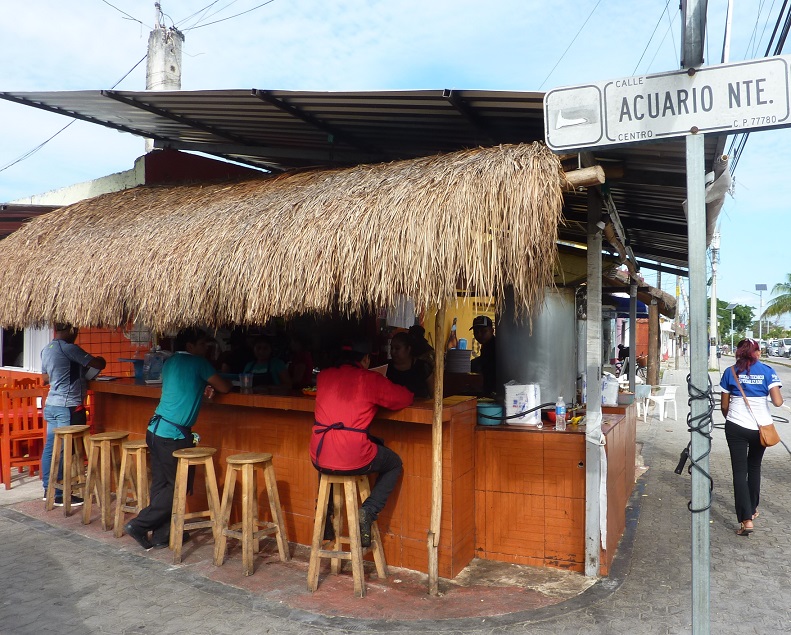 Thank you, Mexico.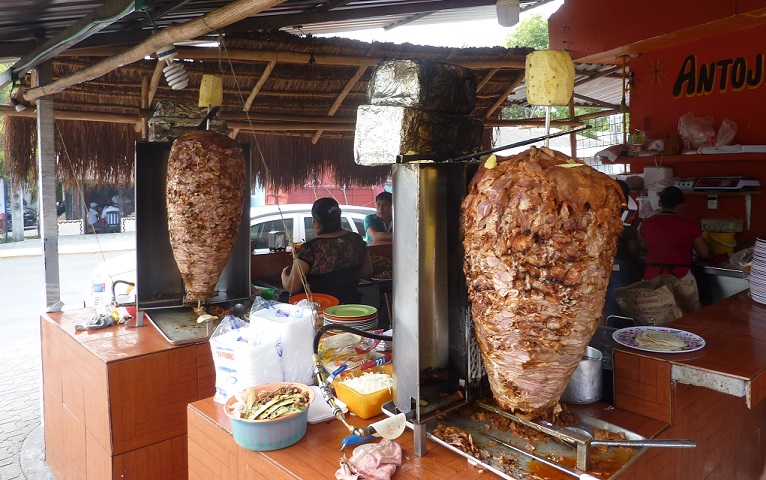 This is what travel is all about. A kebab shop with two massive ele-legs and a thatched roof. Popular with locals and tourists, and with a varied menu that consists almost exclusively of ele-leg, served with bread and other bits, all for between 25p and 70p each, this place was permanently busy.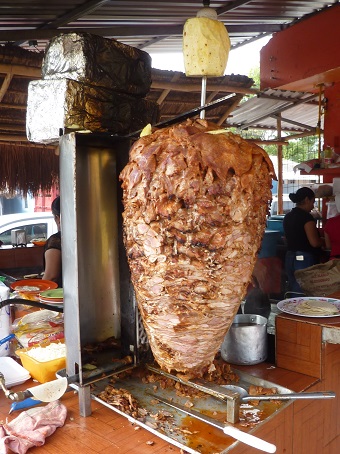 From what we saw, they smash through between one and two of these massive ele-legs every single day.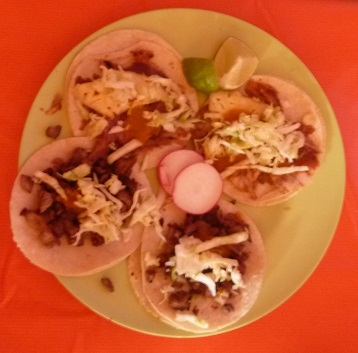 We ordered a few different dishes under various names such as tostada, panucho and taco, eating here most days, but they all boiled down to the same few ingredients: pork ele-leg, salad and lemon or lime were staples, but then some curveballs were thrown in, with flavours such as pineapple and radish making their way in along with the ever-welcome layer of local cheese melted on top.
This was like the tapas of the kebab world, dip in for a quick little babby, or settle in for a spread of many little kebabby delights to assemble how you like them, and then devour. The classic flavour combo of fresh salad and citrus, which characterises Mexican food for us, was a joy at every meal and if you feel the need for spice, then you will never be disappointed because they do not mess around in Mexico.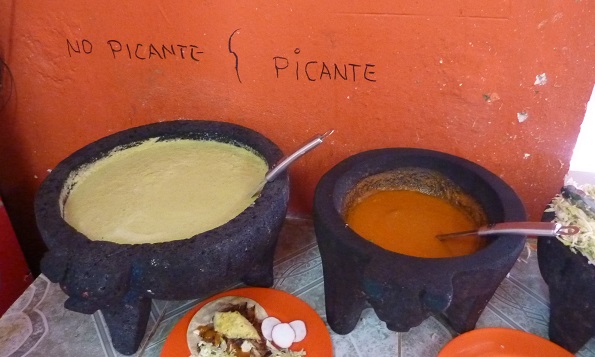 This place had made a concession to the weak taste buds of the US spring break crowd in offering two types of home-made sauce: picante and no picante. The picante sauce was exceptionally spicy, an oral assault that was to be feared and respected, despite the near infinite quantity available. Any misgivings about Mexico and the double-edged tourism sword were firmly skewered into place: when in Mexico, all hail the pastor and his ele-leg.
And so, the scores for the Mexican kebab:
Score Category
Synopsis
Meat Quality
Pigging great
Flavour Blend
Citrus and spice and all things nice
Salady Goodness
Funked up: pineapple and radish!
Spice Hit
Home-made death cauldron
Favourite Colour
Chilli green
Don't be a sombrero, join the locals for an ele-leg of spicy, fruity joy.
We leave Mexico with mostly fond memories from time spent in Chiapas, Tabasco, Campeche and Merida, and even the tourist-drenched east coast Riviera Maya, which was saved by the ubiquitous saviour, el pastor.
Next we head out of one narco-fuelled frying pan and into another; it's time to see what Colombia has to offer.