Romania Kebab
Kebab the impaler
When in Romania...
Deep in the darkest depths of the Transylvanian Alps there once lived a man named Dracula. Or at least that is what we thought until we learnt that it is a big con based loosely around Vlad the Impaler and a book by a man (Bram Stoker) who never even visited the region.
Vlad was a man who knew how to make kebabs. Perhaps one of the only Princes throughout history to attempt a human kebab, Vlad was famous for taking meat and skewering it on a stick – on a big scale. If you thought the reindeer kebab was monstrous, then just check out what old Vlad was up to.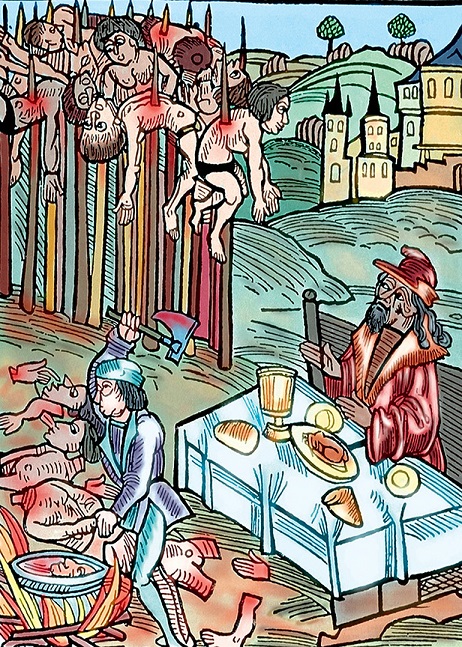 Vlad dining handsomely on something here. Human kebab? Perhaps. Either way, this open-air dining experience might not be to everyone's tastes, and Romania has moved on considerably since these days, but Vlad remains a popular figure, largely due to his love of the common man – he would impale rich men, poor men, women, children, anyone who did anything bad would get impaled. That's just how he rolled.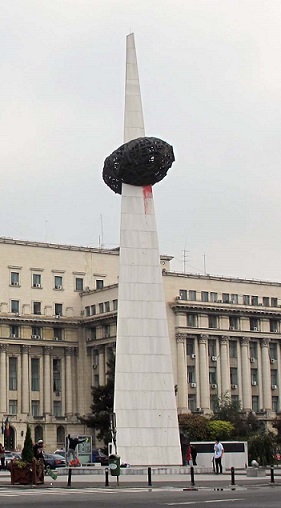 Romania's capital, Bucharest, has many ways of celebrating the glory of the kebab. This monument, named "rebirth memorial", is testament to the importance of sticking things on skewers. Like most art, people argue about what it means, but it seems clear that it is a bleeding lump of meat on a skewer, and that's what matters.
Taking a slightly different twist on the kebab theme, this street artist at Bucharest's "street delivery" festival was painting up quite a storm with his interpretation of the glorious kebab. If this is a bit risqué for you then fear not, alternative street art is available.
Like these Bucharesti badboys: battered and bruised, they signify the condition of Bucharest today – a bedraggled city, rough around the edges but with hidden pockets of charm and culture.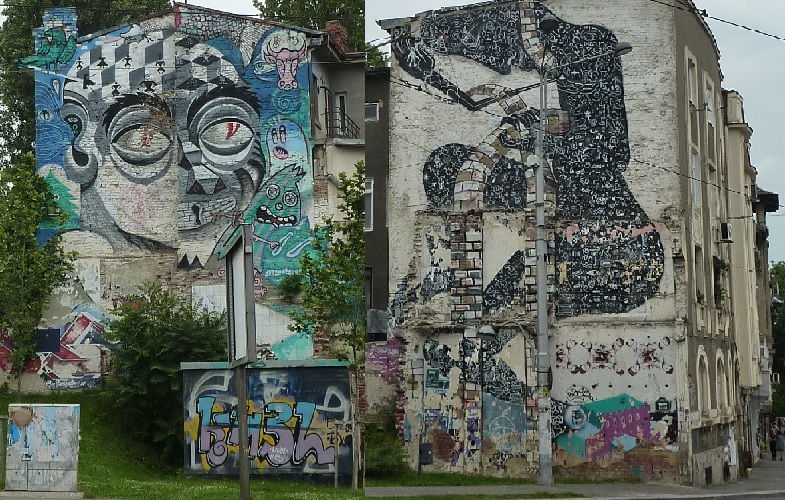 Many young people are leaving Romania in search of foreign lands (and wages) but yet Romania still tops the European growth league – it is booming. In fact, Romania has a lot to be proud about, and not just its street art.

The origin of the kebab is a hotly disputed topic but one thing's for sure, Romania has a proud history of celebrating meat on a stick.
Of course, the meat on a stick that we want to see Romania celebrating is the spinning ele-leg and we were not disappointed. Only minutes after crossing the border from Ukraine, in the small border town of Sighetu Marmației, we saw this magnificent monument to meat – the largest kebab advert so far!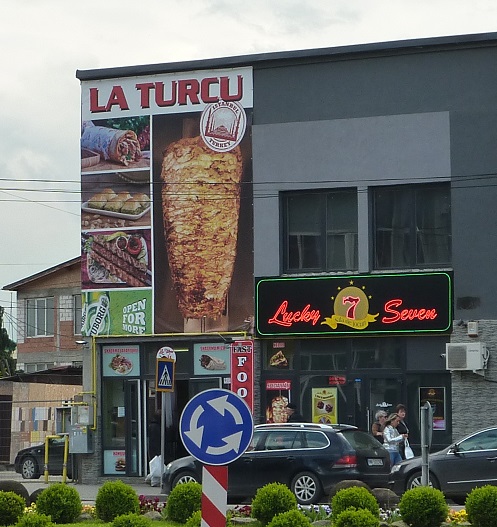 The focus of the review is a kebab from Transylvania, but first, with a sign like this, we just had to give these guys a go.
Kate had the kebab platter; it was quite a healthy meal, featuring a local favourite of barley millet risotto, spicy grilled peppers, the always welcome chips, two types of lettuce, onion and marinated beef. It was clear already that Romania took its kebabs seriously, and this was a seriously well-balanced platter of food. Three types of spicy sauce were available: pickled jalapenos, hot sauce and chilli flakes to custom-fire the kebab and it came with a freshly baked pouch of bread to enable the build-your-own babby.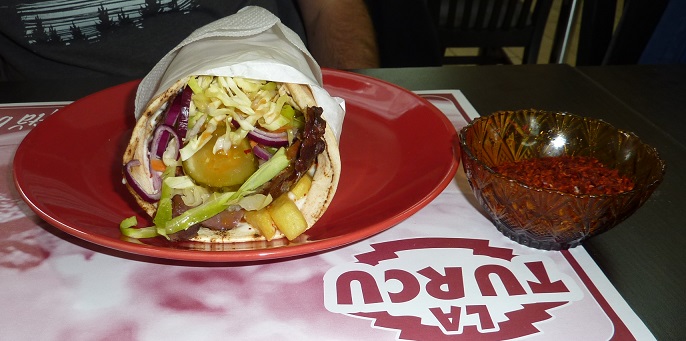 Pete went for a more traditional shawarma-style option. The bread did not know what had hit it. First it was smeared in the juices from the beef ele-leg – this was the first time we had seen this, but it is absolute genius – and then it was held against the grill to seal in the toasty beefy bready goodness.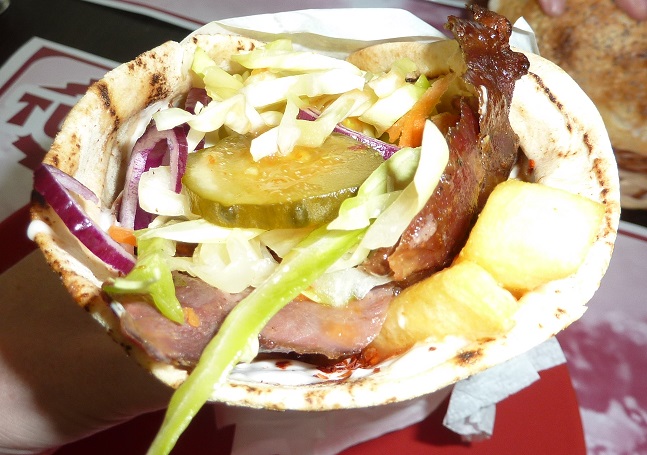 This too-big-for-the-bread beef-smeared not-feared behemoth was then assembled with a big dollop of spicy sauce, some chips (standard), and a generous portion of char-seared juicy pink beef. Eventually giving up on wrapping his chops around the supergun, Pete gave in and got it under control with a knife and fork. This kebab left its mark on Pete's heart, his clothing and his face but not so much on the wallet.
Romania was off to a good start.
Next stop was Transylvania, but rather than a blood kebab, there was not even a bear kebab to be found in the beautiful city of Brașov. Nestled against the Carpathian Mountains in the Transylvanian Alps, the old town of Brașov (known as Kronstadt) was far too posh to house a kebab shop. Luckily though, the out-of-town shopping mall had an international food court that featured the fledgling Spartan kebab chain.
A sign of the new Romania, this place was really popular, with three ele-legs and a range of fresh salad ingredients to choose from. A chain of kebab stores spreading around Romania, like Vlad himself, they must have impaled a few thousand meaty lumps by now.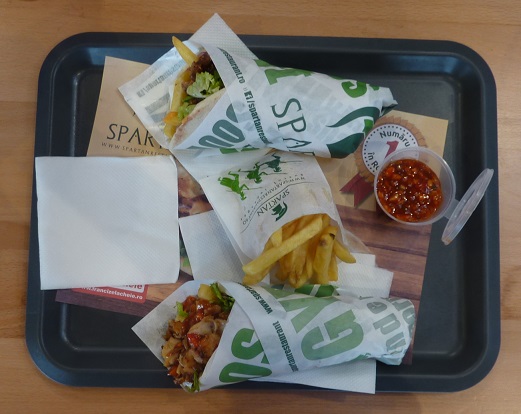 Two kebabs, chips and a drink for £8 in the air-conditioned splendour of the Coresi shopping village – Romania, welcome to the future! Never mind the Maccy Ds, Romania's fast food of choice is a far more meaty affair, and with choice of two different kebab shops in the food court, Romania is doing alright.
There is no reason to fear Dracula after eating this garlic-filled pimped-with-chips beauty. The bread was fluffy and thick and the meat was juicy with a char-grilled edge. A healthy dose of salad and some pickles topped it off to give that sense of five-a-day smuggery.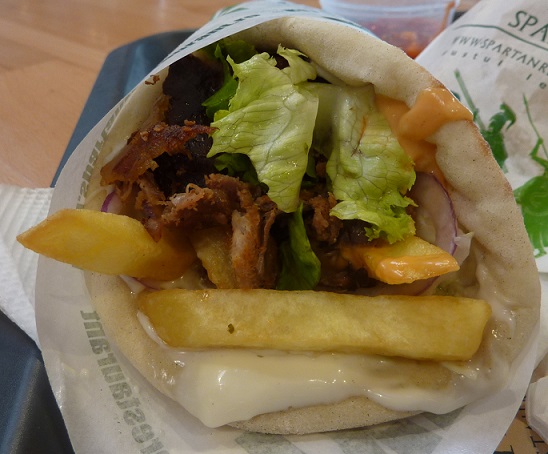 And, of course, with extra chips stuffed in there and a big dollop of hot sauce, which, surprisingly, is actually quite spicy, this was a dream.
All in all, Romania is a winner, and their fast-food kebabs are a beacon of bready beefy butty that even Gheorghe Hagi would be proud of. But did Romania make it to the World Cup?
Score Category
Synopsis
Meat Quality
Dan Petrescu
Flavour Blend
A solid performance
Salady Goodness
Full, fresh and crispy
Spice Hit
Gheorghe Hagi
Favourite Colour
Green
Vlad the Impaler would be proud of Romanian kebabs.
Next stop: Bulgaria. No, not the womble, the country!