El Salvador No Kebab!
Close, but no kebab
What the El?
Well, El Salvador may be many things but alas it is not the saviour of kebabs! In fact, we didn't find a single kebab in our two weeks in the country. Perhaps we could have tried harder but having seen none in passing and on one day gone on a walk into a less-than-lovely suburb in search of the only kebab shop mentioned on Google in San Salvador only to discover that it had become a Mediterranean restaurant, we gave up. This is therefore the first of our Around the World in 80 Kebabs kebab reviews – and the first country that we have visited – with no kebab.
Let us put your mind at rest though: what El Salvador lacked in kebabs, it sure made up for in other ways. In light of this, we thought we'd still write a review but this time focusing on the country and the travel side of things.
We were always due to just spend a week in San Salvador before heading to Copan in Honduras, but after the disputed presidential election in Honduras, our UK Government changed the status of travel there to 'Avoid all but essential travel'; and so, with road blocks and demonstrations aplenty, we took heed and decided to spend two weeks in San Salvador.
I think it's fair to say that most people's image of El Salvador is that of gang violence and murder, and general danger. Surfers might also know it for some mean waves, though they don't suit the average swimmer due to rip tides. Anyway, with this in mind, we didn't know what to expect. If honest, we'd also been a bit underwhelmed through Central America until now so we had low expectations. And how that low bar got smashed!
We stayed with Grandma Amanda in a private room in her house – she had no other guests when we were there so we had free reign over the upstairs as well as the garden and its hammocks. Aside from the bombas and fireworks (we were there in late December/New Year), it's a peaceful and middle-class suburban affair, with men with shotguns on most street corners. This makes it safe, even if at first that might seem a little odd.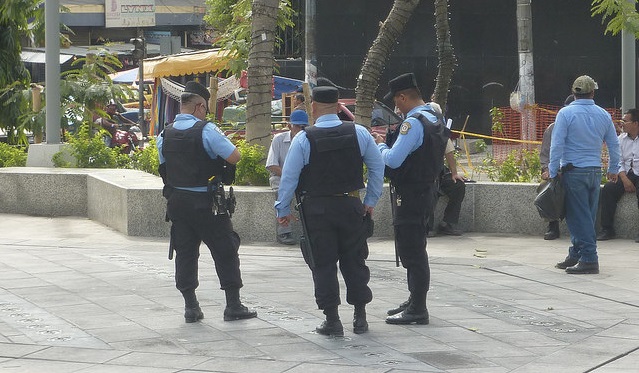 Central America is a very religious part of the world and Amanda's house was chock-full of religious iconography – this made Pete a little uncomfortable at times, but it just reminded Kate of her childhood trips to her Grandparents' house, where she had to have the Jesus on the Cross taken down off the wall as it scared her (she also had to leave her Christmas stocking outside the room as she was scared of Santa Claus, but that's a story for another day). Many might call us heathens, for many reasons, but I suppose San Salvador did well on churches, with one of the most amazing churches we've ever visited: Iglesia El Rosario. We only went there because we decided to do the free walking tour with EC Tours and it was part of the route but boy were we glad to see it. The photos don't do it justice as the light shining through the stained glass is what makes it so different, plus the eye and the abstract metal approach to the Stations of the Cross. Seriously, if you follow our advice and #DontSkipElSalvador, I highly recommend this free tour, or at least a trip to this church.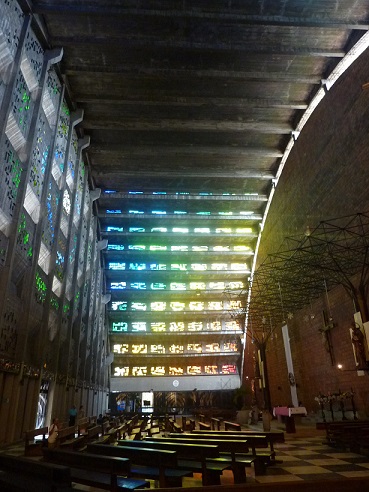 The walking tour through downtown made the central area seem much less daunting than when we'd been the day before, and it's not for the faint-hearted, but it was worth seeing, if nothing else but for the contrast with the more touristy areas to the west of the city. El Salvador had the feel of somewhere that was ready to come to terms with its traumatic past and was on the up; it is still, however, adorned with remnants of the bloody history, including some street art.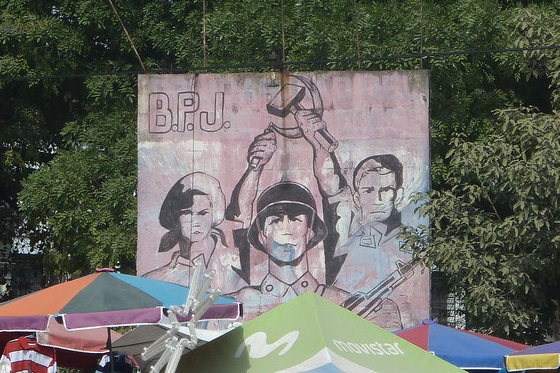 Personally, we weren't that keen on Zona Rosa as it could have been any city in the world, though Antiguo Cuscatlan was nice, and we had some fab food there. It's also famous for pupusas and there was a variety of options available. In fact, we think it's the pupusas to blame for the lack of kebab: when you can get cheese-filled tortillas, or other fillings such as rice and beans, with spicy sauce on the side for a whopping 50 US cents (or three for $1), where's the market for a kebab?!
Talking of the price of food, we could also get a menu of the day in the capital, including a drink, for as little as $2.25, again meaning the kebab's cheap appeal is squeezed even further aside.
Having seen the delights of the capital but being such a small country, we decided to see what else El Salvador had to offer. We went on the local bus to La Libertad, except we didn't realise we'd arrived and the bus carried on, meaning that instead we arrived in El Tunco, aka Surfer Town. It's really a strip of black sand beach with a load of hostels and bars and restaurants catering to tourists, but still no kebab! We weren't too keen on the place if honest so got on a bus back in the other direction and this time got off in La Libertad – a much more local beach area, with the pungent aromas of the fish market mingling with the fresh sea air. Oh, and the smell of fire crackers being set off right in front of us. You've got to love the lack of health and safety concerns in this part of the world.
But the black sand and dangerous waters meant it wasn't really the ideal beach for us, so we headed back to the cooler climes of San Salvador. Other trips out included more local buses to the Mayan ruins at Joya de Ceren, and a New Year's Eve trip up to San Salvador volcano with Amanda. Not all volcanoes are created equal, and seeing the lava at Volcano Masaya in Nicaragua had been a highlight, but San Salvador volcano had a crater in a crater and some spectacular views, and we also sampled our first pupusas there – so oozy and gooey. Maybe we should have rolled it up and made it look like a kebab, just for this review?!
Amanda and her family also then invited us on a trip to Ataco, via the ruins at Tazumal, and it's fair to say we loved the countryside, the trip round the higher-altitude and therefore cooler picturesque town, and generally seeing lots of the country.
Like we said, while El Salvador lacks ele-legs, it gains points for its varied culture, geography, food and climate, making this seem like the hidden and not-so-discovered gem in Central America. It needs to be discovered by a kebab shop owner next!
El Salvador – what is your score?
Score Category
Synopsis
Meat Quality
Not on your nelly-leg!
Flavour Blend
Cheeze and maize but not a kebab
Salady Goodness
Yeah, but, you know...
Spice Hit
Hot sauce a plenty, but where to squirt it?
Favourite Colour
Green
El Salvador was El Salivador as we are left craving our kebab fix.
With this kebab disappointment behind us, it's on to Guatemala, a much bigger land so surely it's home to a kebab or two...
ps – if anyone wants more information on our travels in any of the countries discussed in the blog posts, just get in touch.