Costa Rica Kebab
He's Lebanese-a-good
Is it a real kebab? Is it just fantasy? Caught in a landslide, Costa Rican delicacy...
Costa Rica, a fertile and sweaty land of exotic birds, monkeys and volcanoes. Give or take a few hunter-gatherers, it all kicked off here when Christopher Columbus and his conquistadores sailed their merry way over from Spain.
Several centuries of genocidal enslavement later, and we have a proud nation that makes its money selling bananas, coffee and banana and coffee tours to the scores of Yankee holidaymakers, European backpackers and international eco-tourists that fuel the economy of this surprisingly well-to-do nation.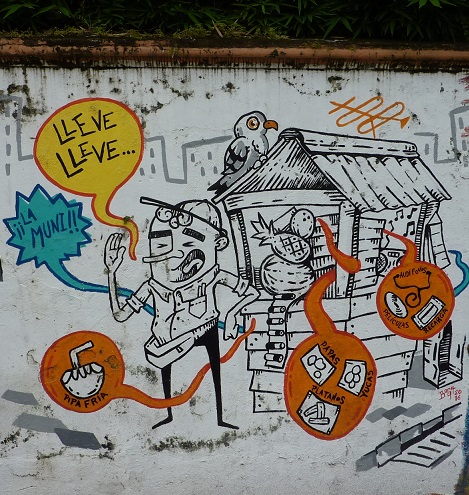 A picture tells a thousand stories, and this one depicts a typical local street trader, giving it all that while giving the slip to 'la muni' (the police).
Despite hearing numerous warnings about San Jose being dangerous, the people are, in fact, a chilled-out bunch. Their favourite saying 'pura vida' literally means 'pure life' but it translates more as a take-your-time, never mind, all good kind of vibe and the locals are more likely to try to sell you a new wallet than rob your old one. Many have more money than you anyway, so there's not much to worry about.
The buildings in San Jose are as brutal as its history and this one tells its own story: built as a children's hospital, it was decided that instead of painting it or, indeed, finishing it, they'd save the money for the poor kids that were to be treated here.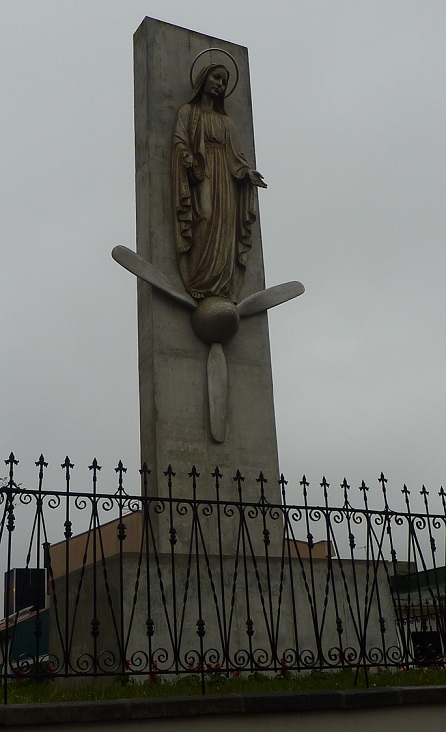 Sometimes, there simply isn't a reason for something.
Now, we're not saying that the virgin Mary didn't love wind turbines or airplane propellers, but this has to be one of the oddest sculptures around. You can never be quite sure what's around the corner, Mary on a wind turbine, giant papier-mâché politicians... what?! Yup, check these naughty boys out.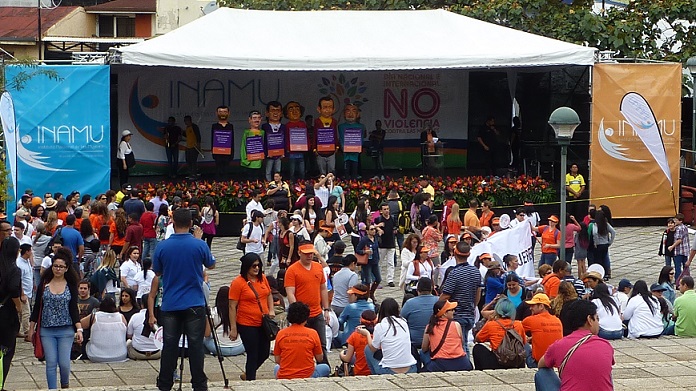 A window into some of the social problems that Costa Rica is tackling, this is a rally against domestic violence and it features five prominent politicians being paraded around the stage with things they have said about women hanging from their necks.
"I love women, the younger the better." Costa Rican politician
Guess we'll have to wait for operation Yew Tree Costa Rica. Yuck. Well, from the saviour to the unsavoury, we now move on to the downright tasty as we are delighted to report that we can bring the seemingly endless hunt for a kebab to a close at the closest thing to a kebab shop that Costa Rica has to offer. (And that we could find.)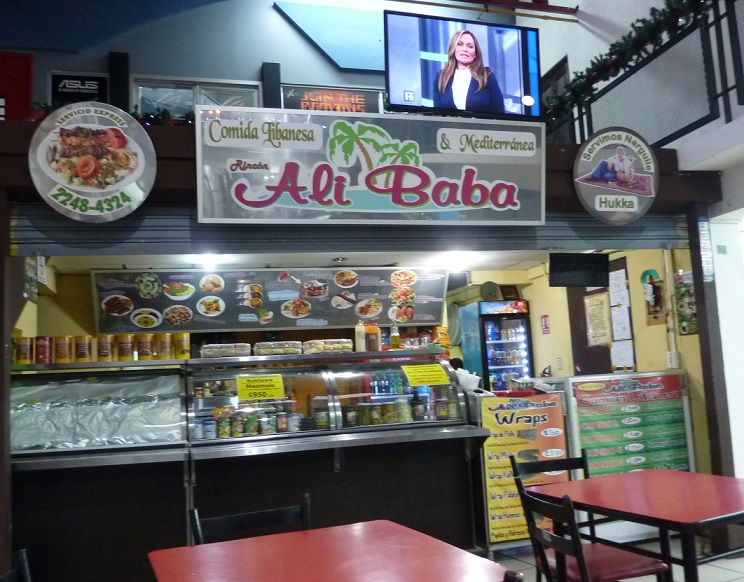 Nestled inside a shopping centre in the downtown area, this Lebanese fast-food joint was a sight for sore eyes, promising to end a draught of kebablessness that was starting to cast a dark shadow over our enjoyment of this tropical paradise.
We ordered the kofta kebab wrap and the mixed shawarma plate and waited with joyous anticipation.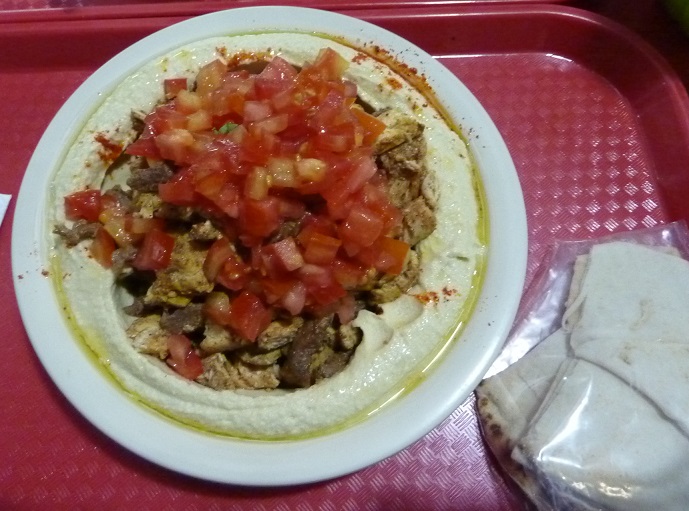 The mixed shawarma was as mysterious as it was surprising. What's in a name, right? A plate of hummus, chicken, beef and tomato, with some pita bread to mop up with.
"It's good, but is it a kebab?" Pete, December 2017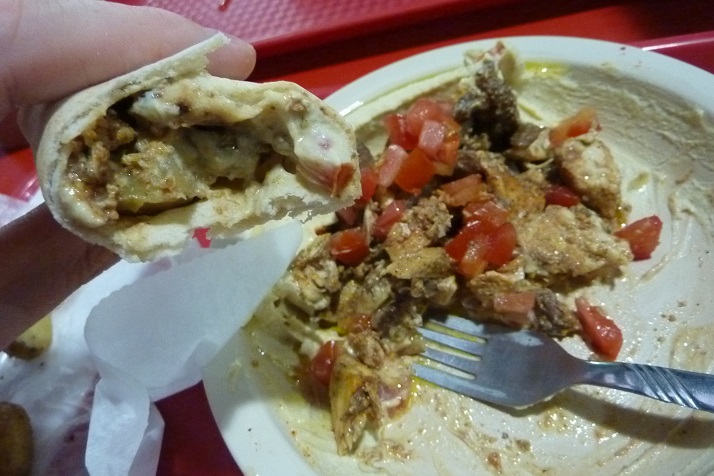 After some painful thinking, Pete figured out that this was in fact a make-your-own kebab kit and began to assemble the bread, meat and salad, along with some spicy sauce, into a neatly wrapped parcel of Lebanese kebbabery that was genuinely as tasty as its ingredients might suggest. The little chargrilled (burnt) chicken bits were a particular highlight.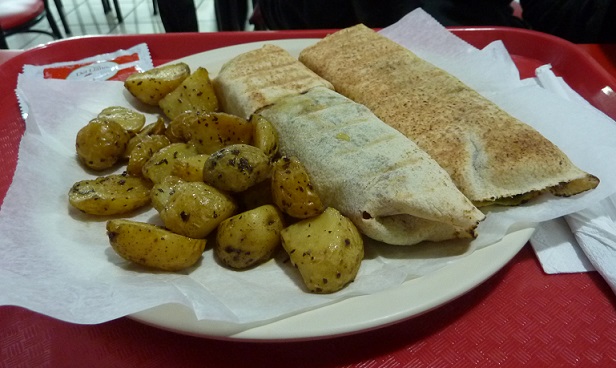 Kate went for the kofta kebab wrap and this was more in line with the traditional kebab that purist kebab aficionados might demand.
What's better than a kebab wrap? Yup – two kebab wraps. And fried potatoes.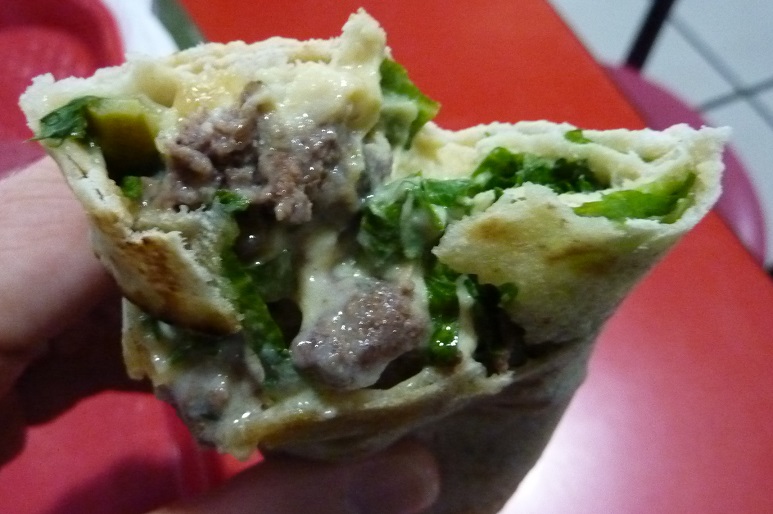 Drenched in yoghurt sauce and with spicy chilli sauce on hand, this Lebanese treat hit Kate's spot.
The yoghurt sauce balanced out the slightly dry bread to give a kebab experience that was, overall, pretty good.
It may be hard to find a kebab in Costa Rica, but this experience has proven that with enough determination, there is always a kebab to be found. Or made.
Scores on the doors for the Costa Rica kebab:
Score Category
Synopsis
Meat Quality
Moist-in-the-middle charred-edged joy
Flavour Blend
A nice change from rice and beans
Salady Goodness
Bit of tomato
Spice Hit
Obligatory hot sauce: tick
Favourite Colour
Red
These are good, these are good. It's Lebanese-a-good.
And so the Central American conquest continues as we head North to plunder the kebab riches of more Central American states. Let's hope it's easier to find the kebab in Nicaragua.