Latvia Kebab
The many sides of Latvia
Stag-tastic kebabs and local Shashlik delights
It's Riga, Latvia. With a nice old town and a big old river, Riga is home to half of Latvia's population, one million of them. Nestled more or less between Russia and Poland, their history is, as you might imagine, troubled.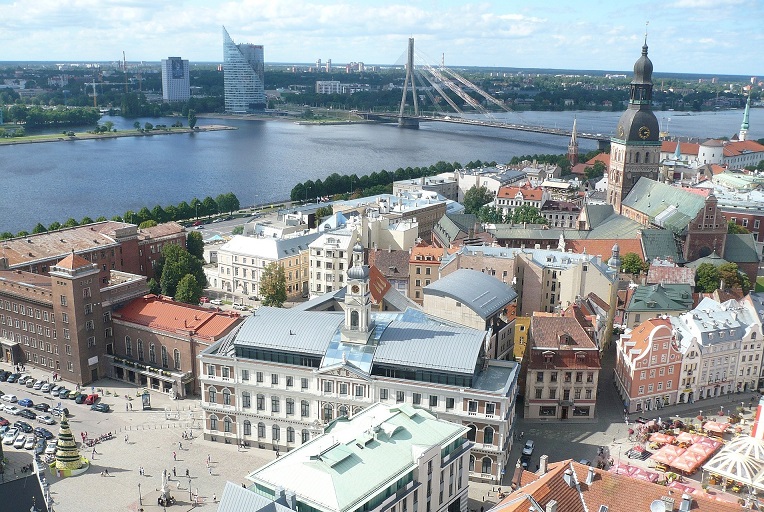 But never mind that, here's a lovely picture of the old town of Riga and the River Daugava; for most of the booze-filled Brits who boldly arrive to explore this brave land with a battleplan of black balsam, blackjack, black-out then back to Blighty, this is the only part of Riga – and indeed Latvia – that they will ever see.
Having been invaded by the Crusaders, the Swedes, the Polish–Lithuanian commonwealth to then entertain the Soviets during WWII, then the Nazis, then the Soviets again, Latvia's architecture is as diverse as the list of nations that have conquered it. Here are some of the relics of these generous nations.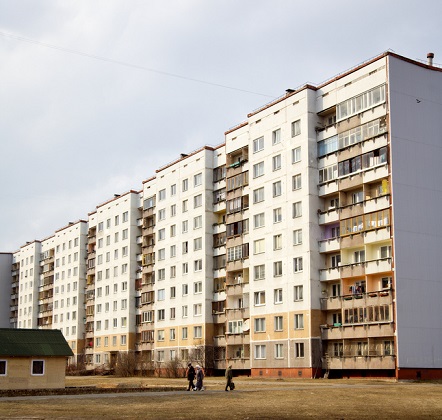 This delightful example of the Soviet building style shows just how much money you can save when you build houses for people. Presumably Stalin needed the spare cash for his "birthday cake".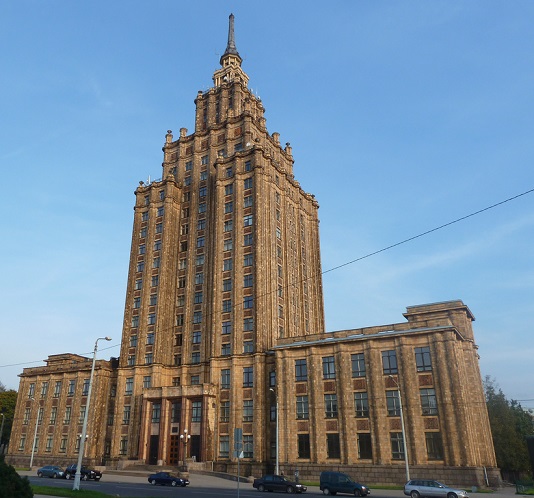 It's not all ruthless Russian ravaging though; no, the Germans don't come out looking too good either. Latvia houses a sombre and spooky sculpture park, at the site of a Nazi concentration camp in Salaspils. This sculpture (left), entitled "The Humiliated", sums things up. And let's not even get started on what has happened to the remaining traditional Latvians – mostly Pagans – who are here celebrating the equinox by hailing the sunrise, rolling eggs, dancing, erecting a fertility swing(!) and building a big fire in the park.

Onwards to the future and the outlook is bright for the Baltics, just as long as they can keep Russia from nibbling at them. The many-sided nature of Latvia shines through in the variety of kebabs available. We tried several, including two kebab chain restaurants. Yes, it seems that chain-store kebab shops are rather popular here.
The first chain we ate in is not even making it to the review: pappy bread, full of cabbage, cardboard meat and doused in ketchup. It was a proper awful fast food joint with overly bright walls and overly bland kebabs.
Unlike this place. "Pakistanas Kebabs" are everywhere in Riga, servicing the kebab requirements of the drunken Brits, but also the local student crowd (or at least, that's who we saw there) with their no-nonsense kebab offerings and bargain basement prices. Looking like a take-away, but housing two storeys of seated and stuffed students, these kebabs are proper good and proper cheap, with a small kebab going for €1.90.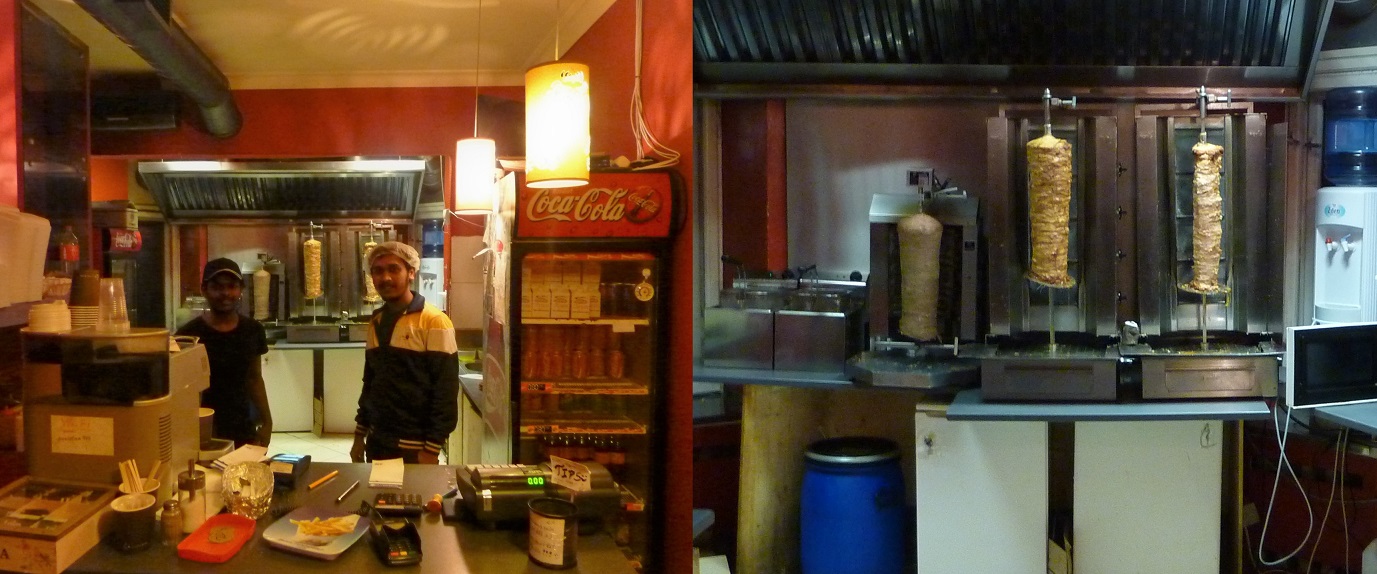 The service is great too. These two kebab heroes are ready to serve up a fresh dose of kebab glory however you like it: ordered in English, the kebabs come with a choice of spice but be warned, this spice is not German spice, it's not even Latvian or English spice: it is Pakistani spice.
"Do you want it spicy? Not spicy? Or medium?" Kebab shop hero, April 2017
Now normally, the advice is go for it as spicy as you can get it but this place really means it when they say spicy. This was the spiciest food Pete had tasted since an old friend from Pakistan shared some food that his mother had prepared. Oh boy, Pakistani food is hot!
With the option of chicken and beef on the kebabs, we went for a chicken kebab with spicy sauce and some cheesy chips. Hardly classic, but very tasty and decent-quality food, and compared to the other chain kebab, this was excellent.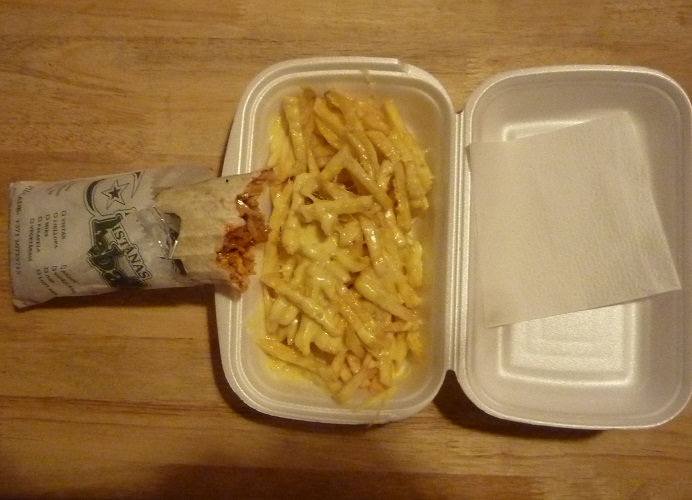 How did it taste? In a word: spicy. Really spicy. But also fresh and tasty. The meat quality was good, the salad included gherkins so Kate was in pickley dreamland, and the bread wrap was soft.

It was neatly rolled and packed full of meat with tons of spicy sauce dripping from it to keep it all nice and juicy. This may not be Latvian style, but it was a bargain, and it was tasty. Pakistanas kebabs: we salute you.
But this is not the end of Latvia's kebabery. Oh no.
After a little research, we found what the Latvians consider to be one of their national dishes and we went in search of the most revered place in Riga to get the Latvian national dish: the šašliki.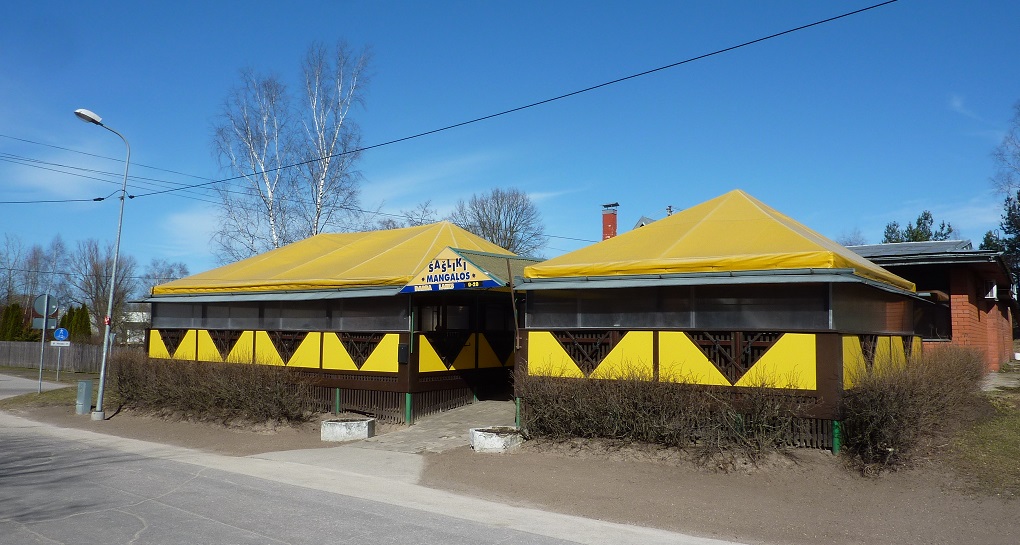 Located on the northern edge of Riga, hidden away beside a large park called Mezaparks, is this place, called Sasliki Mangalos. Widely considered to be the best Shashlik in Latvia, this place looks like a 70s Russian school canteen on the inside.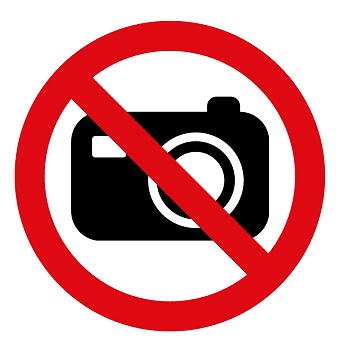 As you enter, there is a list of signs telling you what you are not allowed to do. One of these things is take photos: what goes on in here is not allowed to be shared. We have no idea why. But we did as we were told. This place was more than a little bit intimidating. A big surly man fronts the shop, and once the language barrier was breached, with the help of a young local, two chicken skewers, one lamb skewer, bread, and a full salad were ordered. All separately, and five to ten minutes later, the feast arrived.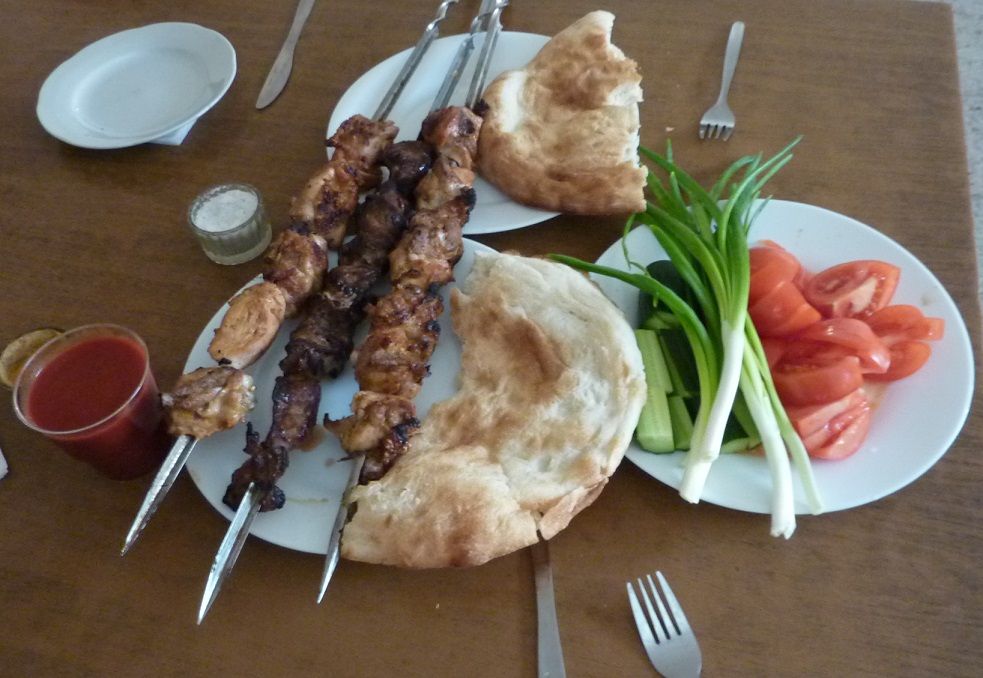 This is the traditional Latvian kebab and oh my God it was some of the best meat ever. The chicken was skewered on the bone and chargrilled to a state of only just cooked juiciness on the inside with beautiful charred crispy edges but no one is allowed to see it (we got permission for the limited photos we do have of our food), so the mystery of the making of the meat remains.
The lamb was succulent and juicy, pink in the middle, chargrilled on the outside, a genuine joy and surely some of the best meat of all time.
It comes with a fill your own cup of homemade tomato and herb sauce and two pots: one for chunky salt to encrust your meat with and another for an unknown spicy powder. You can then build your own bread-filled mix of ingredients. The bread, by the way, was fluffy and substantial. This was a massive mega-meal for two that was only achievable thanks to it being, simply, delicious. One word of caution: don't be an autocondimentarian! Pete loves salt but these meaty mounds were already very salty. Pete added more salt anyway, Kate's palate was already fully salted up.
On to the scores. Since Pakistanas kebabs is a chain, and Sasliki Mangalos is the local underdog, we're doing the scoring based on Sasliki Mangalos.
Score Category
Synopsis
Meat Quality
Its mystery is exceeded only by its taste
Flavour Blend
Funky, fresh, simple and delicious
Salady Goodness
Straight from the market
Spice Hit
Not really (try Pakistanas kebabs for that)
Favourite Colour
No questions about colour allowed. And no photos.
From stags to riches, Latvia has a kebab for everyone
Next, it's off to Lithuania for our final slice of Baltic kebabbery. We have no idea what to expect.