Reindeer Kebab
Joining the reindeer games, Rudolph?
We're playing hunger games!
Finnish Lapland: home to 180,000 Finns, a seven-month-long winter that is always snowy, and, if you believe their tourist board, home to Santa Claus, his elves and his beloved reindeer. Much like Turkey's, Greece's and Germany's claims to be the home of the kebab, Lapland's claim to housing Santa Claus is equally as tenuous, although they have gone to the trouble of building a theme park to prove it.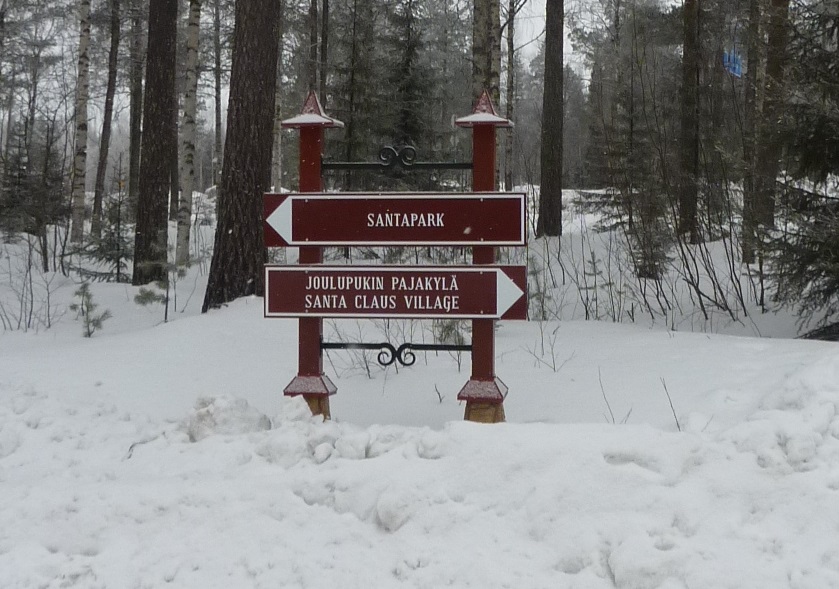 The traditional herd animal of the indigenous people, Santa included, the noble reindeer has provided many services to the people of Lapland. Reindeer are a convenient pack animal, capable of dragging a heavy sleigh full of supplies (or tourists).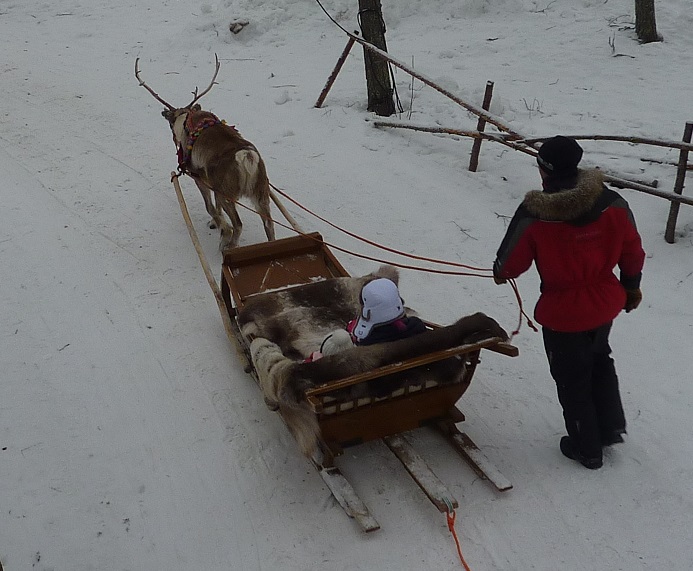 These antlered arctic beasties might be so tame that they're nearly asleep, but they are super cute and a big hit with the holidaymakers. On the other end of the speed spectrum, take a look at these fellas.
More comet than cupid, more dasher than prancer, these hardcore reindeer rude-boys are ready to tear up the tundra and that's exactly what they did at the Poro Cup Reindeer Race in Rovaniemi, Lapland. The local Lapland lycra-loving reindeer riders are dragged around the racetrack at a speed that makes even Santa's delivery schedule seem possible.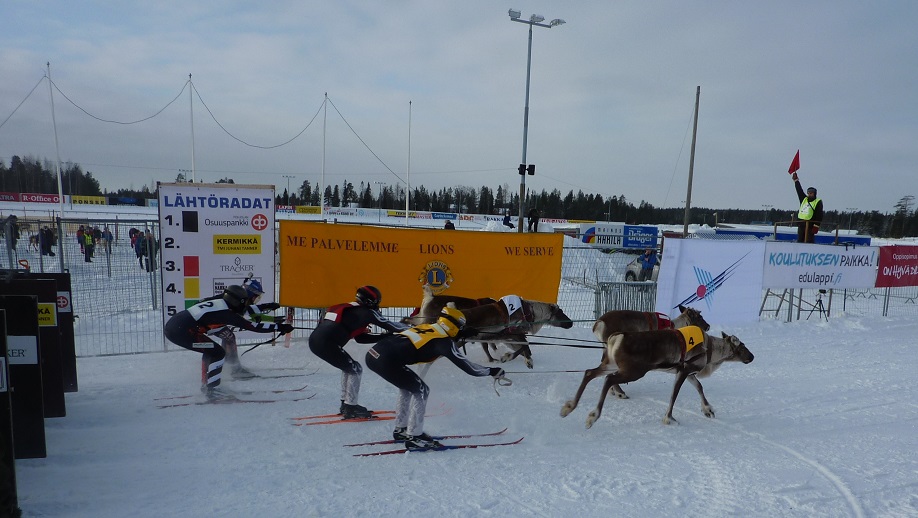 Yet another skill from the repertoire of the fantastically talented reindeer. Could Rudolph and Co. offer anything more to the world? They have brought us presents at Christmas, infuriatingly catchy songs about red noses, they transport us around at various speeds... Well, there is, of course, one more thing that little Rudolph has to offer us: reindeer kebab!
Looking more than a little bit chav from the outside, this place was a welcoming oasis as the temperatures fell towards minus 20 and the hunger was rising. With Finland in general being almost as expensive as Norway, and Lapland being one of the most expensive parts of Finland, we were expecting to pay a high price for our kebab feast. However, having set out in search of a reindeer kebab, we were willing to pay what it takes.
We were not disappointed.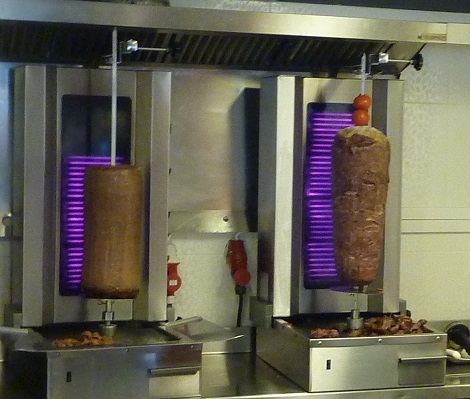 On arrival, there were clearly two options, the one on the left looks like a traditional lamb döner but what is that one on the right? It looks similar to the lamb but with a different texture, like there was more going on there and the two mysterious tomatoes on the top of the skewer give it a sense of importance that only feeds our optimism.
Could it be the reindeer kebab that we were dreaming of?
No, it's not. The reindeer is on the menu, but not on the stick – it is added to the lamb when the kebab is rolled. It seems the locals prefer lamb!
"It is a reindeer and lamb kebab." Reindeer kebab hero, February 2017
As if the moment couldn't get any better, there was a lunch deal on: kebab, side salad and a drink for £7! We knew this was great value, as you can't get a decent pint of beer for that in Finland.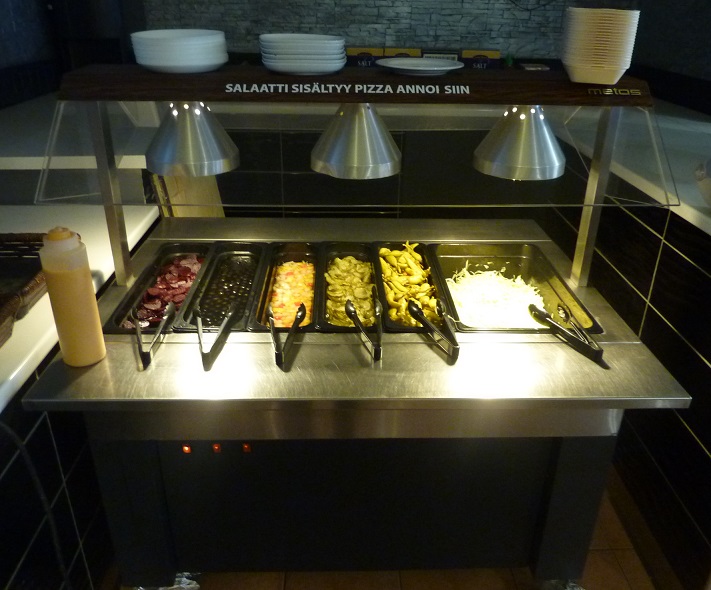 Kate set about sampling the side salad starter, loving the pickled delights, and Pete gave the salad the dodge it deserved, as an avid disliker of pickles, as we awaited the majestic moment of meaty magic. And oh my god, was it magnificent.
Despite being believers in the mantra that size is not everything, sometimes, there is no escaping the fact that bigger is better.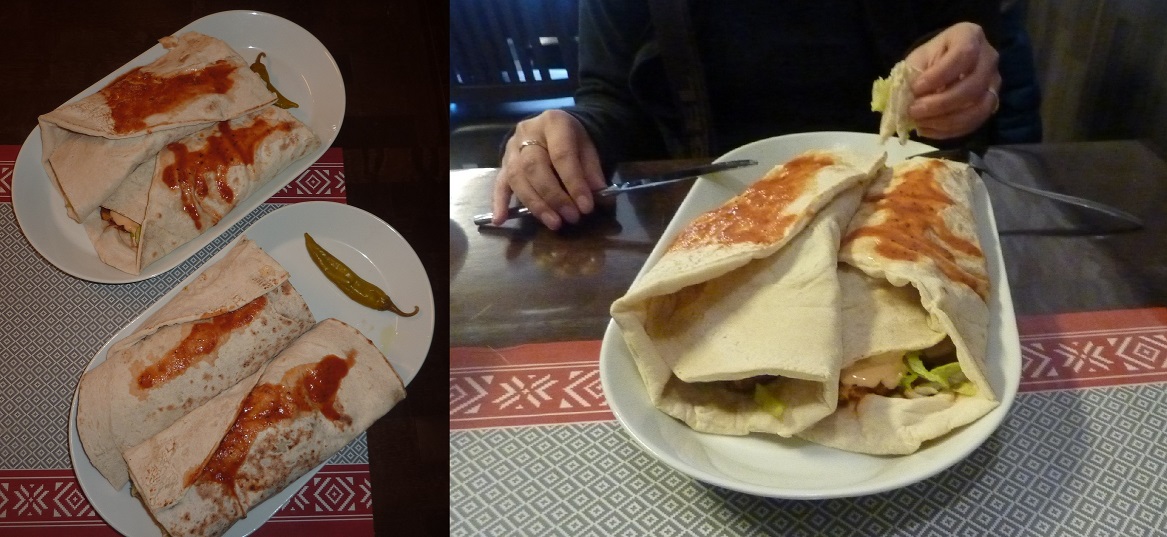 Requiring especially large plates, and needing to be cut into two, this is by far the biggest kebab we have ever seen. The aerial photo was taken with Pete at full stretch and it still only just fitted both plates in. Kate is dwarfed by her double whammy mega-kebab.
Let's talk a bit about these behemoths: Pete went for, of course, the reindeer and lamb kebab and Kate went for a falafel with chilli sauce.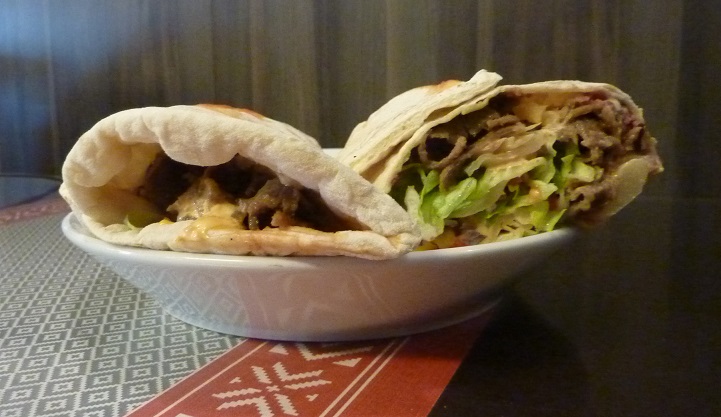 What is the perfect accompaniment for a reindeer kebab? Well, this one came with pineapple and a little bit of blue cheese. Proving the French wrong by delivering gourmet food without skimping on portions, this Hawaii–Lapland killer-combo brings a much welcome taste of the tropics to the Arctic winter.
What about little Rudolph? The reindeer tasted a bit like beef, but with a slightly venison-like gameyness. Juicy and salty with a hint of smoke, it was certainly not a let-down. Kate thought he tasted a bit like bacon.
These kebab colossuses always looked too big to finish in one sitting. However, determined to have a go, Pete recalled the lessons learned from watching Man Vs Food and reached for the hot sauce. Often the saviour of otherwise bland kebabs, this time the call of duty for Sr Sriracha was to transform the abundant bread – soft and tasty but oh so filling – into a spicy coat of doughy glory.
Stuffed full of Christmas cheer to the point of re-gifting, we knew that there was no hope of finishing these kebabs. Fortunately, the generosity and ingenuity of this Lapland kebab shop extended to offering a wrapping station with tin foil so you can take it home to finish later! Thank you very much Lapland, that'll go nicely with extra cheese in front of the TV!

You could easily feed two people with these left-overs. Kate's hand is dwarfed by the wrapped-up remnants of the glorious and ginormous Lapland kebabs. Unbelievably good value and delightfully tasty, there's just something great about wrapping up Rudolph in a soft Turkish bread with fresh salad, red and yellow peppers and chilli sauce. It made us feel festive, even in February.
Never mind the rock-and-rolling Rudolph, this kebab and grill house had Finnish death metal music playing to enhance the dining experience. The music did aid the appreciation of the sacrifices made by the reindeer throughout their lives, from rohipnol Rudolph taking the tourists around Santa's village to rude-boy Rudolph racing around the stadium. And then they make the ultimate sacrifice to give the greatest gift of all: the gift of kebab.
Here are the heroes that made it happen. We salute you, pioneering slayers and purveyors of the noble reindeer.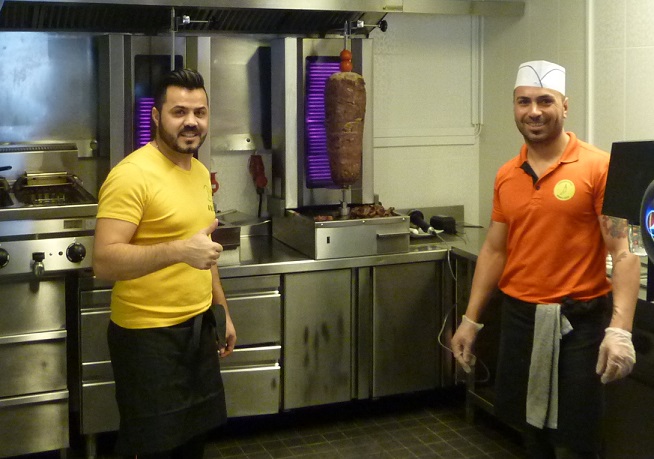 It's score time for Rudolph:
Score Category
Synopsis
Meat Quality
Reindeer!
Flavour Blend
Ambitious and delicious
Salady Goodness
Half an allotment
Spice Hit
On tap
Favourite Colour
Red
Rudolph you're a taste delight, won't you ride my plate tonight...
Scandinavia has exceeded expectations and really raised the kebab bar with treats ranging from the ritzy to the Rudolph. What could possibly come next? All we know is that next, we head to Estonia: to bear country.