Norway Kebab
Nordic delight
A-Ha!
It is with a sense of trepidation that we arrive in Oslo, Norway and attempt to recreate the glory of the world's greatest explorer and head to the unchartered territories of Scandinavia.
In the footsteps of Sir Ranulph Fiennes – voted the world's greatest explorer in 2003 – we head for Norway. Unlike Sir Ranulph, we're not going to stop at the Jostedalsbreen Glacier, oh no, we're going to carry on, in search of the most sought-after treasure of the Nordic realm – the kebab.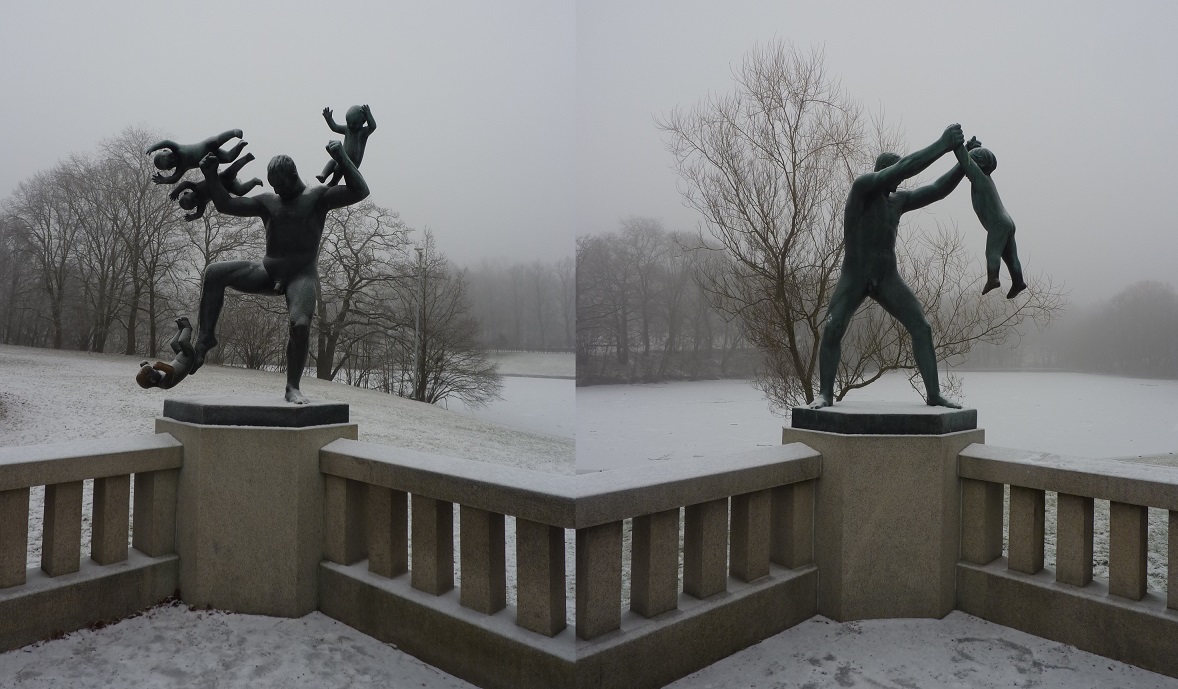 If there is one thing that can be said of Oslo, Norway's capital, then it is that it is full of statues. It's as though someone struck oil and didn't know what to do with all the money. They put most of it aside for their people in a sovereign wealth fund so that Norwegian people will never again be poor, and then spent the rest on art.
But didn't Britain find oil in the North Sea too? Yes, yes we did, but we sold the rights to multinational companies to make some easy money in the 80s and now we've spent it all; in fact, Britain has debts of £29k per person, whereas Norway has a spare £92k per person! Nice one, Maggie, this round is on you – or at least we wish it was, since it cost a whopping £20!
Fuelled by a single beer, and with just enough money left for food, we went on the search for Oslo's finest kebab.
Downtown Oslo has an entire region that hosts a high density of kebab shops, and we chose this one partly due to the increasing level of hunger, and partly due to the biting cold wind.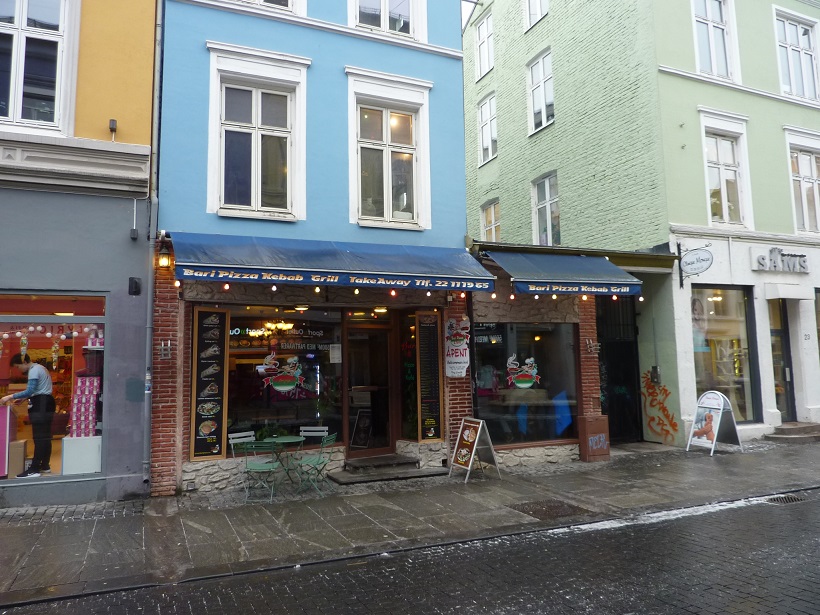 The name of this place was the "Bari pizza kebab grill takeaway". Naturally, we assumed that we would be in for a fairly dodgy kebab, served by an Italian plumber with a dodgy moustache but we were in for a surprise. The first thing that became apparent was that this place was more than a little bit hipster. More Lars than Luigi and more Magnus than Mario, the clientele were trendy beardo hipsters in their 20s and 30s, and the music was more suited to the chill-out room in a Berlin club than a Bari pizzeria. The place was decorated like, well, I have no idea what culture this place is imitating, but it looks rather swanky for a kebab shop! Ornaments on the walls, tables that may have been salvaged and restored from the ruins at Pompeii and all set in a warmly lit and well-heated dining room that gave a great first impression.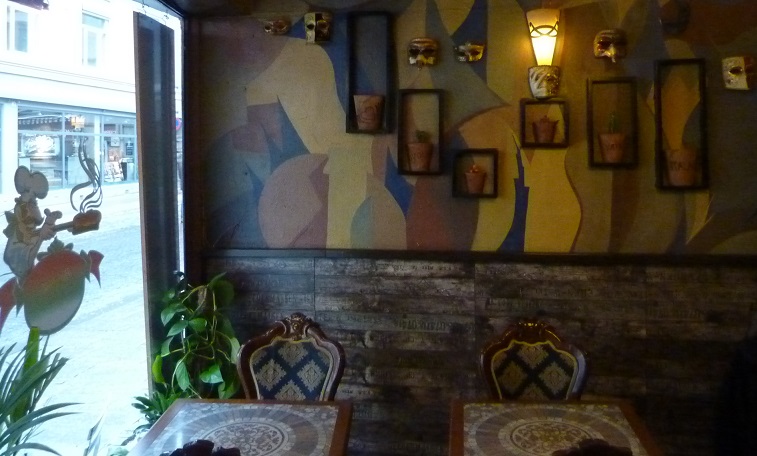 Another cultural observation was that everyone seemed to be happy – a far cry from the scenes of fear and loathing in the local kebab shop back in Blighty. Perhaps it's the oil money, perhaps everyone is just glad that A-Ha are still touring and Ole Gunnar Solskjær looks set to manage their national football team but there really was a chirpy, friendly and wholly civilised vibe to the crowd here, tucking away into their kebabs.
The owner was a more recent addition to Norway's happy crowd, and since the menu featured heavily on the Italian-style pizza and Greek- and Turkish-style kebabs, the owner was from, you guessed it... Kyrgyzstan! A delightful gentleman, with a passion for kebab quality that transcends national borders.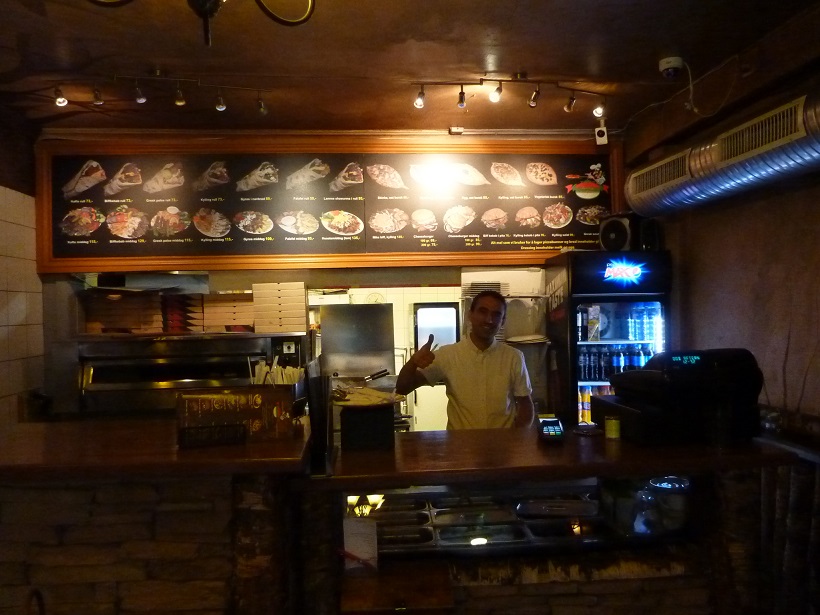 "It is a little bit Turkish and little Greek – I take the best bits of each."Kebab shop owner, January 2017
So, enough with the waffle, it's time to get our kebabs out! Pete had the beef and Kate went for the lamb-filled Greek kebab.
The first thing to notice about these kebabs is the bread. Look at that warm, fluffy squidgy bready goodness. Freshly baked and stuffed full of salad including Kate's favourite – sweetcorn. Showing good length, these roll-up packs of meat wiped the floor with any roll-mop or other Norwegian cuisine for that matter. Sorry Norway – you may have been smart with your oil money, but you're on to a loser with the fermented trout.
Leaving the fish behind, let's take a moment to discuss the meat. Here we go... Yum. That was the over-riding emotion of chomping down on the succulent beef, soft and juicy on the inside and chargrilled on the outside. Kate's lamb was also a joyous combination of tender flavours and rugged, charred beauty – if the Fjords were kebab meat, then they would surely taste like this.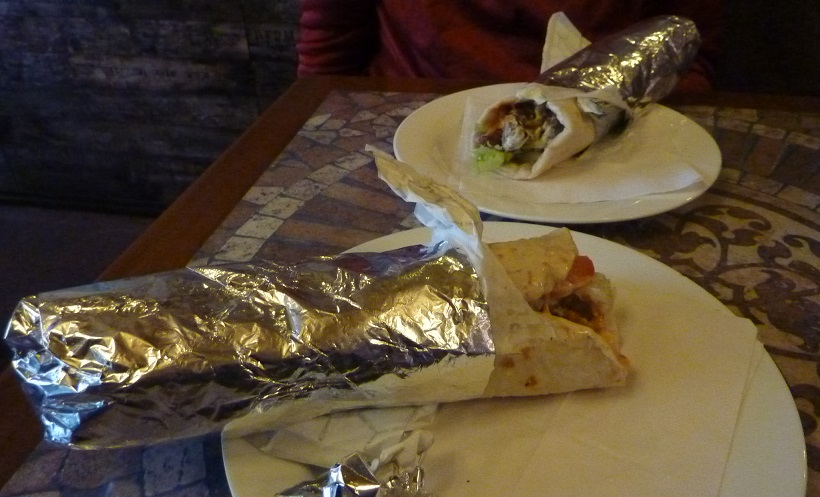 It is well known that Norwegians are big people, with the average man being 6ft tall and the average woman 5ft 6. Being so big, it is no surprise that the kebab portions are as mighty as they are. Designed for Vikings, this kebab is a warrior-sized meal for one, and not bad value either, coming in at the same price as a beer.
To help you do battle with the monster kebab there is a strong assortment of sauces available, including the ever-reliable Sriracha – staple of the spicy food vendor and always a good ally. These kebabs were so juicy, they didn't need any sauce, but when you've scoffed all but the last section, as Pete had here, then a final spice kick can help push you over the finish line to kebab glory and empty plates.
Let's sum it up with the score-card:
Score Category
Synopsis
Meat Quality
A-Ha
Flavour Blend
Kings of convenience
Salady Goodness
Röyksopp
Spice Hit
Sir Racha
Favourite Colour
Ole Gunnar Solskjær
Take on me, take me on... No, Norway are winning.
All in all, it's a winner, and quite possibly the best kebab so far. The Norwegians (Kyrgyzstanis) are showing us how it's done – this is going to be hard to beat, but the only way is up, and so we head north to the Arctic Circle, dodge the polar bears and prepare to do battle with the dark and cold of Tromsø.