Estonia Kebab
The bear necessities
Nar-va forget where you're coming from...
Estonia is a land that many people associate with absolutely nothing at all. Or, perhaps for having a very well-preserved mediaeval old town at Tallinn, its capital.
We knew it for its enthusiastic European residency options, for winning Eurovision once, and for giving birth to Ragnar Klavan, now of Liverpool FC.
As for the Estonians, well, from what we could gather, they think of themselves as the poor little nation stuck in the middle. First it was the crusaders, then the Danes, the Swedes, the Russians, and then, they almost looked like a nation for a bit, before the Soviets moved in, then the Nazis, then the Soviets again before the fall of the Berlin wall – and the Iron Curtain – saw them finally get themselves their little slice of Europe. Now they seem a bit worried about Russia and in love with Europe (we have no source for this, it's all based on the fantastic guide from our free walking tour).
So, what are the modern-day aspirations of this brave new nation? Well, aside from wooing the crowds from Finland with their old buildings and cheap(er) beer (still £4 a pint in old town), it would seem that they are trying their best to become hipsters: check out this dandy hipster food court, made out of containers on an old railway depot. What's that smell? Yes! – it's moustache wax and smuggery.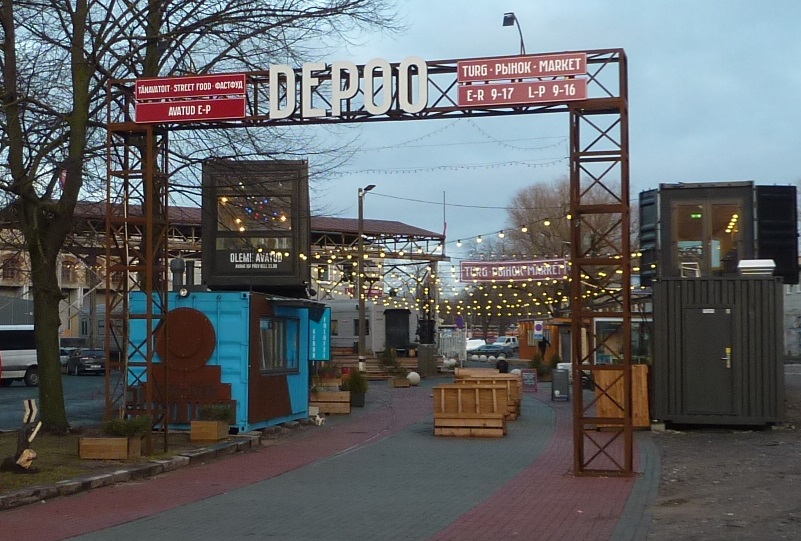 What else do hipsters enjoy? Yup – pretending to be vegan. This restaurant in the old town of Tallinn was doing a marvellous job of giving the nouveau-hip – and the masses of true Scandinavian hipsters (and chavs) that arrive on the ferries each day – their daily dose of 'vegan eggs'. Yes, vegan eggs, or, at least one can only assume that this is what this vegan restaurant sells, based on its logo. Perhaps they are still in the process of hipsterfication and they will soon swap it for a picture of muesli or an old bicycle.
Estonian kebabs were there to be sampled in Tallinn; we noticed about three typical kebab shops in the new town of the capital, but we didn't want to make it so easy.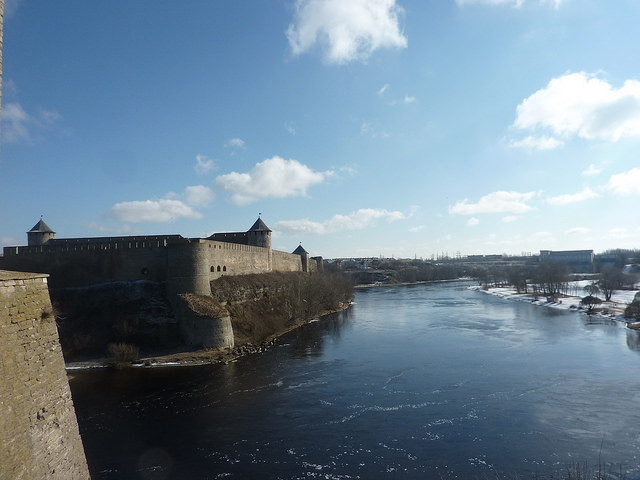 Estonia's eastern border meets Russia at a place called Narva. Unbelievably, this is the third-largest city in Estonia, with a population of 60,000. They must have all been on holiday or something when we visited, as this place seemed like a ghost town.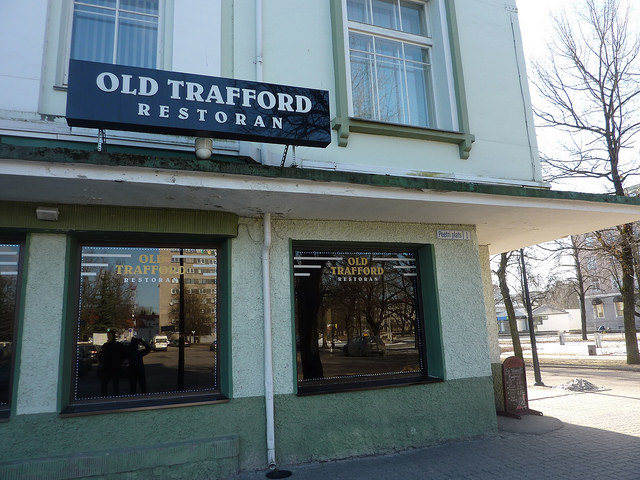 Narva is home to many things: the inexplicable Old Trafford restaurant, a river separating Europe from Russia, an old castle, a train station, empty buildings, a sense of abandonment and, of course, a kebab shop!
While waiting for the kebab shop to open, we found a young local lad working in a tavern and asked him what he thought of his life in Narva:
Are you from here? Do you like it?
"[shrug] I am just sitting in my home..." Young person, March 2017
However, where there's kebab, there is hope and here, only a few metres from the Russian border, is where the action really happens.
More impressive from the inside than out, this culinary castle of kebab belongs to two lovely, and frankly terrifying, Babushka ladies. Apologies for not getting a photo: Pete was too scared of them. They were happily watching the Russian equivalent of Loose Women on TV (excessively loudly) while occasionally being distracted by running a kebab shop. They were great.
After perusing the menu for a while, and noticing a lack of ele-leg, it became clear that this was kebab, but not as we know it. Faced with the unknown, Pete decided to boldly go where no kebab has gone before: into a calzone!
A kebab calzone! Whatever next? Restaurants in containers? Well, it seemed that we had underestimated this place. The kebab calzone was oozing with cheese – a welcome return for the cheesey kebab – and it was made with freshly rolled dough. Surprisingly good.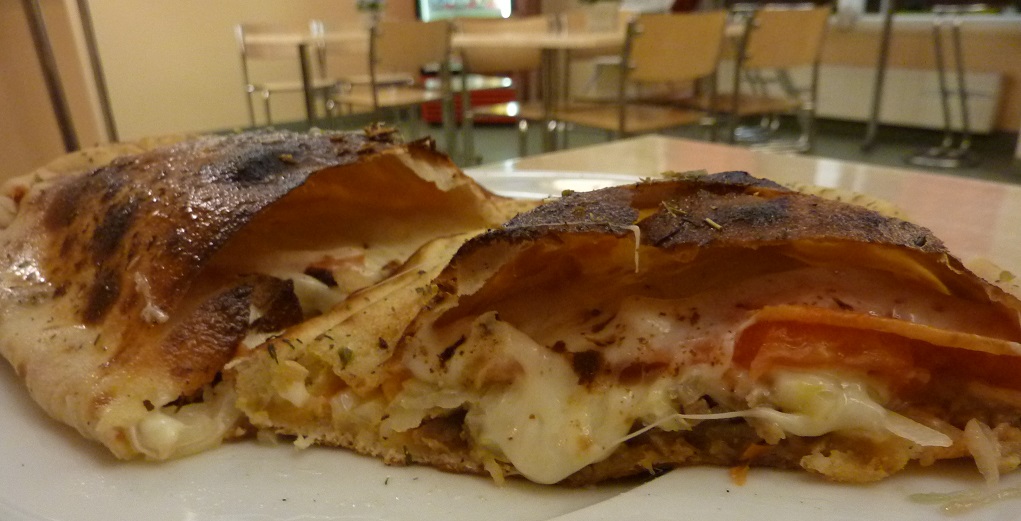 Just look at that cheesey goodness! As someone who loves calzone and kebabs, Pete was in dreamland. Once he'd shrugged off the niggling doubts as to whether or not this counted as a kebab, he indulged in the cheesy amalgamation of Turkey and Italy, on the border of Estonia and Russia.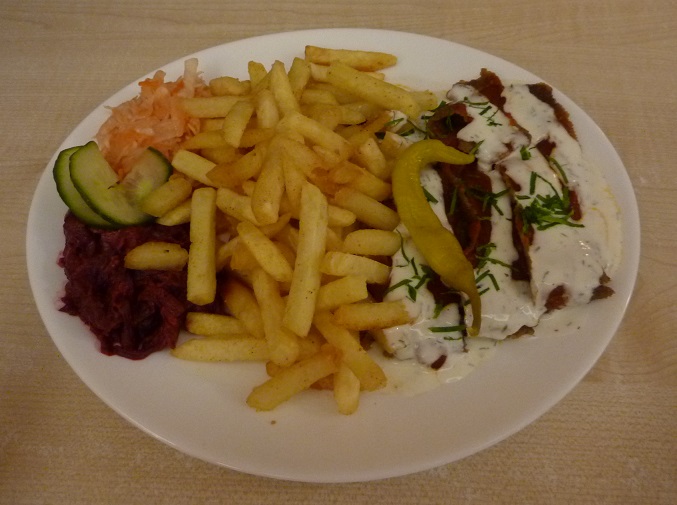 Kate had the optimistically named kebab special. She was expecting bread with it, but perhaps that was why it was so special: a local delicacy from the Russian side of the border: not-bread. Yes, the Soviets were well known for food shortages so perhaps this was a culinary nod to their neighbours, Russia, or, perhaps we couldn't figure out the menu but one thing is for sure: chips are always welcome.
As for the kebab, well, the meat was covered in pizza and kefir sauce and this mix of yoghurt and tomato made for a succulent and juicy experience. The not-too-salty kebab meat of unknown origin was actually not too bad and went well with the salad-from-a-can. A disappointment was the lack of spice: a single jalapeño on the kebab special being the only gesture in the direction of heat.
A saving grace: it sold beer. It also sold some wine, but it was from a dusty half-full bottle that looked to be some sweet wine from 1995 so Kate dodged that bullet.
Scores please!
Score Category
Synopsis
Meat Quality
Where it comes from, nobody knows!
Flavour Blend
Basic but tasty
Salady Goodness
From a can, but Kate loved it nonetheless
Spice Hit
Single jalapeño
Favourite Colour
Not red
One nil to the bears.
Are we glad we came to Narva? Absolutely. Sure, our hopes for Estonian bear kebab were dashed, but it's only the second time we've had a female crew in charge of a kebab shop, it's the first ever kebab calzone and, well, now we know what an Iron Curtain border town with Russia is like: eery, beery, and not very cheery.
Next stop: Latvia, for more of the same?