Ukraine Kebab
Eurovision kebab contest
War, peace, Georgian shashliks and shonky kebabs
The Ukraine. At war with Russia in East Ukraine at the time of the review, and only two years after a revolution, this was quite a frightening place to be going to and we certainly needed a history lesson.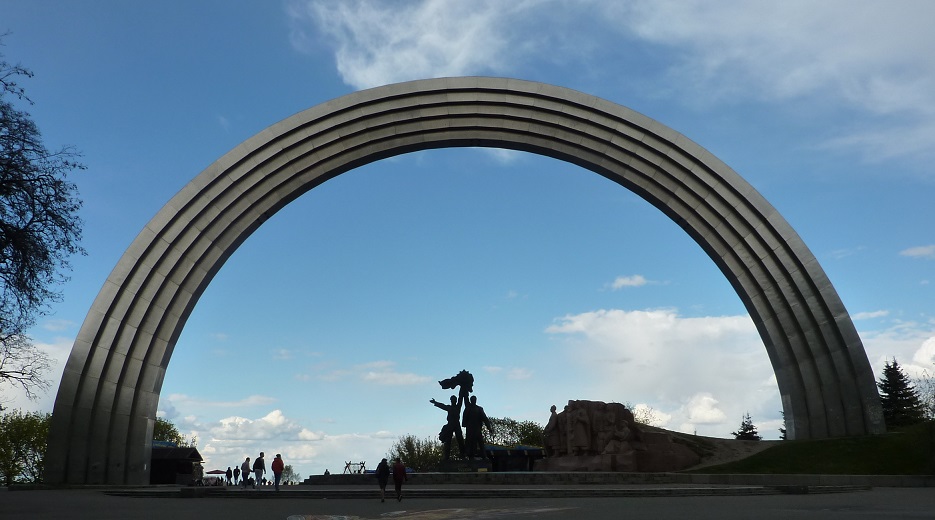 This is the recently re-named "Arch of Diversity" (our tour guide told us it was the Friendship Arch, symbolising Ukraine's ties with Russia). At the time of writing, this is being painted in rainbow colours for the 2017 Eurovision Song Contest; these changes to name and colour make it a great symbol for the conflicts that have been going on in Ukraine.
According to Wikipedia and our tour guide, tensions in Ukraine erupted in 2014 with the "Euromaidan" demonstrations, a popular uprising that saw millions of people across Ukraine protesting against the incumbent pro-Russian president and seeking to replace him with a new liberal democratic and pro-European government. And they succeeded. Russian snipers took out 100 demonstrators, and many police officers, but eventually the old guy fled and the new government was accepted by the international community. Apart from Russia, of course, who are currently back for some afters in Crimea. How will it end? Nobody knows, but as one Ukrainian Engineer said, despairingly, on a train from Kiev to Lviv:
"There are people, most in East Ukraine, who have a Soviet mentality" Alexey, April 2017
As a nation, Ukraine shows a lot of promise. The people are friendly, the land is green and pleasant, it has warm summers and snowy winters, it invented the Chicken Kiev, it has a two-storey petrol station with a mural of wild horses.... Yup: check this out.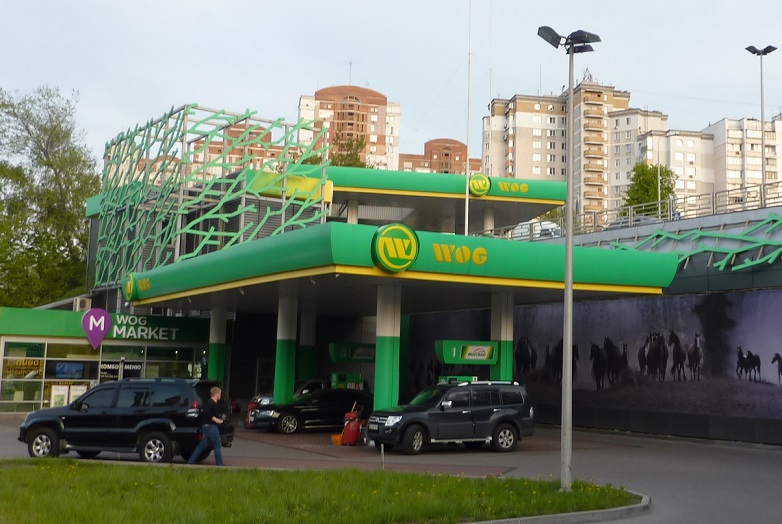 One thing that the capital, Kiev, cannot deny is that it is full of cars. The streets were jammed full of cars most of the time and the resulting air pollution and noise was oppressive. Having smoked worse, we sucked it up, as the best way to get around Kiev is on foot as you stumble upon some fantastic artistic creations, transforming some otherwise shoddy looking buildings into art, and helping Kiev to look like a modern European capital.

On the food side of things, the first thing to notice is how popular Georgian food is in Ukraine.
The national dish might be a Kiev (little evidence of this) but it seems that the thing that gets the locals out and into a restaurant is the various meat and bread options of a Georgian restaurant.
Famed for their shashliks, the Georgian is the Indian curry house of the Ukrainians (from a British bias, obvs), and the national dish must therefore be the lamb shashlik.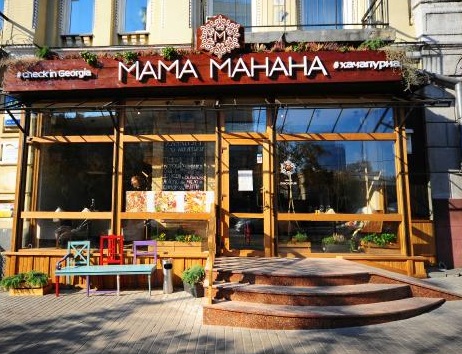 This place in Kiev is a prime example and is by far the favourite foodery of our time in Ukraine so far. Constantly busy, incredibly delicious and shamefully cheap, the Georgian restaurants in Ukraine are where it's at for shashlik-style skewers of tender juicy meat.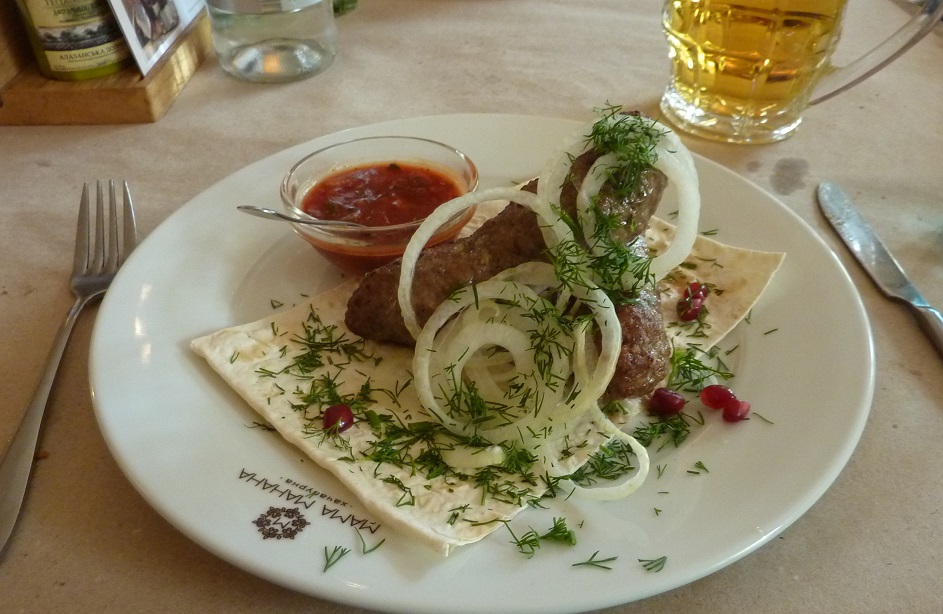 This plateful of lamby goodness was simply divine. Slightly spiced lamb served with pomegranate, dill, onions and a homemade tomato and herb hot sauce with some bread to play around with. There was also an assortment of two homemade hot sauces, a cheese spread and a weird but tasty beetroot puree.
All the food from here was great, but it is only just classifiable as a kebab. We are ashamed to admit that we failed to meet the request on our Facebook page to try a kebab at the market near Kiev airport; no time, left by train, didn't go. That said, we expect it was in the shashlik vein of kebabs, and we felt we needed to try and get a better example of the ele-leg for our review. And so, we went to Lviv, in Western Ukraine, to seek out a more traditional kebab shop.
On the high street, we found this place. It looks basic from the outside, but don't be fooled: this place has a kitsch display of nautical-themed objects inside that defy explanation, along with a sign bearing the flags of Turkey, the EU and Ukraine. Enough to make a Brexit supporter quake in their boots!
We ordered three dishes, expecting that to be almost too much to eat based on the Georgian experiences in Kiev, but it didn't quite work out that way. However, we couldn't grumble as they looked good, and tasted decent too.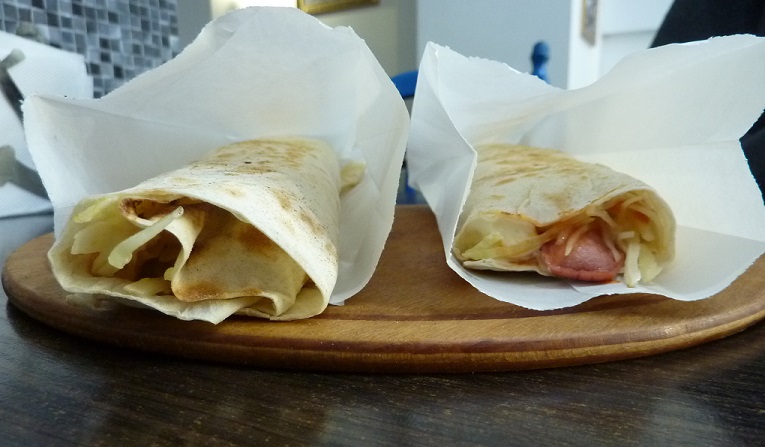 Not quite as fat as the photos on the menu suggest, these two tubular tiddlers were more of a snack than a meal, but we let them off because you could order 15 of them for the price of one Finnish wonder-kebab.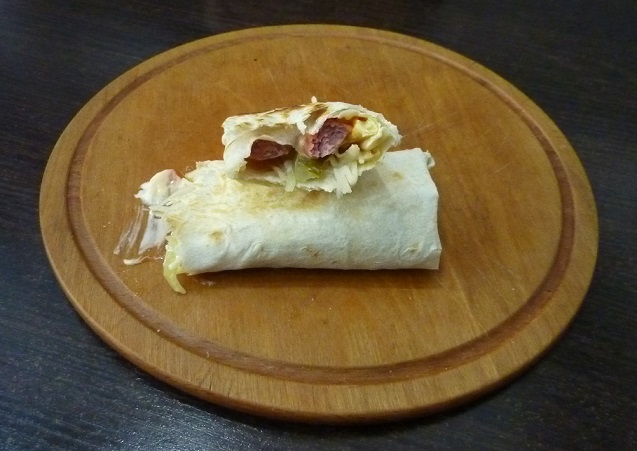 These budget kebab wraps were £1.20 for the chicken, and 80p for the sausage kebab. Yes. I said sausage kebab!
Seduced by the prospect of a cheap sausage, Pete couldn't help himself. For 80p you get this tasty little morsel. The sausage on the menu resembled a fat bratwurst but this bite-sized banger was nonetheless tasty, and went down a treat, helped massively by what seemed like a queso-style liquid cheese that mixed with the tomato sauce and filled the gaps, reminiscent of a Greggs sausage and bean bake.
The chicken one was a slightly more sophisticated affair, but similarly small and cheap. With a yoghurt sauce, this was nice and moist and the cabbage was balanced by shredded carrot, which was a nice addition. Not as nice, however, as the little row of chips that lined the wrap. Chips are always a welcome addition to just about anything, and they made all the difference to this kebab. Spicy sauce would have sealed the deal, but this part of the world just doesn't seem to understand. We had asked for it to be spicy but that clearly got lost in translation.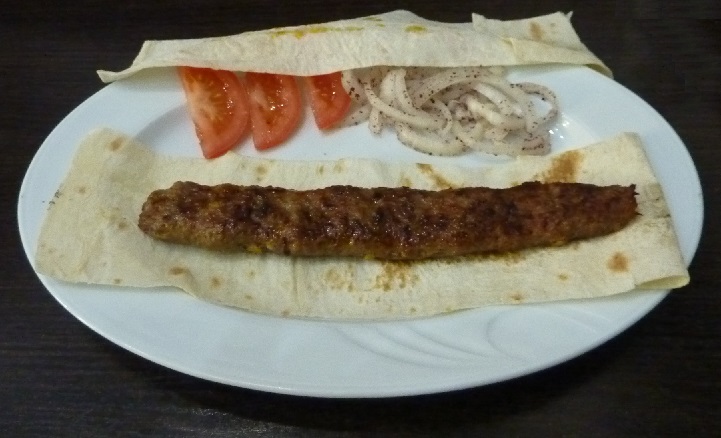 The final dish was more like a sheesh kebab, costing £2.70. When it arrived, it was as though someone had eaten half of the ingredients already. This lamby let-down was one for the meat purists, offering a make-your-own kebab that was sadly lacking in several basic building blocks. The meat was juicy, and almost a little bit spiced, but with no sauce of any type, and the peppers on the menu gone AWOL, this was not the panacea Kate had been dreaming of. Perhaps hopes and expectations had been too high, perhaps hunger was too big before sitting down, but while eating the kebabs, we felt let down. As the emotions fade, maybe the small kebabs make decent snacks after all.
All in all, Ukraine is a place of change that is increasingly embracing Europe, but when it comes to the kebab, don't bother with the cheap takeaways, just dip a little deeper in your pocket and go for the Georgian shashlik.
On to the scores for the Ukranain kebab (scores for Lviv kebab):
Score Category
Synopsis
Meat Quality
Go Georgian or go home
Flavour Blend
Minimalist, not in a good way
Salady Goodness
Bit of carrot-on-cabbage action
Spice Hit
I'm leaving on a midnight train to Georgia
Favourite Colour
EU blue
Like Shevchenko in the 2005 Champions League final, Ukrainian kebabs are a miss.
Next up we head to the Transylvanian Alps of Romania, home of the legendary Dracula. Will it be a blood kebab? Watch this space.