London Kebab
Selale - Green Lanes
Hipsters, hugs & posh kebabs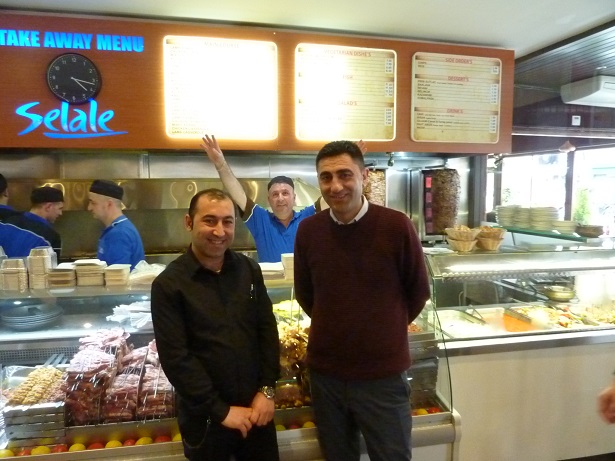 What is there to write about London that hasn't been written before? A kebab review, maybe, but we'll get to that shortly. First, we can't completely ignore a fantastic five days spent in the capital of our home country.
Before we even arrived at the Tate Modern, Pete had created an idea for post-conscious art appreciation. Imagine carefully exploring each piece in an art gallery, looking for the nuances in brush strokes or lighting. Then imagine if you were only permitted to glance at each piece before making an ill-informed judgement on the piece's validity and contribution to the greater good of art and society. Well, you guessed it, we went with the latter and we smashed the Tate Modern in half an hour, which was just as well since Kate had a minor panic attack due to the sheer number of people and the heat in the building (and the heady aromas of the world's youth!).
We escaped to meet a friend for lunch and that was the end of our cultural journey, and we turned our attention to more important matters – food. But not the kebabs, they are coming soon...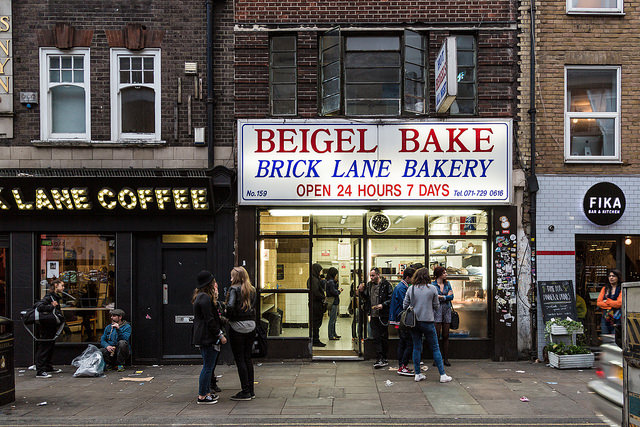 We finally ate salt beef bagels on Brick Lane (something of an ambition) before heading to a hipster bar. We're no hipsters, although three of our crew have beards, and maybe it's not fair to treat a visit to a bar like a trip to London Zoo (equally fun/cruel, for sure) but, watching the battle between these hipster 'taches was like tripping into one of Dali's more lucid war dreams.

Photo credit: Davide D'Amico/Flickr
We were helped back to earth by Fay, who'd only gone and booked our table from 7pm. For a good few hours, we sat there trying to guess who Fay was, what she and her friends would be like and generally, we didn't like her, despite not meeting her. We nearly called the bar pretending to be her to cancel the booking, but even we're not that mean. And boy were we glad not to have done that: Fay was lovely. Awesome even. She arrived to a standing ovation, with us chanting her name. We gave her an 80kebabs.com business card and a big hug, and left her to contemplate the reality that sometimes, even in London, people do talk to each other and can break through the fog of anonymity that is reputed to cloud London and its people.
"I can't believe how nice you all are!"Fay, April 2016
Anyway, enough of these musings on London. Let's get to the kebab, if indeed it can be called a kebab?!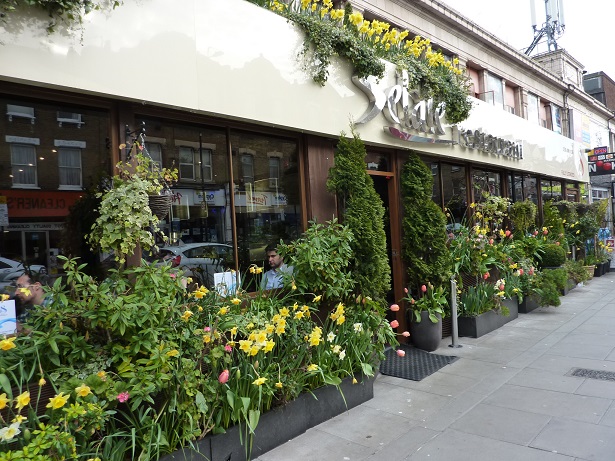 We met a school friend of Pete's on Green Lanes in Harringay (Haringey?! – who knows how it's meant to be written, but it's got a large amount of Turkish restaurants so seemed an apt place to go) and went to what will surely be the smartest kebab restaurant we'll visit (photo – right). This certainly wasn't the sort of venue we had in mind when we came up with the kebab idea but we were grooving on an open-mind vibe so sat down and enjoyed the feast.

However, we plunged into an existential kebab crisis very swiftly. Although some were available in bread, many weren't and this raised a crucial question: what makes a kebab a kebab?! In walked our waiter Zeynel, and he came to our rescue.
When we asked him what makes a kebab, he swiftly replied:
"It's in the way it's cooked, it must be marinated, and of course it's fresh."Zeynel, April 2016
Nice, that got round the bread issue, and of course makes no mention of meat so swerves that hot-potato too (we'll return to this in future blogs). We're not sure what is more important at this stage – the review of the food, all of which was fantastic, or the biography of Zeynel. Stuff the kebab, you'll get at least 78 more of those reviews, but there is only one Zeynel.
He's never considered doing anything other than making/selling kebabs, working his way there via other food service jobs such as English breakfast provision. His dream is to own his own kebab shop, and he even kept the 80kebabs sticker for when he has his own place, rather than giving it to the boss. We like his style. He likes lamb shish kebabs:
"Lamb shish kebabs are the best: soft, tender and tasty."Zeynel, April 2016
His advice for vegetarians:
"Eat a veggie kebab."Zeynel, April 2016
Already proving a bit of a hero, and with a dedication to kebabs that clearly surpassed our own, we tested him:
Could there be a bad kebab?
"A kebab is always nice. Even with gravy sauce on, it would still be good."Zeynel, April 2016
Well, we sure hope that this is true as we head off further afield in this odyssey.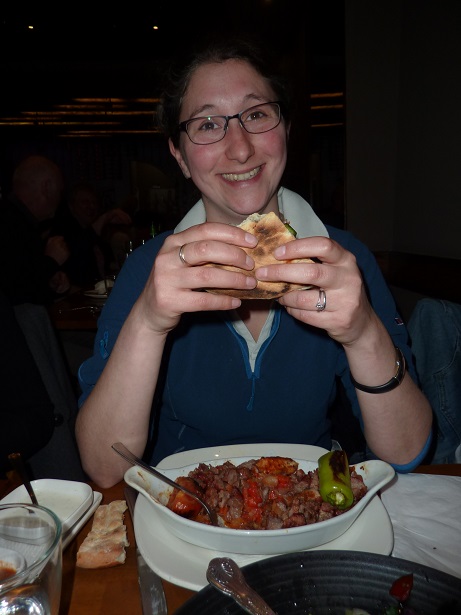 Actually, we can't stuff the kebab review, but we could stuff the bread they provided with the delicious meat and abundant salads to form something more in line with our pre-Zeynel kebab expectations. The salads were amazing and the bread was constantly replenished. From being unsure of whether or not we were eating a kebab, we realised that with an endless supply of bread available, it is for us to enable the succulent chunks of meat and fresh zingy salad to embrace the bread and become what it is – to become "kebab".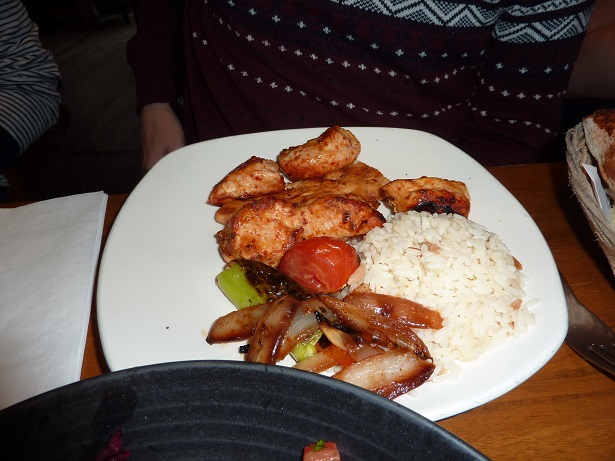 The chicken shish, which Pete had (photo – right), was tender and juicy with a delightfuly chargrilled edge. The Ezmeli kebab (small chunks of lamb shish on a bed of grilled tomatoes and peppers), which Kate had (photo – above left), was smoky and full of flavour. We also had a puddle of spicy sauce, Mount Saint Hummous, a massive salad and endless bread-ortunity; there was certainly no scope for hunger.
Another highlight was a waiter clearing all the plates away in one go, forming a sort of dirty plate flower sculpture that really belongs in the Tate Modern (and who knows, maybe it will one day, though we stared at it for more than 10 seconds). We also managed a sing-along with a table of 30 singing a Turkish version of Happy Birthday while banging on the tables. What better way to celebrate your birthday than with a kebab!
For Kate, these first two kebab experiences have filled her with hope that it won't all be saturated fat and elephant legs as we travel the world eating kebabs. Pete, however, feels a little niggle of disappointment at the lack of processed cheese and meat of unverifiable origin.
With benign indifference to our joy, London is done.
Score Category
Synopsis
Meat Quality
Super Furry Animals
Flavour Blend
Smokin'
Salady Goodness
Generous and Fresh
Spice Hit
Spice Puddle Power
Favourite Colour
Red
A hug on a plate...
Germany, fire up the ele-leg!