Nicaragua Kebab
A violent eruption of flavour
It's Nica time!
You don't really hear much about Nicaragua in Britain these days, but all sorts of jungle creatures, political speeches and natural features have been kicking off in the last few decades over in steamy, dreamy, crap-football-teamy Nicaragua.
From monkeys to guerrillas, jungle to reggaetón, with volcanic eruptions and epidemic corruption, Nica is a country that has emerged at the other side as a winner following a successful revolution of the people against a US-backed dictatorship–dynasty that was known for the extreme wealth of its leaders and the extreme poverty and repression of its subjects.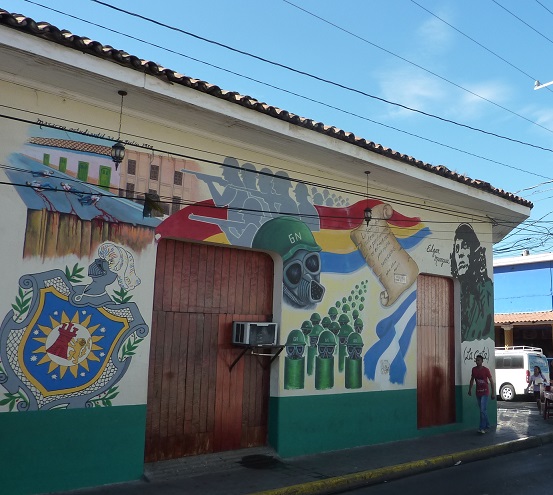 The Che Guevara-esque chap on the right of this building, Edgard La Gata (The Cat) Munguía, is one of the heroes of that revolution, one which dispelled US political involvement in the area – albeit temporarily – along with the dictator and sparked a 20-year-long period of revolutionary discontent.
León – Nicaragua's old capital and a revolutionary hotspot – is proud of its role in the revolution and in the future of Nicaragua.
While not deterring the swathes of US tourists, it may be best if the Bush dynasty stays away for a while as here, in central León, the museum of the revolution summarises the feeling towards US involvement in Nicaragua with a slightly less competent, but equally politically charged piece of street art.
"Bush is a genocidal enemy of humanity. Death to the imperial invaders." Street art on museum of the revolution, León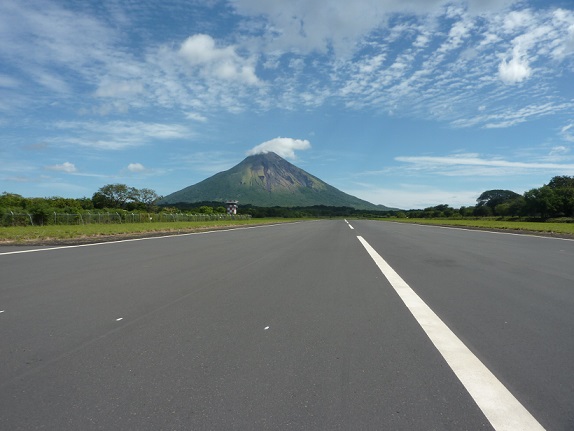 But it's not all guns and violence. Nicaragua, like its neighbours, is home to a shed load of volcanoes, including this one, which managed to make a giant island, Ometepe, in the middle of lake Nicaragua. Its attractions include this little airport, where you can walk, cycle or drive across the runway to your heart's content. A far cry from the machine gun toting security of Blighty.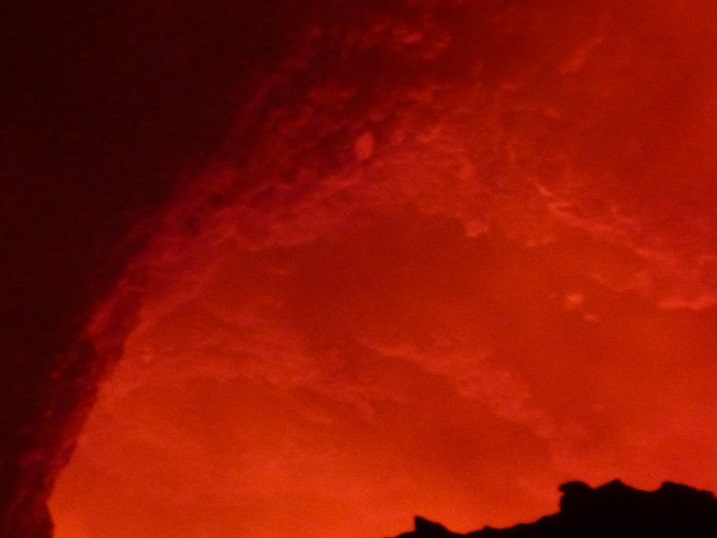 Not exciting enough for you? Well, how about Nicaragua's other main volcano: Volcan Masaya. This magma-filled, bat-infested Masayan mo-fo is currently erupting, as this close up of the lava at the bottom of the crater shows.
Putting Nicaragua's fiery and unpredictable history to one side, what are the next generation of Nica youth getting up to? Well, if this is anything to go by, they are embracing a few select parts of US culture.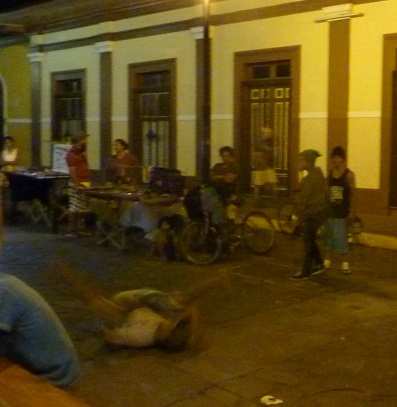 This gang of Nica youths put on a pop-up breakdancing show to express their style and get a few greenbacks in tips from the tourists on the main street in Granada. They were rather good at it too.
There are sadder sights among the kids of Granada as well though; while some kids are spinning on their heads, others have their heads spinning due to the epidemic of glue-sniffing that would give 90s England a run for its money.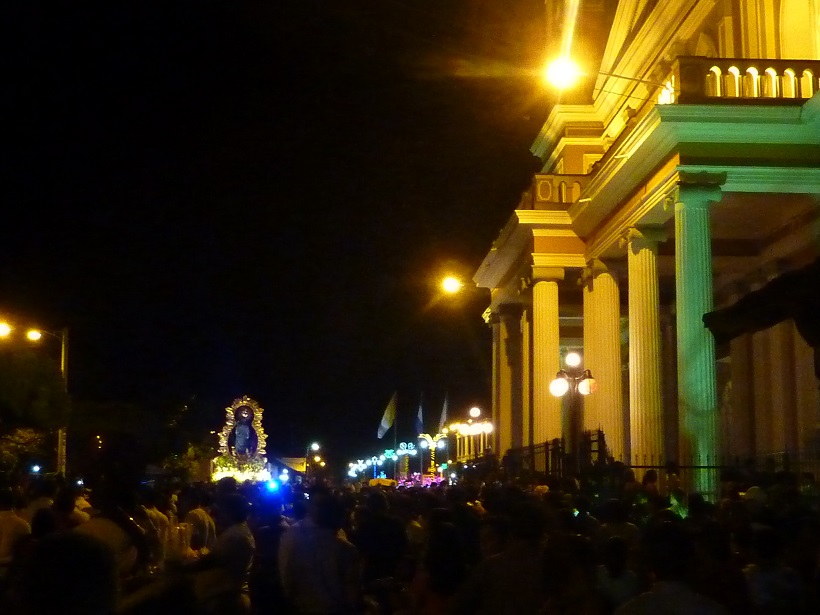 When the kids aren't breakdancing or begging for glue, bizarrely, they might well be found in church, or taking part in one of the religious fiestas that bring with them an endless series of processions of the Virgin Mary and an even more endless barrage of bombas – basically firecrackers, rockets and canons – yes, canons – that make sure that no-one gets a decent night's sleep in Granada in December. If there's one thing they love more than church, it's fireworks and drums.
Granada's rival, León, not wanting to be outdone, has its own fiesta parade, featuring this monstrous mother figure, La Gigantona, who parades along with three friends to celebrate the Spanish and their tall, white women. Seriously, that is what it actually represents. The small male friend of la Gigantona, El Enano Cabezon (not pictured), represents the small Nica men who had to be subservient to the Spanish conquerers and who fell in love with their tall ladies. The other two play drums and recite poems.
Moving on, there is one final aspect to the rivalry of Nicaragua's two colonial cities, León and Granada, and no it's not football – they prefer baseball round here – it is, of course, the kebab. After a frustratingly challenging game of hunt the kebab in Costa Rica, it was heart-warming and reassuring to stumble upon this establishment in the heart of Granada.
With a name that, at first, hints at drug-fuelled munchies, this kebab shop could have been the highlight of the trip so far. If it ever opened! Hosh Falafel, no matter how many times we walked past it, just did not open its impressive colonial doors.
And so once more it is León that wins the war.
Not far from the museum of the revolution, León delivers a spinning stick of pure joy in the shape of Shawarma.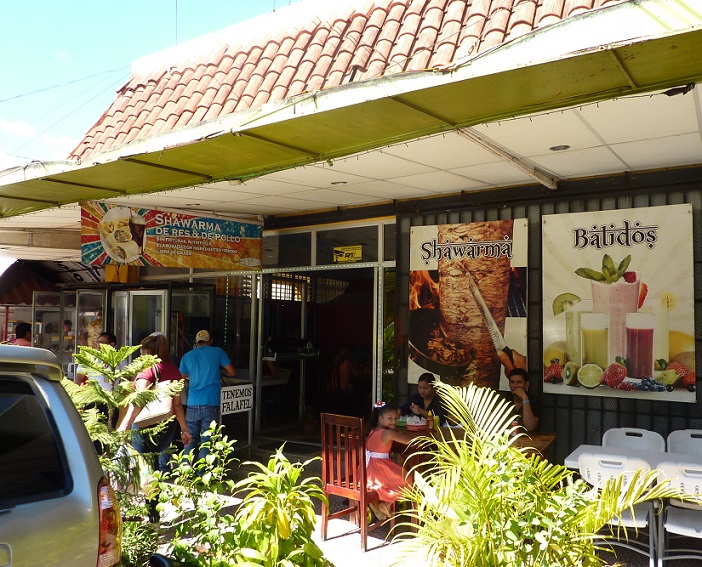 After the disappointment of Hosh Falafel, the difficulty in finding kebab in Costa Rica and the mediocrity of the Panamanian kebab, we did not want to get prematurely over-excited about the promise of this Palestinian-owned, optimistically named Shawarma.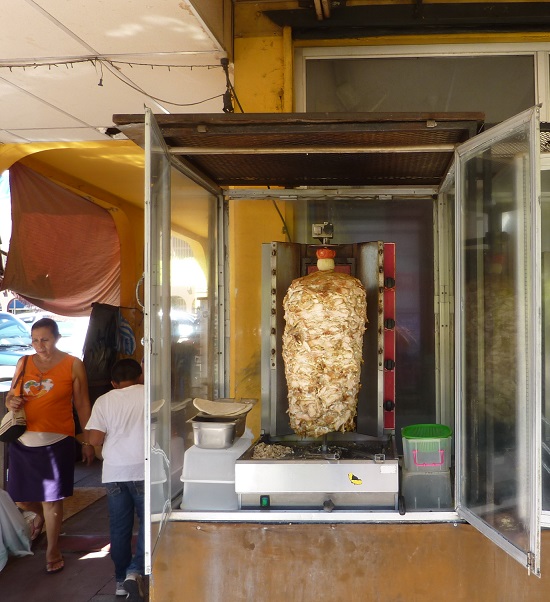 Yes!
Behold, the ele-leg.
The first of its kind to be found (by us) in Central America. Bringer of joy to the masses, locals and tourists alike, this chicken-based ele-leg is huge.
Completing several revolutions every minute, this massive meaty monument is, frankly, mouth-watering.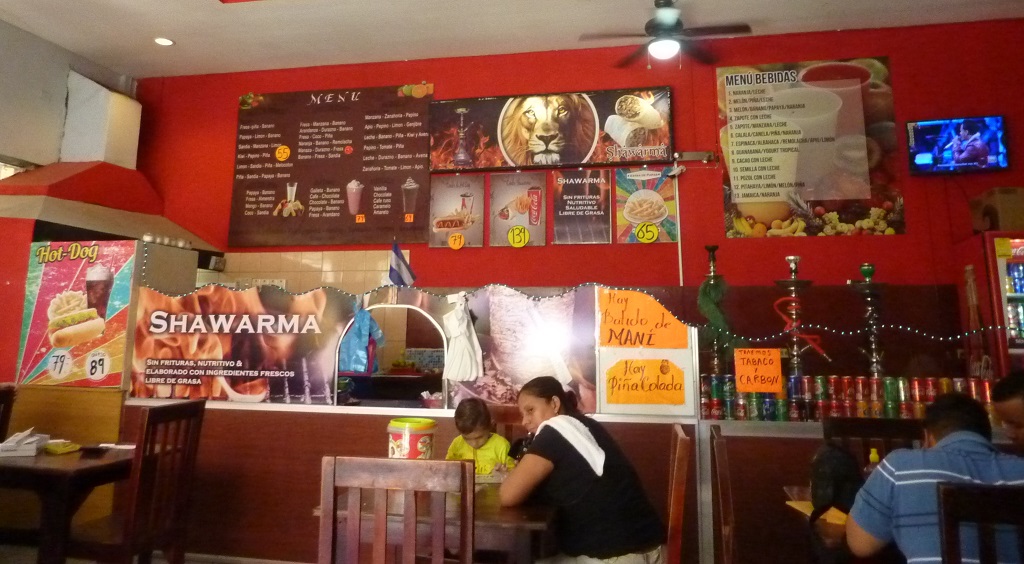 A look inside shows that this place is legit. Coal and tobacco are sold along with Middle-East style hookahs if you like to smoke with your kebab but we just wanted to get straight down to the main course.
The menu was unfussy: kebab by itself or kebab combo (with chips and drink). They also had falafels, and sometimes they also have beef, but the ele-leg was the only thing we had eyes for and ordered a combo and a simple, all for the equivalent of £6.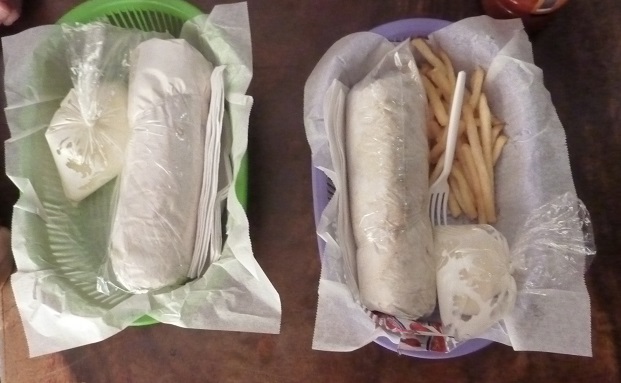 Here they are in all their glory. It is possible that we may over enthuse due to the preceding lack of proper kebab opportunity; nonetheless, these were two traditional, tasty tubes of juicy meaty goodness.
A Nicaraguan peculiarity that has extended its way into the kebabs is the tendency to find liquids delivered in small plastic bags. Just like the water sellers and the juice sellers that scream out the availability of a small bag of refreshment for almost no money, the kebabs each come with a bag full of runny yoghurt.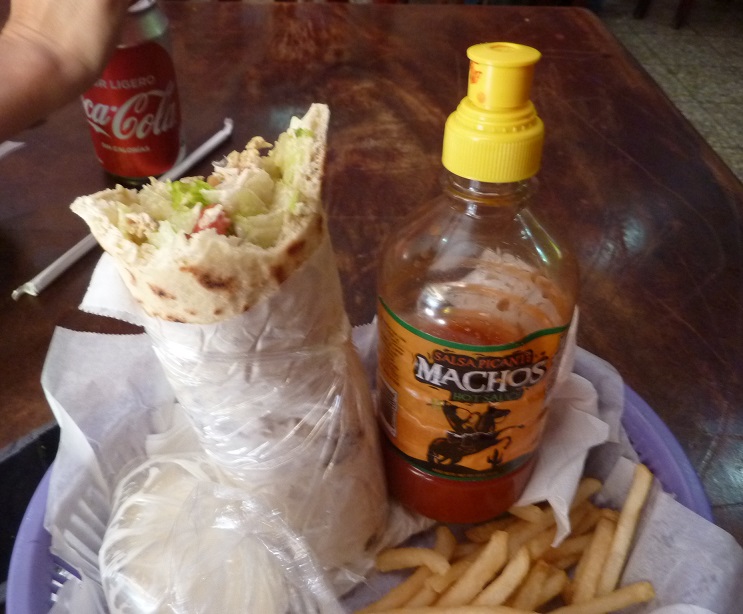 Already loaded with some of the runny yoghurt, and unsure of the correct method for popping a bag of yoghurt, there was no need to add more. What was a welcome sight, however, was the local hot sauce: not the spiciest sauce in the world, but it did add an extra dimension of flavour.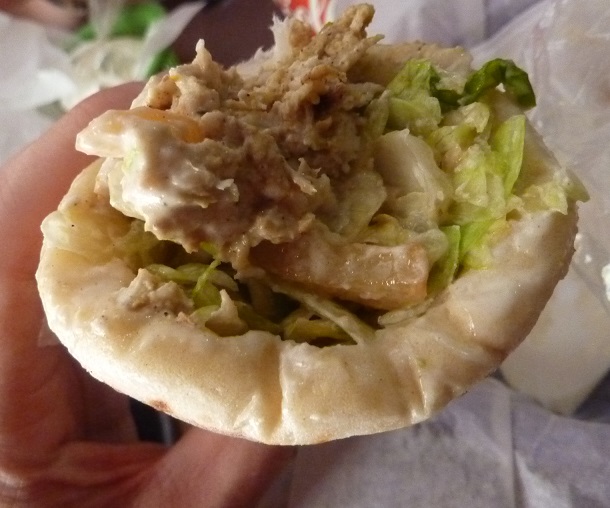 The bread was fluffy and slightly toasted in that magical kebabgical way which, along with the charred edges of the chicken, screams "kebab".
In all honesty, it was just nice to get a real kebab – no rice and beans – and with the proper authentic flavour and texture of Middle Eastern kebab magic.
Thank you, Nicaragua. We are back in the game.
Your score-table summary:
Score Category
Synopsis
Meat Quality
It was an ele-leg!
Flavour Blend
Middle Eastern herbs and charriness
Salady Goodness
Bit of Nica salad
Spice Hit
Local hot sauce – fair enough
Favourite Colour
White (for peace)
Nicaragua delivers the goods. Revolutionary.
While Nicaragua may have been the saviour of our Central American kebab journey, we now look towards El Salvador with renewed hope as we continue the mission towards 80 kebabs.