Home Kebab
Ness and John's house
There's no kebab like home
To start Around the World in 80 Kebabs and our location-independent lifestyle, it seemed right to have a kebab in Coventry, the city we've called home for the last four years. Moving to Coventry was never part of the life plan (who could honestly say it was?!), but it's been an unexpected delight.
We moved here from Leamington, or should one say Royal Leamington Spa. The latter is said through gritted teeth, recalling the very apt description someone once gave it: affluent in the day, effluent at night. We couldn't agree more, and contrary to many people's desires, we were very happy to move to the somewhat less aesthetically pleasing and significantly more diverse location of Coventry, aka Cov.
What will we miss most about Cov?
The market – everything you could want, and more! And so cheap. And right next to the Polish delicatessen that sells amazing cheeses, hams and pickled items. A supermarket-avoider's delight.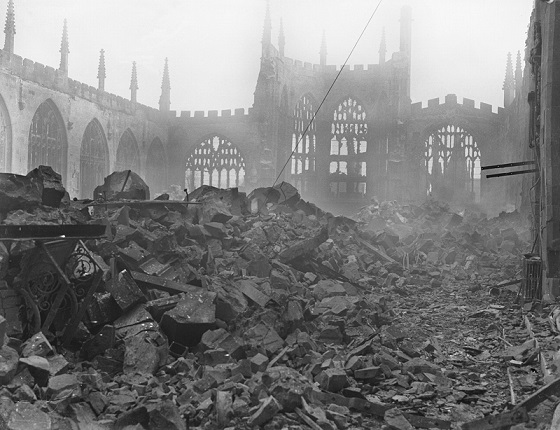 Old and new: this is best summed up by a trip to IKEA (supposedly the first and possibly only city-centre IKEA store) followed by a pint in the Old Windmill. While walking between the two, you may get a lucky glimpse of the dire concrete slabs created in the 1960s, but then you'll see the fantastic old buildings and have a moment to wonder what if... And of course there are the cathedrals, with the bombed ruins of the old cathedral right next to the new.

Photo credit: The Mirror
Ally's Balti house and Court 6 kept us in curry, the latter where we ate our "Wedding breakfast", though I'm not sure getting married in jeans at the registry office (a beautiful mediaeval building, it is the oldest building in the country in use as a Statutory Register Office ceremony room) followed by drinks in Inspire (a fab bar in an old church spire) and a curry quite follows the norms of an English wedding... And how could we not mention the City Arms, for no UK city is complete without a Wetherspoon's pub and all that entails.
But what about the kebab, we hear you cry...?
Well, we were just getting to that. One of the things we'll really miss about Cov is the great friends we've made and in particular the fab food we've had at Vanessa (Ness) and John's, largely cooked by Ness. As the photos hopefully make clear, Ness's house is not a kebab shop, Ness doesn't sell kebabs and this isn't her job. Consequently, this review might be a little different from others and you won't be able to seek this one out to try it yourself. (As an aside, there are fab kebab shops in Cov. My fave is on Far Gosford Street but I've heard good reviews of one near the ring road by the Ramada and a few along the Foleshill Road.)
Word from the Chef and Owner:
"I just want to set the standard high so others have to live up to it!"Ness, March 2016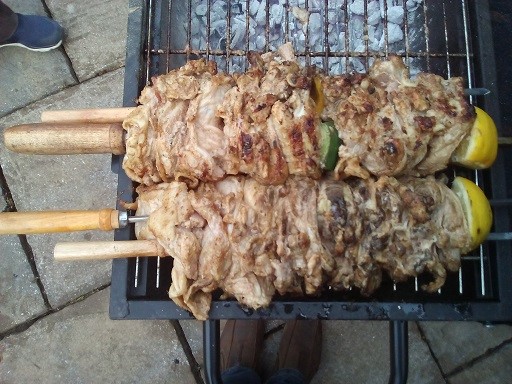 Well, it's fair to say Ness did just that! Succulent marinated chicken cooked over charcoal and served with an array of side dishes, homemade flatbread and Jamie Oliver's mango chilli sauce all combined to make an exceptionally well-balanced flavour. We feel it's only right to add that child labour was used in the making of the bread; we think that added to the experience.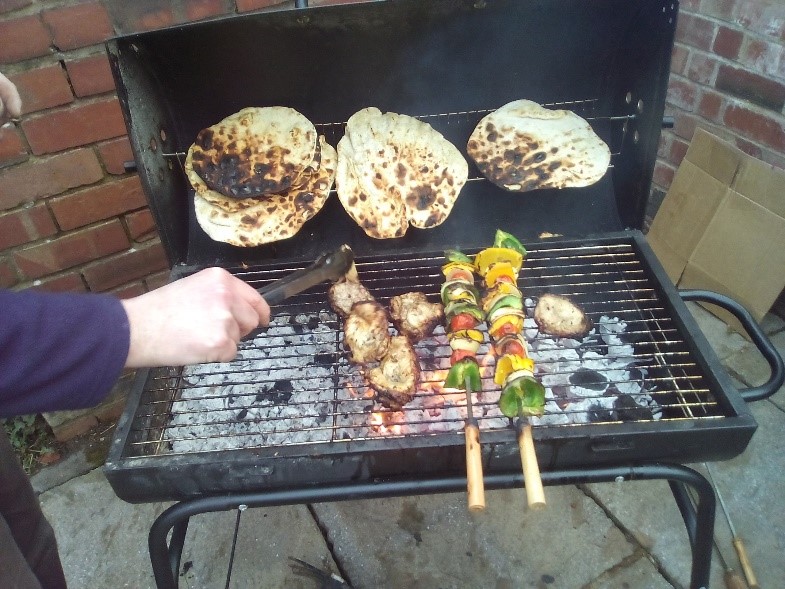 Ness made her first kebab in the 1980s but it was a recent revelation to cook the Chicken Deluxe. A lesser chef might have been content with some butcher-bought meat sticks, a few bags of salad and some hot sauce but not our Ness. She delivered the goods. Now we wanted to know what was behind her passion to make kebabs; Ness gave a very firm answer:
Why did you want to make kebabs?
"Fame! I wanted to be on Around the World in 80 Kebabs' blog and I wanted a sticker."Ness, March 2016
That seems as good an excuse as any.
For this kebab, as in life, photos speak a 1,000 words, and a table speaks at least 20. So we'll shut up and let you get stuck in to the review.
Score Category
Synopsis
Meat Quality
Baby-Pterodactyl
Flavour Blend
Distinct
Salady Goodness
Hipster
Spice Hit
Contained
Favourite Colour
Purple
Come-on-me-kebabbies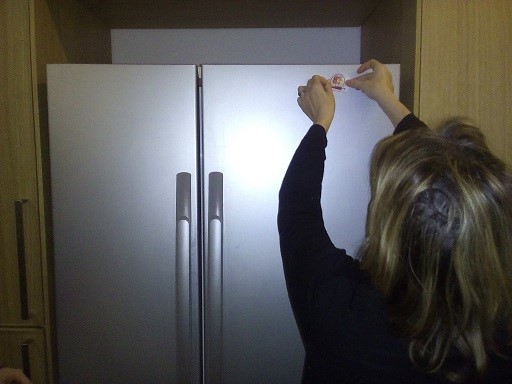 And of course, every good kebab deserves a sticker.
Thanks, Ness, and thank you and goodbye to good ol' Cov!