Finland Kebab
Worth a Michelin star...?
Come to Moomin Papa!
When you think "Finland" what do you think? Moomins perhaps, or... err... no, we had no idea either, but ever since a teenage Kate had seen the letters HLK on a lorry's registration plate, she knew it was her destiny to go to Finland. Seem arbitrary? Well, what did you expect from a couple who made it their mission to explore global kebabs?
And so, to glorious Finland. In January. Many Finnish people have told us that Finland is much better in summer, and that in winter they'd rather live somewhere else, like a fine – albeit slightly insane – chap we met while walking down an icy hill in −10 °C on the way into town in Tampere.
"Where have you been in Finland?" New friend, February 2017
"We were in Helsinki and next we go to a cottage by a lake, then Lapland" Kate, February 2017
"Then somewhere better, yes? Warm? I want to go to Bangkok" New friend, February 2017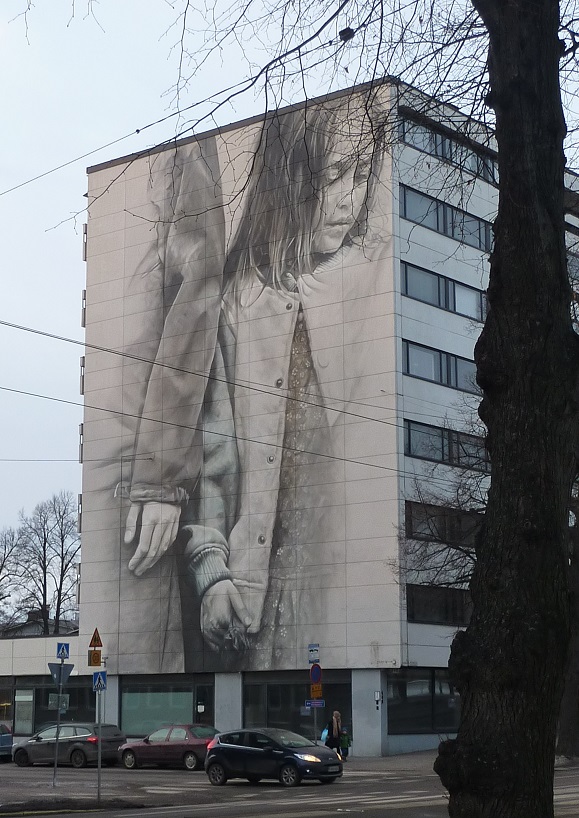 Even the Finnish street art seems depressed. I don't want to imagine what the caption would be for this.
Something charming about Finland is that it puts its infrastructure on display. Every city centre we encountered in Finland contained at least one large power station, and usually another small one connected to a paper mill. Tampere – Finland's second-largest country – kept its prime city centre waterfront for a power station–paper mill combo and just look at the view from Helsinki Beach! Awesome!
Finland is a country that doesn't seem to know how good it is. It has beaten the Russians in a war, it invented the Moomins, it has the best education system in the world, it has incredibly low rates of crime and poverty, but still the Finns long for foreign shores. The people of this great nation, if they have any reputation at all, are known for being slightly odd and a little unhappy.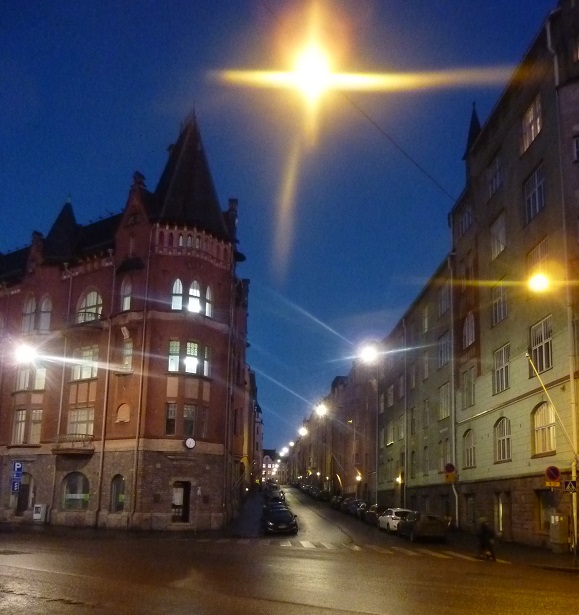 Perhaps this is largely down to the Moomins; they set a disturbing example for young Finns, but we think the Finns have got lots to be happy about. Tove Janssen, the creator of the Moomins, certainly should have been pleased with the beautiful Helsinki street she grew up on. Apologies for the dark picture – it was Scandie winter!
The dark winter days and the temperatures (between 2 and minus 20 °C for us) have made the Finns a tough bunch. This is an example of how they used to live. And how they still do live, if given half a chance at the weekend to escape the concrete jungle and return to their natural surroundings.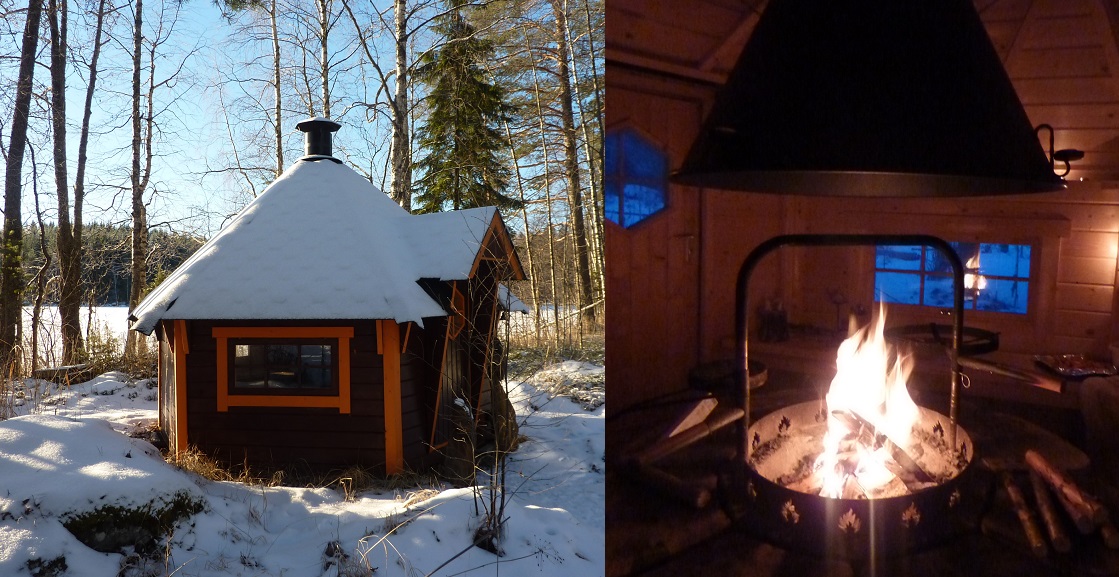 This grill house would be ideal for kebabs, perhaps from a locally caught bear or moose. I can picture it now, the char-grilled tender lumps of local meat prepared around a roaring fire by the frozen lake, tearing off pieces of marinated meat under the bright white moonlight with a thousand stars in the sky and the Northern Lights glistening and shining through the grill-house window to reflect off the juicy pink meat before it gets slipped into some fresh bread with some salad and sauce before... Apologies for that digression, the memories of the kebab that is about to be revealed are still strong.
Acting on a tip-off, we sought out a location in Kallio, the former red-light district and present-day gentrifying hipster hangout of Helsinki. We were promised a "good kebab", but we had forgotten the under-enthusiastic expressions of the beloved Finns, so when they say good, they really mean it.

Welcome to Döner Harju.
This place was the brainchild of Jari Lönnberg, a restauranteur with a passion for kebabs and the skills to take the humble kebab and raise it up a level. If Oslo had threatened to topple London's title of "best kebab so far", then this place sets out to build another level into the trophy cabinet.
"First we planned to open a Nordic bistro in Helsinki, but then we got the idea to open a kebab restaurant because we love to eat kebab." Jari Lönnberg, January 2017
Well, we are glad that you did, Jari. And so, it seemed, was the rest of Helsinki. We thought that in winter, on a day ravaged by an icy wind and horizontal sleet, there would not be many people heading out for a kebab at 7pm. We were wrong. Actually, after walking past several, more traditional, kebab places that were largely empty, we came to Döner Harju, sitting unpretentiously on a street corner.
"It was 7pm, we were stone-cold sober, the place was rammed, and no one was feeling guilty for choosing kebab." Kate, January 2017
In contrast to the many other kebab shops of the Kallio district of Helsinki, Döner Harju's menu features both pork and beef. Cue interesting cultural reference:
You sell pork and veal, that is not a common combination due to Halal and Hindu rules:
"This is Finland, we are not a religious country so we can eat what we want." Kebab chef, January 2017
This God-busting quote from the book of revelations was not the only surprise on the menu: they had chicken and a vegan option on when we were there, but they had also previously prepared Estonian bear kebab and moose kebab!
"We want to make something special for the customers and then we decided to make bear kebab and it was a success!" Jari Lönnberg, January 2017
As an established restauranteur with other successful projects under his belt, it makes sense that this place tries to do something a bit special. Something that must be considered when assessing this place against, say, the Oslo kebab, is price. Coming in at a whopping €15 for the large lamb kebab, this sits somewhere between the traditional kebab shop experience and a Michelin star restaurant and reignites the existential crisis faced from the beginning of the journey: if a kebab is served on a plate with vegetables for €15, then is it a kebab?
The London answer was yes, because it is marinated and it is fresh. A plate of lamb kebab with broccoli, red cabbage, bell peppers, chilli peppers, pickle, parsley, hummus, cherry tomatoes and mint is certainly fresh, and the lamb was marinated, so I guess it is still true to the essence of kebab:
"The spices we use come from the Middle East and Mediterranean area. Broccoli we use now because we have to follow seasons. In winter time, it is difficult to find a big variety of fresh vegetables... In lamb, we use lots of spices and it's made by mincemeat and that's why the texture is soft" Jari Lönnberg, January 2017
The lamb looks like a posh plate of high-class fodder, worthy of a place in any Nordic bistro.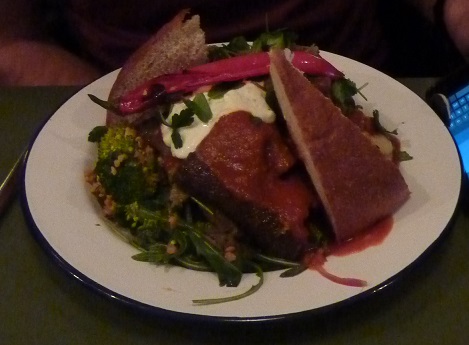 How did it taste? Well, you can certainly taste the quality of the lamb: the texture was soft without being soggy, and the flavour blend really was delicious. The bread was unconventional, slightly crispy edged but fluffy in the middle, and served as two triangles sitting on top of the volcanic Mount Saint Kebab-plate, ready to mop up the juices that oozed from every angle of this plateful of kebaby joy.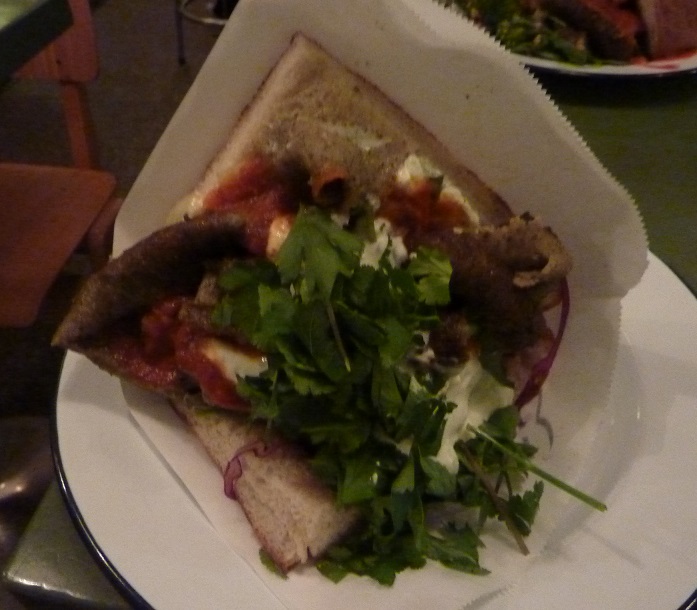 How did it taste? Well, you can certainly taste the quality of the lamb: the texture was soft without being soggy, and the flavour blend really was delicious. The bread was unconventional, slightly crispy edged but fluffy in the middle, and served as two triangles sitting on top of the volcanic Mount Saint Kebab-plate, ready to mop up the juices that oozed from every angle of this plateful of kebaby joy.
Kate had the lamb in bread kebab, featuring plenty of the homemade tomato sauce, fresh parsley and salad. Not as much of a meal as the large plated lamb dish, but more in line with the traditional kebab offering. The corner-shaped flatbread reminds us of Berlin's ubiquitous and tasty triangular Turkish kebabs that we had grown to love.
On to the sauces: what would you expect from a place that happily constructs its own bear kebab and boldly puts broccoli in a lamb kebab? Yes, you would expect a home-made habanero hot-sauce.

This little detail brought a tear to Pete's eye. Not because of its spicy strength – it was quite spicy – but because it was entirely homemade and by far the best hot sauce he'd had; even better than the vegan kebab hot sauce from Berlin.
We asked the owner and head chef what the secret of the sauce was:
"It's apple-habanero sauce and the secret is the fresh ingredients... the main idea comes from the customers because they want it very spicy and fresh sauce. Then we start to think 'what is fresh and what is spicy' and then we got the idea to make apple-habanero sauce" Jari Lönnberg, January 2017
It sounds so simple, but when the ingredients list features apples, mandarins, plums and vanilla pods, it is evident that this sauce is so far removed from the classic "burger", "mayo" or "spicy" sauce selection that it is hard to compare it with the classic greasy mass-produced ele-leg kebab experiences we know (and Pete loves) from the UK.
The details make the difference, and in this kebab, it was the sauce, the array of fresh vegetables and the effort and skill that has clearly gone into the preparation.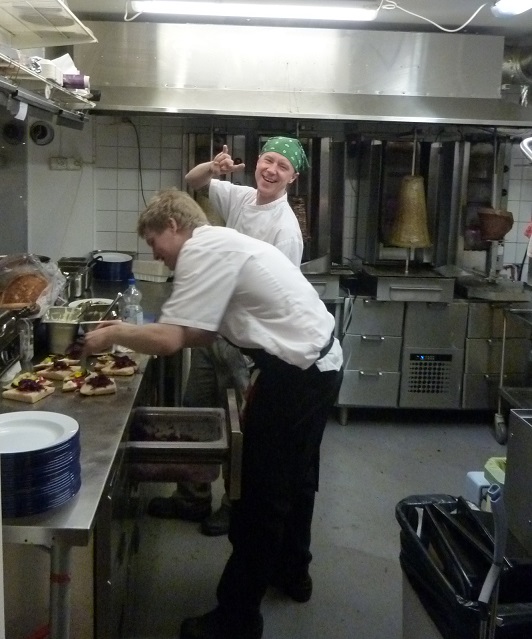 The kebab chefs were keen to show us their kitchen, along with the day's selection of homemade ele-legs. The pork and the veal kebabs were also delicious: we were fortunate enough to try out a bit of each.
The pork is made with pork neck and it is not minced like the lamb, so it retains its fleshy texture. It is encrusted with a variety of spices and herbs that add a really tasty dimension. Some people think that pork can be a bit bland but these herby slices of piggy-neck perfection pack a porker of a punch that would send any other pork kebab crying "wee wee wee" all the way home.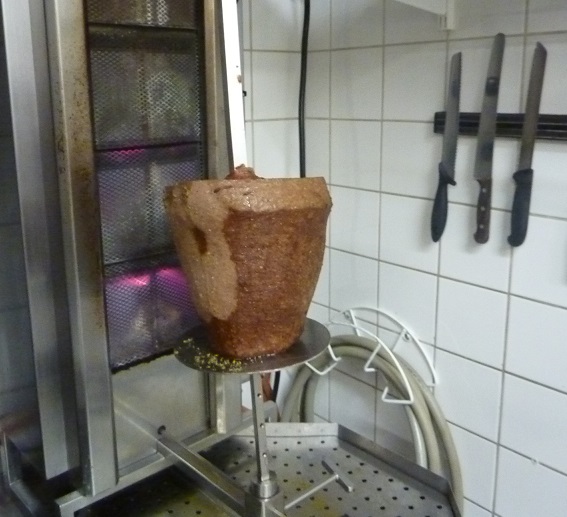 And the veal. Now, I know some people say that veal is not very nice to the little cows and we can see where this idea comes from: overcooked schnitzels, obviously, but there can be no cries of needless slaughter when you've eaten some of this mouth-wateringly tender and insanely juicy veal kebab. Its secret is that it is made with plenty of brown butter, in-house, by the chefs – of course.
All in all, this kebab was perhaps the finest quality of kebab that we have experienced so far on our global kebab journey. Could it be better? Well, we asked the owner:
Have you found kebab perfection?
"We are still looking for perfect kebab, but we think that our lamb kebab is very good... In Istanbul, we once tried lamb kebab which was grilled by charcoal döner grill. So we would like to make our lamb or chicken kebab and grill that by charcoal döner grill. " Jari Lönnberg, January 2017
We love charcoal meaty goodness but in all honesty, we don't know if the current kebabs need improving. All we hope is that next time we go to Döner Harju, maybe we'll get some bear or moose.
Scores for the Finland Kebab:
Score Category
Synopsis
Meat Quality
Moo-min awesome
Flavour Blend
Sophisticated
Salady Goodness
And the rest
Spice Hit
Apple of my eye
Favourite Colour
Green (Jari, 2017)
Will Döner Harju finnish top?
What lies ahead on the epic journey? At the moment, we do not know. Pete has some hope to find the elusive reindeer kebab. Will we succeed, or will Rudolph be enjoying his little reindeer games for another year? Find out as we head to Lapland!