Guatemala Kebab!
Once you go Guat...
I could murder a kebab
Guatemala City: one of the least imaginatively named cities in the world, the capital of Guatemala is generally overlooked in favour of its more tourist-friendly colonial town cousin, Antigua Guatemala. For us, after several months of kebab hunting in the tourist hotspots alongside the US Spring Break backpacker kiddies, we decided to go against the grain and head straight for Guat City.
With the third-highest murder rate in the world (one every 90 minutes, 380:1 chance of being killed each year) (source: guardian) we were a little apprehensive about this decision, but boy were we glad that we made it.
After a bit of research into where to live in Guat City if you don't want to be kidnapped, we settled into our apartment in the up-and-coming hipster district: Zona 4. Sandwiched between the old town and the financial district, Zona 4 is midway along the gentrification cycle: home to a continuum of street art, hipster food and funky bars, this is the place to be for young professional Guatemalans.

If you're thinking, 'Is that the Virgin Mary standing on a tooth?' then you would be right. Almost. It's the patron saint of dentistry, Saint Apollonia, and no, we have no idea if there really is a saint of dentistry but what the hell, this sort of weirdness is what gives this area its charm.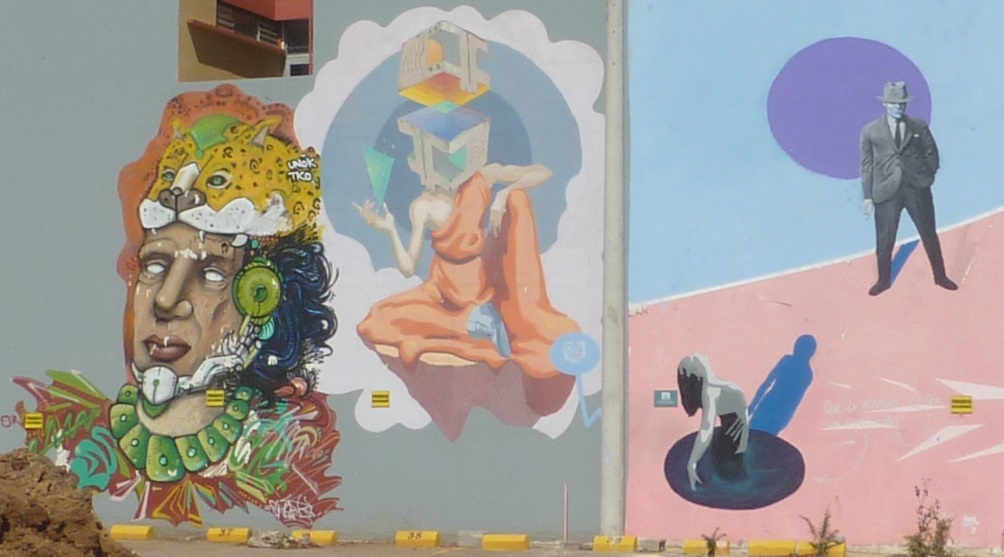 This one is an interesting glimpse into Guatemalan identity (or at least, that's how Pete reads it) – coming to terms with the Mayan heritage, the inescapable religious and macho cultures that persist as the next generation find their place in the global digital ecosystem. Or maybe it's just some pretty paintings.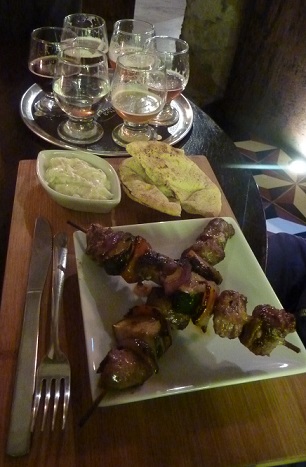 Another hipster, all too hipster, discovery was made in El Principe Gris, one of zona 4's many swanky eateries. This one is a microbrewery that does an excellent IPA among some other slightly weirder beer creations. The biggest shock at this place was not the mean looking child guarding the door with an automatic shotgun, it was the prices. Coming in at a whopping £21, this mini-kebab and beer taster was pricing the locals out of the market.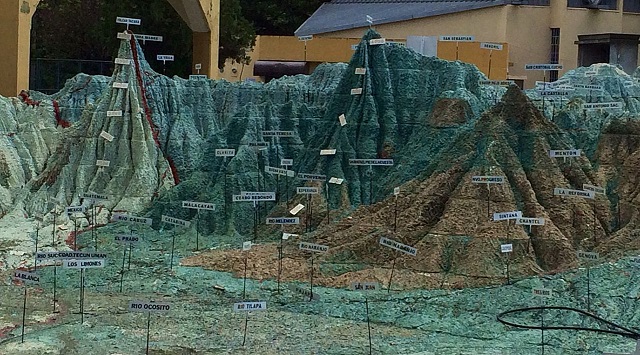 Besides the hipsters, Guat City has something for everyone. A particular highlight was the mapa en relieve – a giant scale 3D map of Guatemala made in 1904 by a team of military engineers. It is as naff as it sounds, but strangely charming.
And in the old town, on the site of the old train station – finally abandoned after the country's train system fell into disrepair following Hurricane Mitch before the enterprising citizens re-purposed the track to host shanty towns and the old train buildings became squats – it's the train museum. At only 20p entry, this place was ace and very popular with locals, who would bring their lunch in with them and sit in one of the Victorian dining carts for an enviable lunch away from the dusty streets.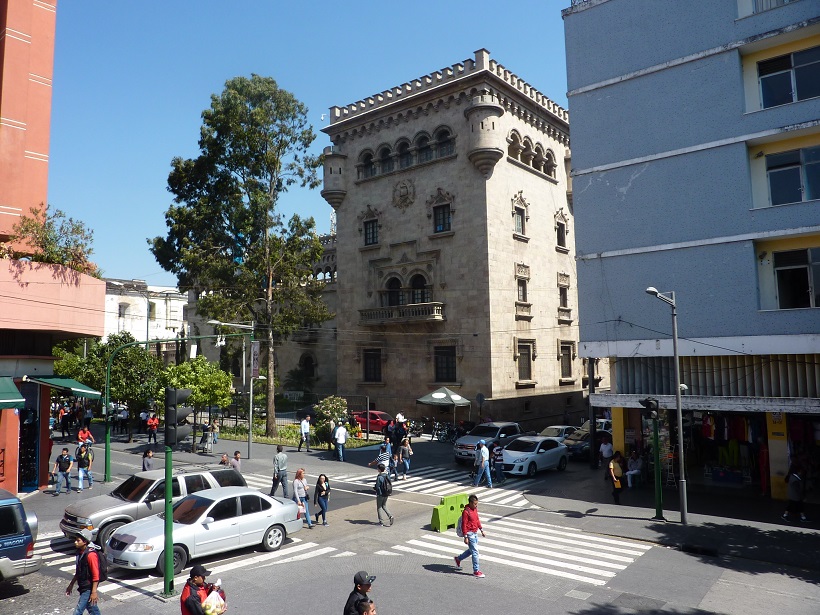 This is a typical crossroads in Guatemala City old town, with some crumbling relics of grandeur and the typical urban hubbub of shoppers, beggars and dirt. It was here, on Guatemala's main downtown shopping street, that we found what we were looking for.
With a simple menu consisting of chicken kebab, beef kebab and chicken wings, this place looked like the real deal. Our local friend tipped us off that the owners were Turkish and it showed. Check out these ele-legs – it's been a while.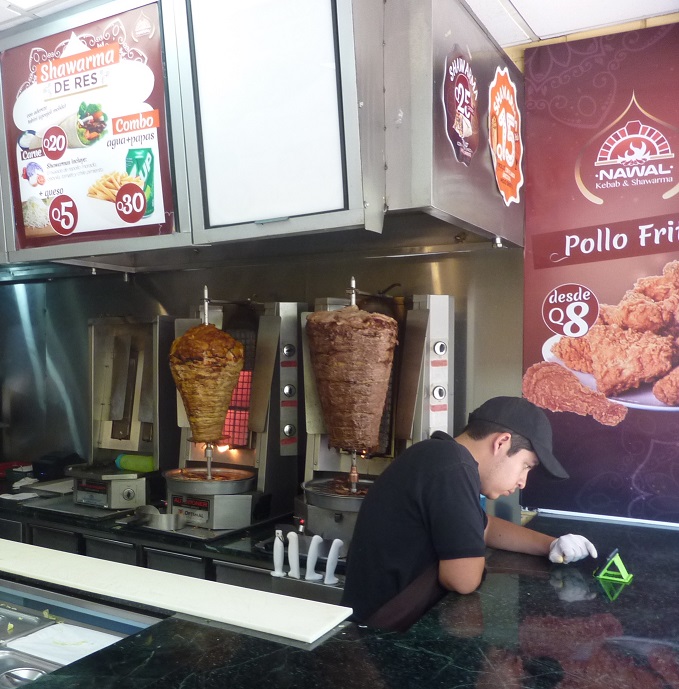 Home made and oozing juice, the meat quality here is phenomenal. Priced to attract the local crowd, at £2 for a kebab combo, you could forgive the soggy chips and sugary drinks; in fact, just bin them and get right into what is quite probably the only proper kebab for several hundred miles, and our first for about a month.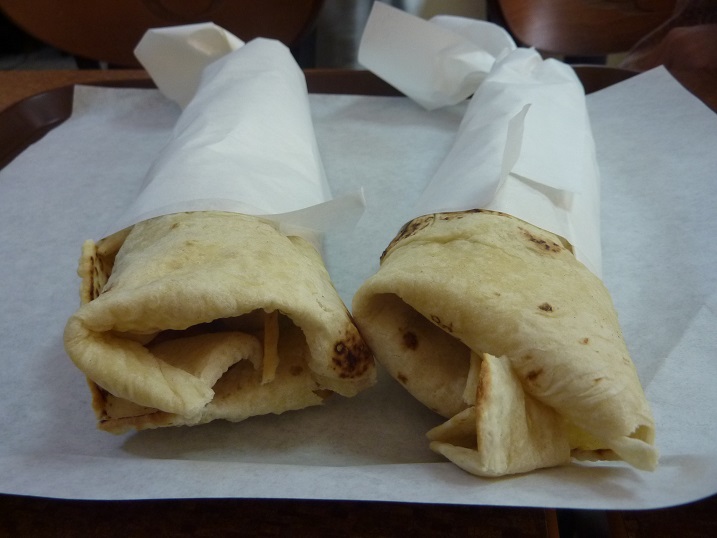 Taking a seat beside some of the local businessmen sneaking out for a lunchtime treat, we set about devouring our soft tortilla wrapped torpedoes of meaty joy.
Pete went for the beef and Kate for the chicken, both with cheese. It had been a long time since cheese had been on offer in a kebab. Too long. Pete was in heaven.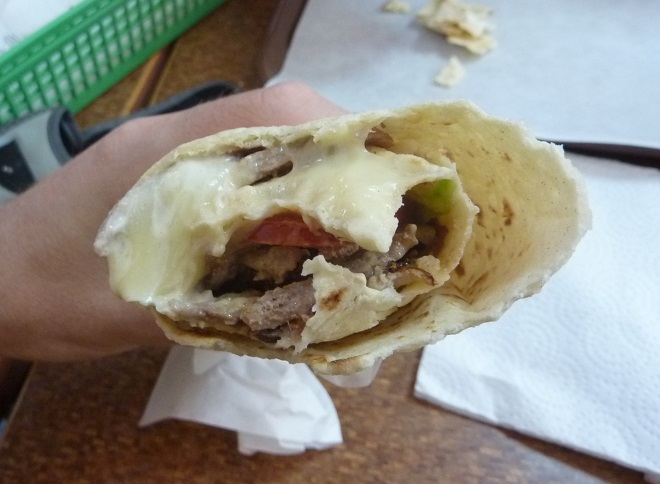 The beef portion was immense. Packed full of juicy strips from the ele-leg of pure, unadulterated cow chunks, this beefy badboy was oozing cow juice into the melted cheese and was tasting like sweet drops of heifer heaven as it ran down the side of the soft floury bread. Unsure if it was actually as good as it felt, or if he had been influenced by the kebab drought that had preceded it, Pete was in dreamland.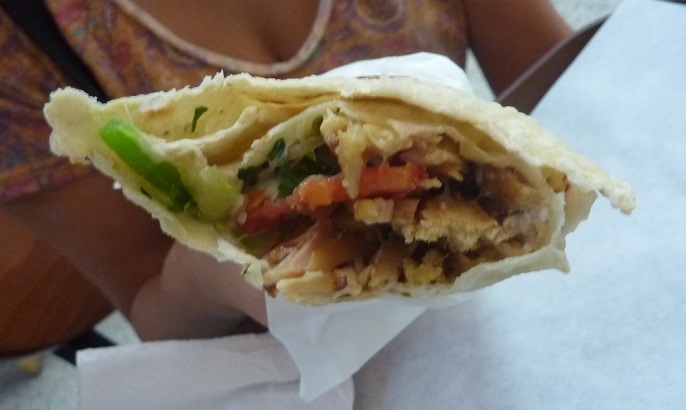 The chicken was garlicky and juicy, the chicken ele-leg was a handcrafted beauty, reminiscent of the Turkish kebabs of Berlin. The salad was more evident in the chicken than the beef kebab, but was wholly peripheral to the meat and cheese in these beauties – as it should be. The menu talked of spicy peppers, but these babbies were not spicy at all and with no hot sauce available, this was the one area of regret in an otherwise beautiful brace of bargain kebabbage that didn't just hit the spot, it smashed it and poured melted cheese on top.
Scores for the Guatemala kebab:
Score Category
Synopsis
Meat Quality
It's not just big, it's magnificent *1
Flavour Blend
Cheese
Salady Goodness
Who cares
Spice Hit
Absent
Favourite Colour
Blue
Turkish immigration strikes again – great work, Guatemala.
We are back in the game with a cracking kebab from a cracking city. Our advice for tourists: stay out of Guatemala City – it's doing just fine without you!
*1 This quote belongs to Sir Alex Ferguson, except that he wasn't talking about kebabs...