Arctic Kebab
The Northern (de)lights
Is this the most northern kebab shop?
66.6° North and we are in the Arctic Circle!

Well, actually, we're in Tromsø in northern Norway, 350 km north of the Circle and it is cold and it is dark. How does the civilised human survive in such cold and dark conditions? They drink beer. And then what? Yup – they eat a kebab.
It was a joy to discover that our hosts – long-term residents of Tromsø: a university city, and learned Arctic hub – were experts in the history of the kebab in this region. In fact, Åsa knows the guy who claims to have brought the kebab to Oslo back in the 1980s; if only we'd hooked up with him when we'd been in Oslo, but that's for another time.
Armed with some information about the original kebab shop of the Arctic, we set about getting the appetite required for what was no doubt going to be another dose of Viking kebab. Working up an appetite is not difficult in the Arctic – first of all, just try walking down the road. This house shows not only how the long dark winters affect your mental health, but also how much snow piles up, making a simple stroll into a bit of a mission.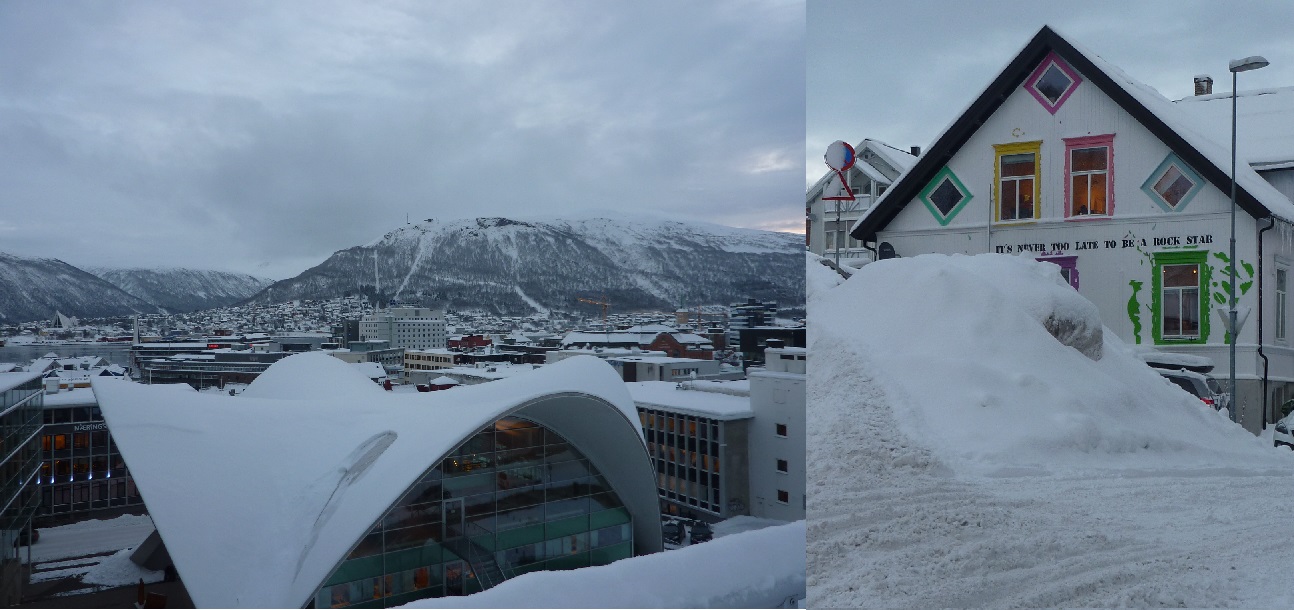 It is never too late to be a rock star. Chuck Berry is 86 and is due to release a new album this year so this must be true. On the topic of the eccentric, we stumbled upon this charming scene outside the library.
Yes, that is a sled that someone has parked up at the library! When you think about it, a sled is actually quite practical – it's the bicycle that is most at risk making its way through the icy streets. Rather than walking, or indeed cycling, today we set our sights higher: today, we played with some doggies.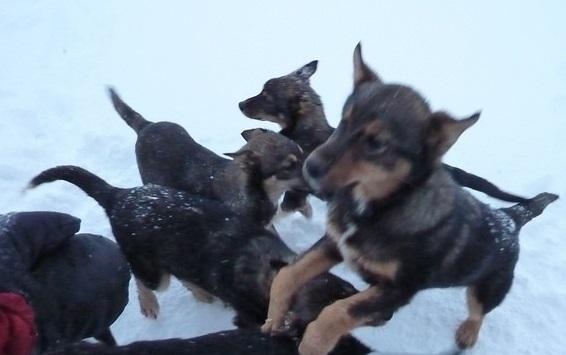 Not just any doggies. These are baby huskies, possibly the cutest things ever, as long as you don't think too much about them biting your arm or bullying the runt of their litter – a poor little poochy that was routinely bitten and beaten by the rest of the pack. But, it's a dog-eat-dog world out there, and only the strongest survive to become sled-dogs (although nowadays, this lucky runt gets to dodge sled duty and become someone's pet, or at least that's what they told us...)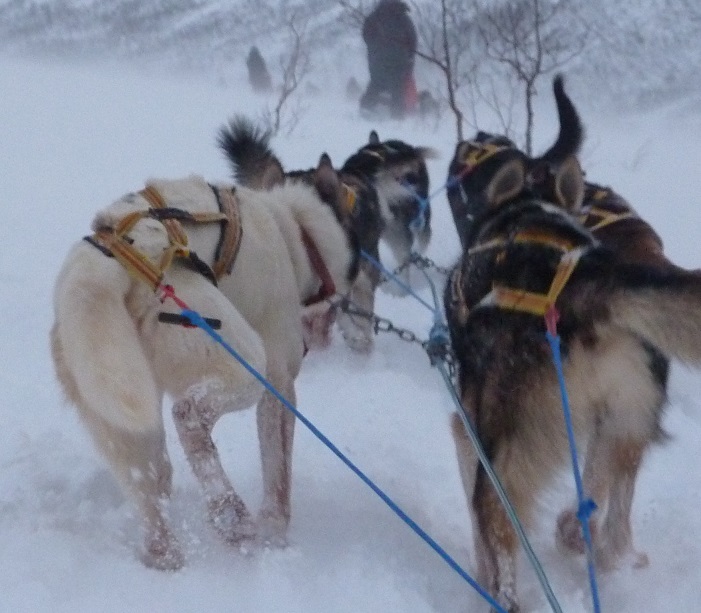 And so, in below-freezing temperatures our huskies were assembled for the task of dragging our amateur sled-riding bodies around the snowy wilderness of the next island along from Tromsø. The first thing to notice about the Arctic Circle is that it is breathtakingly beautiful. When the sled stops, the cold is still and calm until the eerie howling of the husky-wolves fills the landscape. And what a landscape. (For those reading this with interest in the travel aspect, take note: we booked our husky-sledding trip a month or two in advance, via the official tourist website; if you don't book in advance, chances are there won't be space for you to see the Arctic Circle doggy style.)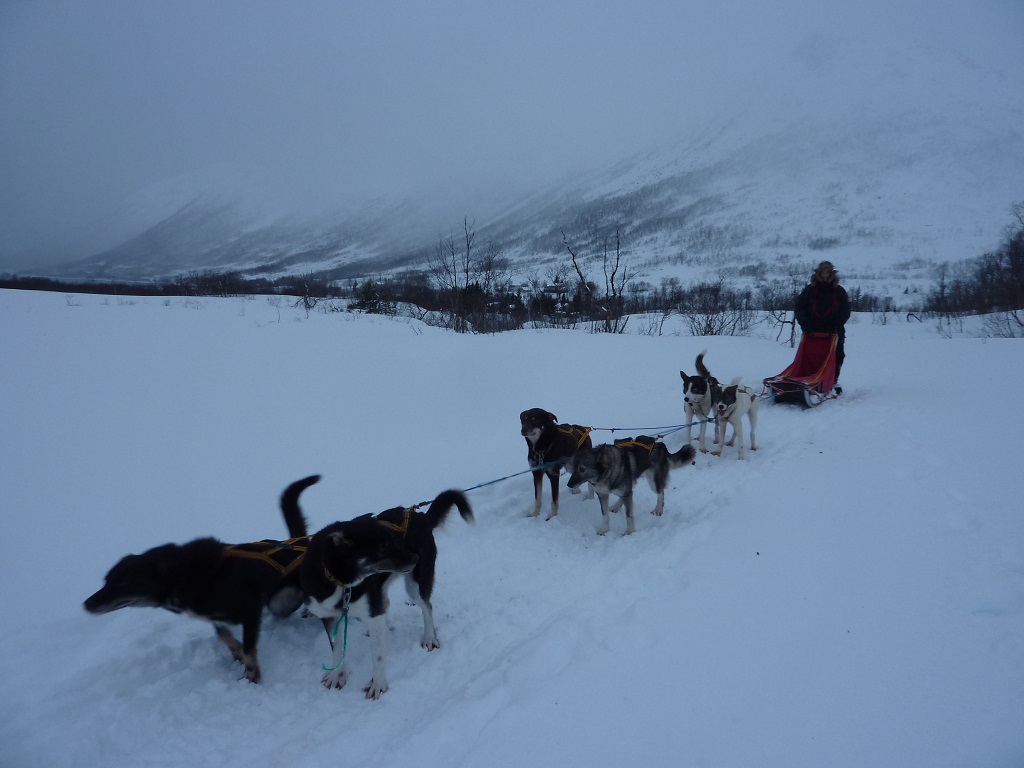 Alright, alright, enough boasting about dancing with wolves, get on with the kebab review – have you got enough appetite yet? Or is this tenuous linkage between travel and kebab still not finished? Well, if there's one thing to say about dog sledding, it's that it is harder work than you might think. On returning to Tromsø, we set about finding the original kebab shop of the Arctic –, the original pioneers, not the folk who first inhabited it, because they were the Sámi and they largely fished around this part of the Arctic, and no, I'm not talking about Norwegian explorers or settlers who later claimed the land: I'm talking about the brave men (Kate's edit: and women!) who took the town of Tromsø and made it into a true capital of the North with the introduction of the benchmark of civilisation – the kebab.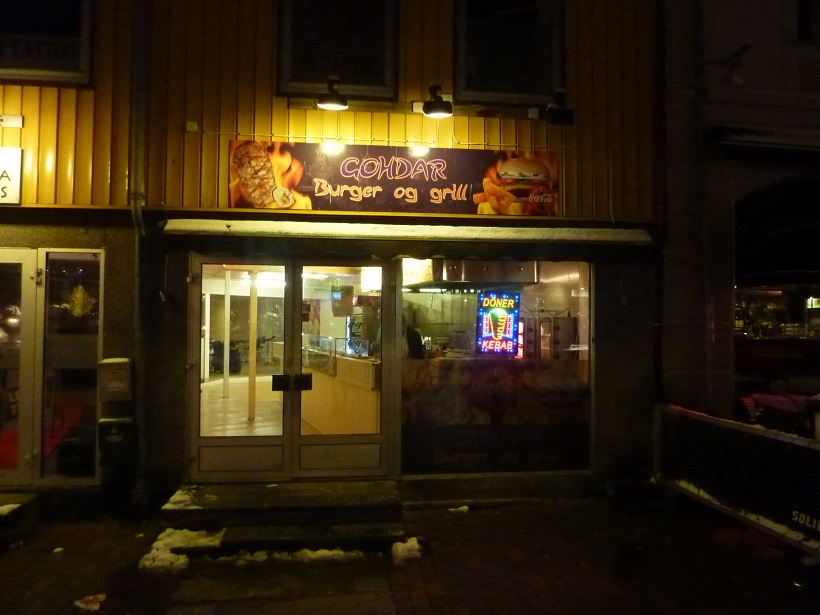 One thing to notice about this place is the sign. This is the nicest kebab sign seen so far, and very appropriate that it is in neon, since the winter afternoons are dark up here and a prematurely drunk explorer might otherwise miss this beacon of northern light.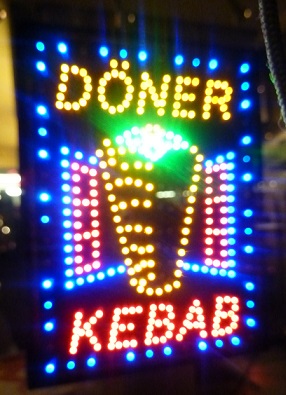 If honest, the menu options were a little limited. The breads in Oslo were stunning, and the best so far by a margin, but then, they were down south in the capital, and we are in the Arctic, so it is a choice of wrap or pitta. We ordered one of each and awaited the decision about fillings. This was to be Kate's first ever döner kebab – she's tasted Pete's in the past but never ordered one for herself. But when the options are limited, it's time to bite the döner...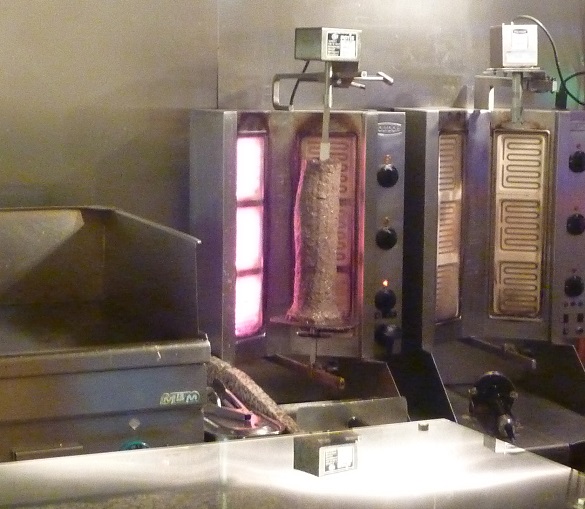 The ele-leg was spinning round, dripping its oozy juices to the ground in a way that was vaguely reminiscent of something we'd seen previously in Berlin. When we got talking, it turned out that these Arctic ele-legs had in fact been imported from Germany.
"We cannot get the Norwegian sheep they have in Oslo, so this meat is from Germany." Kebab shop worker, January 2017
It seemed in fact to be chicken, not a bad substitute, and coming from Germany is no bad thing as they have already proven themselves in the noble art of kebab. Next it was on to the fillings. The obvious choice on the fillings was "everything" so that was how we proceeded. One aspect of asking for everything is that you get all of the good things that you know you want. Good things like these jalapeño peppers.
These little slices of fire are a joyous addition to any kebab, and their presence was most welcome. The fact they were sliced and lots went through the kebab, rather than just having one pickled one on the top, was a real delight and something not seen in many previous kebab-eating endeavours. The other aspect of asking for everything is that you also get both of the sauces. Our hosts had warned us about the garlic sauce but we just thought they were exaggerating and hey, who's to tell a kebab shop owner what's right/wrong. We handed our taste buds over to the mercy of their recommendations.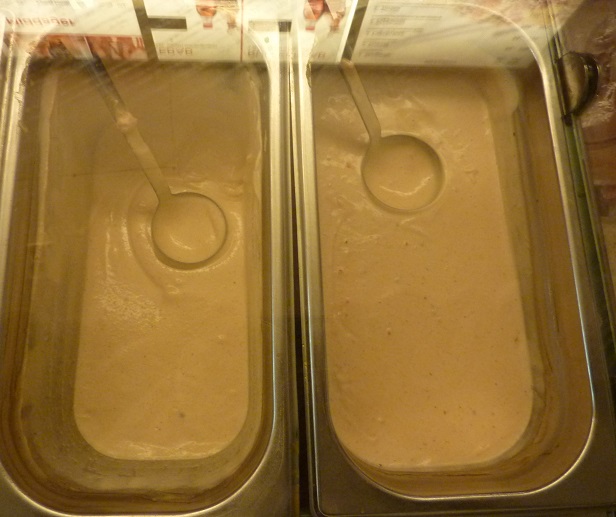 Now that we had sealed our fate with the request for "everything", we watched as our kebab was assembled with a variety of fresh and tasty salad. Five-a-day right there, an awesome start and a huge kebab. Days later, the taste of garlic continued. If you need to fend off vampires, then try both sauces. If you are human, ask for the non-garlic sauce only or at least ask for very little of the garlic one.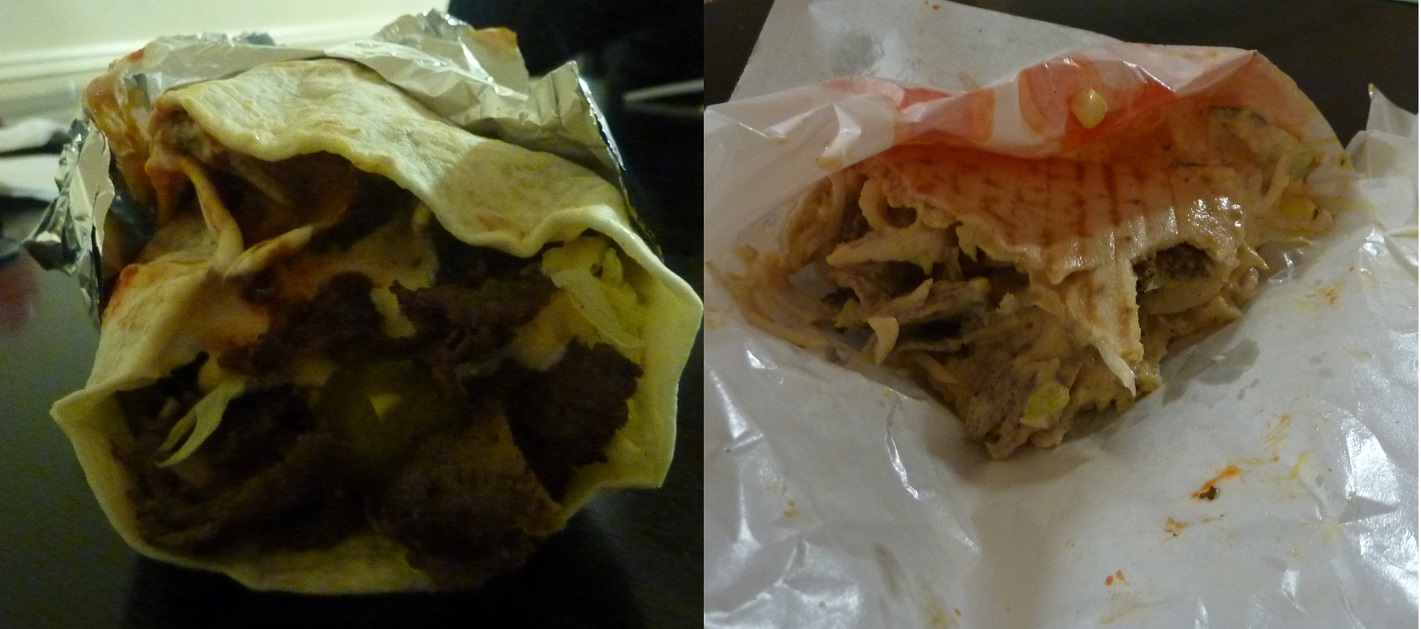 This was how it looked. Not entirely conventional, but entirely tasty, albeit with an aftertaste reminiscent of France. The meat quality was good, juicy and tender; importantly for Kate, it was not too salty, making this some of the nicest döner meat she'd tried, but the quantity was even better. Hunger had no chance – it was smashed out of the park by all that meat rolled up with salad and spice and all things nice. And garlic. As the hunger was gradually defeated by king kebab and its jalapeño pepper princes, the garlic sidekick made its own charge for the throne, and it rose to ascendency in the hours following to become the lasting impression of what was an epic battle of taste, played out within an arena of bread wrapped in greaseproof paper and tin foil.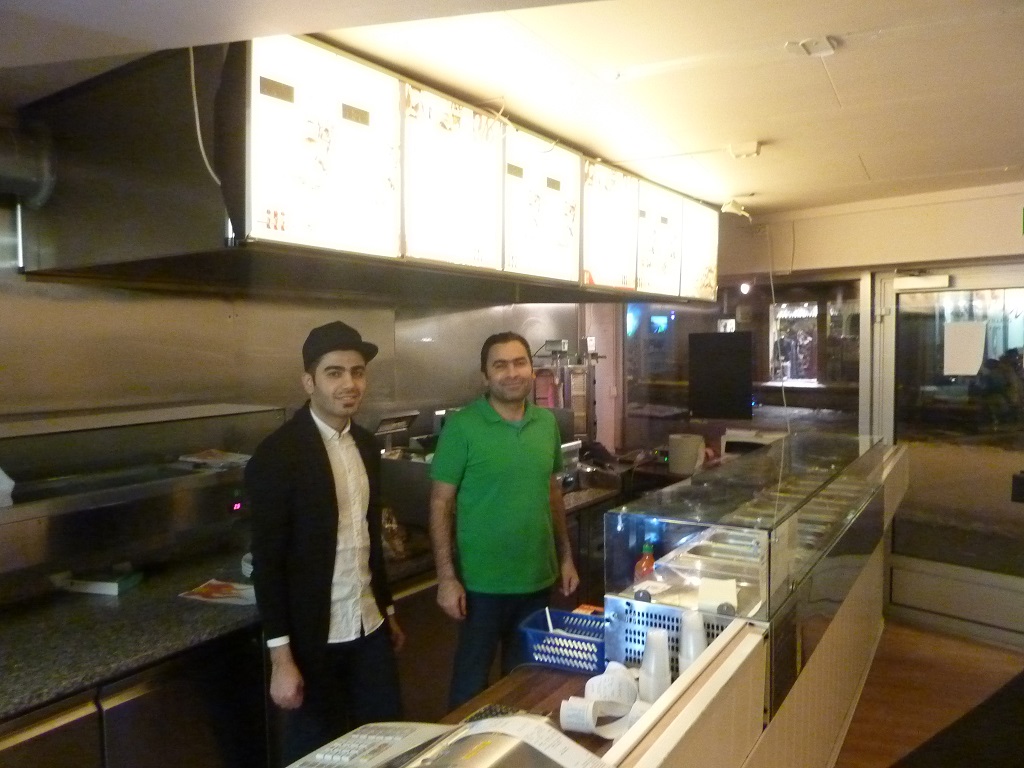 All in all, this was a fine kebab. If the garlic sauce was substituted for a yoghurt or pepper sauce, then this place would reign supreme. As it is, we must honour these brave men (Kate: and women! Even if they're not in the shop, they're helping, somewhere!) who bring the culinary crème de la crème of Europe and Asia Minor to the Arctic Circle and beyond, ever-ready to serve the drunken meat needs of the locals and the intrepid tourists. Whatever the weather, in light or in darkness, these purveyors of the finest fayre are heroes of the Arctic and we, fellow lovers of kebab, salute you.
Score Category
Synopsis
Meat Quality
Deutschland
Flavour Blend
Garlic 1–1 Taste
Salady Goodness
Five-a-day
Spice Hit
Jalapeño to the rescue
Favourite Colour
Snow white
The Arctic roll-out of the kebab is cause for celebration